How to Save Gmail Emails with Attachments as PDF – A Complete Solution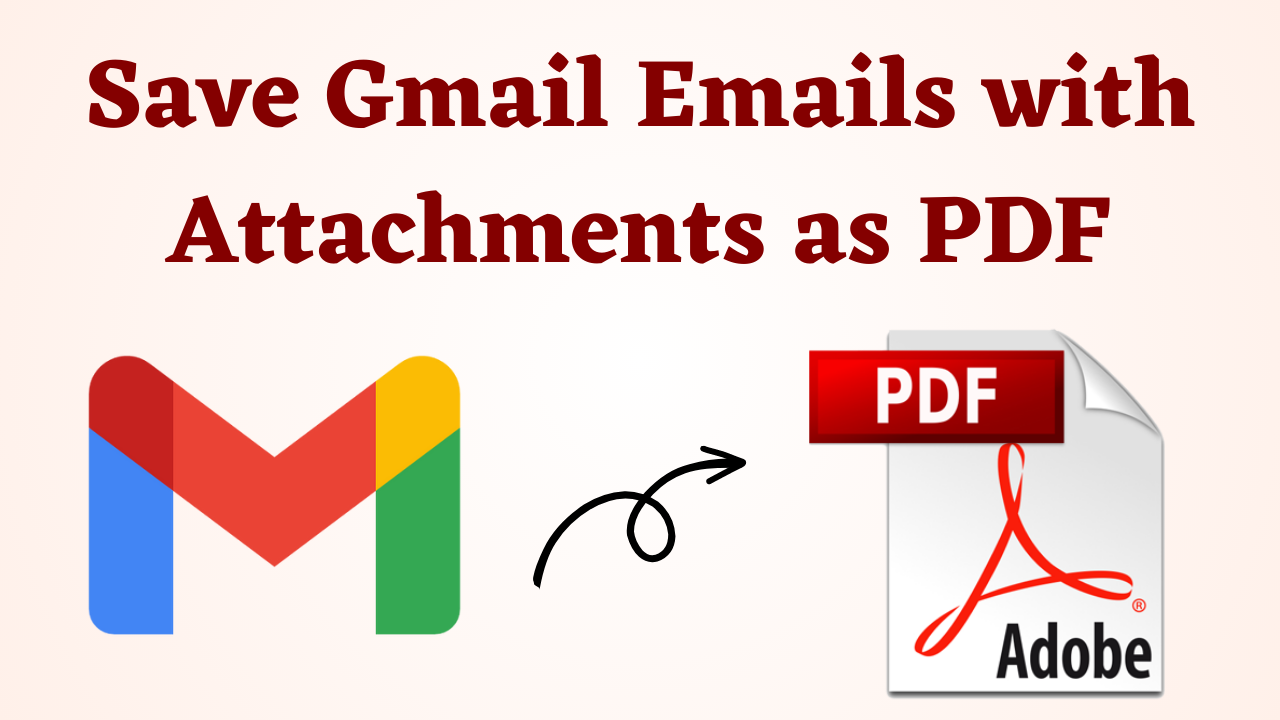 Most of the users need to save their Gmail emails along with attachments in PDF file formats. Moreover, when it comes to legal issues, PDF is one of the most commonly used file formats in courts. PDF is a universal file format that stores fonts, graphics, images, etc. irrespective of the application and platform used to create it. Sometimes, the user needs to save Gmail Emails with attachments as PDFs due to numerous reasons. Now, the question crops up, can I save Gmail as a PDF? Yes, the user can easily save Gmail account emails in PDF file format along with attachments.
Blog Content 
User Query: "I am a law student and one of my professors assigned me a case as a project on which I need to work. Now, I have to present some Gmail emails of my client in PDF files along with attachments. This is my first live project on which I am working but I am not able to figure out how to convert Gmail to PDF. Is there any simple and reliable way to do this task? Please guide me as I need to present a report with all Gmail emails in PDF file format along with attachments."
Let us now cover some important points. For example, the benefits of saving Gmail's emails in PDF with attachments and many more. let's move forward.
Pros to Save Gmail Emails with Attachments as PDF
There are many advantages of saving Gmail data like emails with attachments in PDF. Some of which we have mentioned below:
Users can password-protect their PDF files using the security features.
Due to its portable format, it is easy to share it on the internet.
PDF files are readily available on practically all operating systems including Windows, Linux, macOS, etc.
Also, PDF files can be accessed on a variety of devices including computers, mobile phones, tablets, desktops, etc.
On the other hand, PDF files can be viewed or opened without using any other program.
So after knowing all the reasons. Now the time has come that we should increase our steps for converting gmail to pdf solutions. For this, we have described the two types of methods step by step in the following. so let's start.
Save Gmail as PDF Using Manual Method
The user can easily store Gmail emails with attachments in PDF file format by following the step-by-step process explained below. Let's start following the steps:
To save emails from Gmail to PDF, first log in to your Gmail account.
After that open the Email and click on the three vertical dots in the top right corner.
Now you will see many options, from that select the Print option.
Hit on the option of Save As PDF in the destination section and press on the Save button.
Now select the location on your system to save Gmail as PDF.
Limitations of the Free Method
There are many drawbacks to the above-mentioned free method. which is a factor
Using this method, you can convert one email to PDF at a time, that too without attachments.
Also, this method is very risky and time-consuming. This can harm your important data.
On the other hand, for this solution, you must have knowledge of technical things.
If you have not been able to save your email in PDF even with this method. So solve your problem by using the method mentioned in the below section.
For More Information: How to Download Gmail Emails to Computer
Save Gmail Emails with Attachments as PDF – Smartly
The user can easily save Gmail emails with attachments in PDF file format with the help of an automated and reliable utility that is the Professional Gmail Email Backup Tool. The software allows converting multiple Gmail email files into PDF file format without any hassle. Moreover, there are no data loss issues associated with the tool while working with it. The software is integrated with various benefits such as a user-friendly interface, etc.
A Step-by-Step Guide to Using the Tool
First of all, download this utility on your Windows and Mac machines to start the process.
After this login your Gmail account in the software panel.
Now select a file format to save the email.
Select the items you want to convert then browse to the location.
After all, this, click on the Start button to start the process.
Why You Should Use a Tool
Back up your Gmail data, including your email, calendar, and contacts.
Give users the option to download Gmail backup in different ways.
Support for multiple languages to improve usability
Use a tool to transfer email from Gmail to Outlook.
Gmail provides the ability to back up emails that contain attachments as PDF files.
Import all data items from Gmail to Thunderbird.
Final Words
When it comes to web-based email service, Gmail is preferred by most organizations and users. However, sometimes for legal work such as court cases or normal work in a company, the users need to save Gmail emails in PDF file format along with attachments. Thus, we have provided the best way to implement this task. In the above section, the two-step method is introduced using which the user can easily save Gmail emails with attachments as PDFs in a trouble-free way.