Exchange Export Tool
An Eminent Tool For Exporting Multiple Exchange Mailboxes to Outlook PST File
Supports export of multiple Exchange emails to PST file format.
Converts all the items like emails, contacts, etc. residing in mailboxes.
Administrative Permissions required for mailboxes that have to be exported.
Active Directory configuration is automatically detected, scanned and loaded.
No limitation imposed on the number of Exchange mailboxes to be exported.
Allows users to Search mailbox within sub-domain
Live Exchange server environment necessary to migrate exchange to outlook data.
MS Outlook installation necessary for exporting the Exchange 2016 Mailboxes to PST.
Features Exhibited By Exchange Export
Exchange Export Tool Screenshots
Exchange Export Software Specifications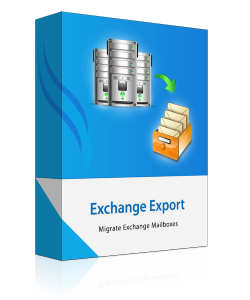 Size: 15.4 MB Version: 5.0

Download v5.0
100% Secure Download v2.1
100% Secure
System Specifications
Support: Windows 10, Windows 8.1 & all below versions of Windows.
Processor: 1 GHz processor(2.4 GHz is recommended).
RAM: 512 MB of RAM (1GB is recommended).
Disk Space: 50 MB of free disk space.
Application Pre-Requisites
Microsoft Outlook should be installed and should be configured properly for any valid or dummy profile/account(Not Configured for Exchange).
To export data directly from a live Exchange server – Exchange 2003, 2007, 2010, 2013 & 2016 Source Versions are supported.
Migration machine and Exchange Server should be working under the same domain.
Exchange Mailboxes should have complete administrative rights for Exchange (2000-2003,2007-2010) Versions.
Note: Exchange Export Tool Version 2.1 Supports Exchange Sever Versions 2007, 2010, 2013 only
Supported Editions
Microsoft Windows – 2000, 2003, 2008, XP, Vista, or Windows 7/8/8.1/10, 2008/2012 (32-bit & 64-bit)
MS Outlook – Outlook 2000, 2003, 2007, 2010 (32/64 bit), 2013 (32/64 bit), 2016 (32/64 bit).
To directly export data from Exchange Server – MS Exchange 2016, 2013, 2010, 2007, 2003 (Source)
Exchange Export Software – Faqs
Clients Reviews – Exchange EDB File Export Tool
Exchange Export Tool – Order Now

---
| | Demo Version | |
| --- | --- | --- |
| Add any number of Exchange EDB Files | | |
| Preview Mailbox details | | |
| Select Category Emails, Contacts, etc | | |
| Advanced Email Filter Option | | |
| Supports Windows 10 & Below Version | | |
| Allow Dumpster and Delete Emails from Mailbox | | |
| Export EDB Mailbox to PST | | |
| Cost | | $99 |
| | Download | Purchase |