Fix Outlook Error 0x800ccc13 Cannot Connect to The Network – Quick Solution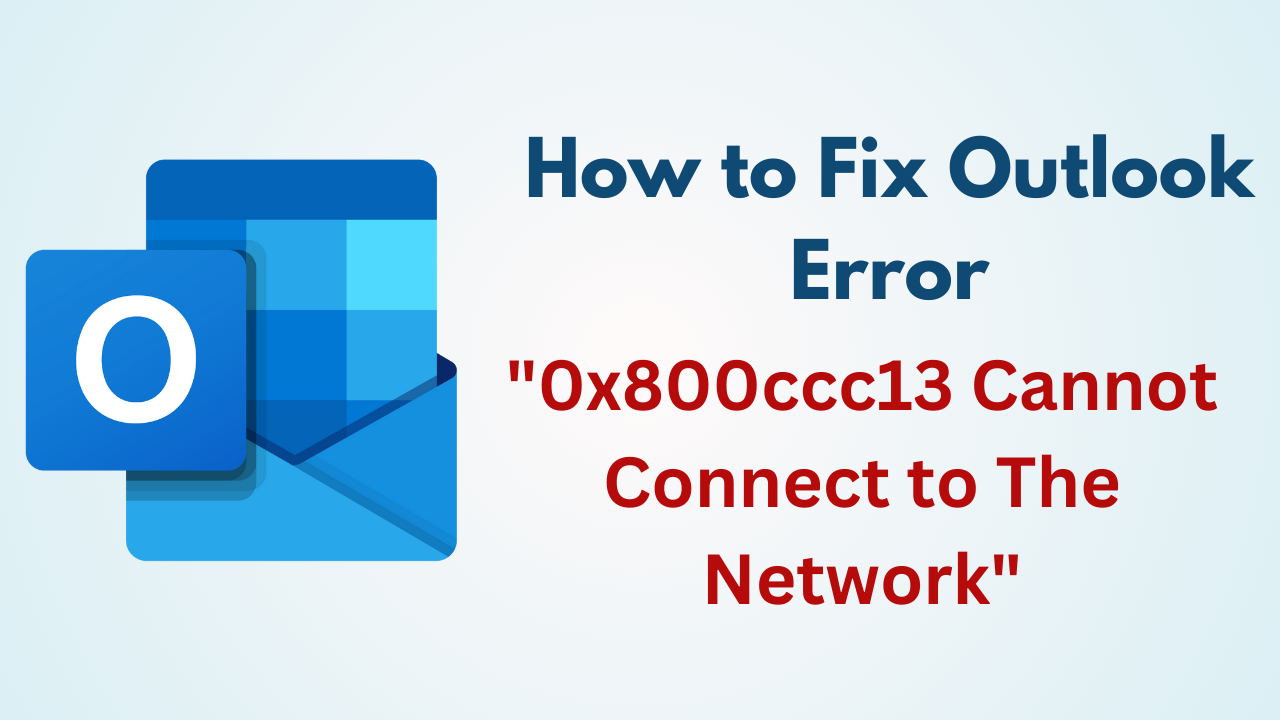 In Synopsis: Outlook is a widely used email client that provides users with a seamless communication experience. However, like any other software, Outlook is not immune to errors. One common issue Outlook users face is the error message "0x800ccc13: Cannot Connect to The Network." This error can be frustrating, primarily if you rely on Outlook for daily email communication. Fortunately, there are several troubleshooting steps you can take to resolve this error and get back to using Outlook without any connectivity issues. In this blog post, we will explore some effective solutions to Fix Outlook Error 0x800ccc13 Cannot Connect to The Network.
Blog Content – Easy to Find
Now let us move to the below section and know all those different messages like Outlook error 0x800ccc13 that we often see below and we have described some of the errors.
Outlook Error 0x800ccc13 – Different Error Messages
Many such error messages are found here, so, below we have told some of the error messages.
An unexpected Error has Occurred
The operation timed out while waiting for a response from the receiving server
Cannot connect to the network. Verify your network connection or modem.
Outlook Send Error: "The operation failed. An object could not be found
Task 'SMTP server name – Sending and Receiving' reported an error
Your outgoing (SMTP) email server cannot establish a connection with Outlook.
Error detected during sending or receiving: "Outlook data file cannot be accessed."
Reporting an error "Your server does not support any of the authentication methods that this client supports."
After knowing about all the Outlook error messages. Now, let us move on to the below part to learn about the reasons to fix Outlook Error 0x800ccc13.
Also Read: PST File Access Denied in Outlook
0x800ccc13 Cannot Connect To The Network – Reasons
The PST File Gets Corrupted:
If there are any corruption issues upheld in the Outlook data file then Outlook is unable to process your request to send or receive the emails. If you forced Outlook then in such circumstance Outlook Error 0x800ccc13 has occurred.
Malicious Software:
Malicious software is also one of the major factors in Outlook Error 0x800ccc13. This will harm your important data files, interrupt the smooth working of installed applications, and may cause the depletion of the performance of Outlook as well. There is no specified channel through which these types of software enter your system.:
Windows Update/ Upgrade:
When you upgrade or install the updates in your system. Then there might be the possibility that some of the registry files of the system are also updated. Therefore when you try to access Outlook it forced to pop the message Outlook Error 0x800ccc13 Cannot Connect to The Network. Verify your Network connection or the Modem. Generally, this happens only in the case of the Windows Operating system.
Abnormal shutdown or Restart of the System:
Improper manuals to shut down the Outlook Application or directly turn off the power button of the system may cause corruption in Outlook data files.
Hardware Device Interruption:
In the case of electronic devices there is always been the possibility that they fail due to excessive heat overload, high voltage, etc. are some of the reasons for the failure of electronic gadgets. Similarly, the system attached the device to stop working when you access Outlook on your system.
From this part till now we have come to know about many things regarding this error, but we have not yet come to know how to fix this error. So, if you are looking for a solution then your search ends now. Here at the bottom, we have listed all the existing manual solutions. So, let's get rid of this error by using them.
Read More: How to Fix Outlook 2016 Search Issue?
Fix Outlook Error 0x800ccc13 – Quick Solutions
As a result, we have described many of the causes in this blog. Which is related to this error. So now it's time to solve it with the help of all the solutions mentioned below, There are many ways to solve this error which are mentioned below.
Method 1: Utilize the Windows System Checker
Most Windows versions come with a utility called the Windows System File Checker, or SFC. It is a useful program for repairing damaged system files in your Windows installation.
There are two ways to launch the System File Checker at the Command Prompt: from Windows and recovery media.
To resolve this Outlook issue, follow the methods listed below.
Close the Outlook program on Windows.
Then, Select "Command Prompt" under the "Start" menu.
At the Command Prompt window, type "SFC" or "scan now" and press "Enter". Make sure you don't type it into the command prompt's field. It may take some time to finish the process.
After that, the process is over restart your system. Open Microsoft Outlook and check if the problem is resolved.
Method 2: Update the Microsft Outlook
Troubleshooting is an effective way to resolve the "Outlook error 0x800ccc13 cannot connect to the network" issue. You need to download the updated patch from Microsoft's website and install it. After discovering that many customers were experiencing Outlook errors, Microsoft addressed the issue and offered updated Outlook drivers.
The following procedures are used to update Microsoft Outlook, which is a quick and simple process.
Open the "Microsoft Outlook" application.
Then, select 'File' and then select 'Info'.
After that, click on the "Update" link under "Office Account".
Finally, Select 'Update Now'.
More Information: Error 0x80040119 in Outlook 2016, 2013
Method 3: Registry to Fix Outlook Error 0x800ccc13
After upgrading the system or installing the latest updates there might be the possibility that registry values get changed in such case you have to manually edit the registry values. Follow this instruction to edit the registry values
'Windows' and 'R' have to be pressed simultaneously. This will start 'run'.
In the Run command, type "Regedit", then click on "HKEY_LOCAL_MACHINE".
Then, View the Microsoft folder. Go to 'Windows' and open the folder for the current version.
The 'Run' folder should be selected.
After that, Delete the file if you encounter Outlook error 0x800ccc13.
Finally, Now restart your computer.
Method 4: Launch Outlook in Safe Mode
To fix network connectivity issues, you can use the Safe Mode function in Microsoft Outlook. This enables email programs to be launched with a limited feature set. Additionally, it restricts any extensions that may hinder troubleshooting. Therefore, if the application has recently crashed, it can be launched in safe mode.
Press the Windows key and "R" simultaneously to open the Run dialog box.
At this point enter 'outlook' or 'secure' in the Run dialog box to fix Outlook Error 0x800ccc13.
See if the 0x800ccc13 Outlook error appears.
If the problem persists even after opening Outlook in Safe Mode, an add-in may be to blame.
Method 5: Fix Error of Outlook Data File (.pst)
Outlook creates the PST file to store default into it. But, Outlook Error 0x800ccc13 can also occur in the Outlook Data file. You can use an Outlook Inbox Repair tool such as ScanPST.exe for normal corruption issues but for severe corruption, you have to take the help of third-party software such as the PST Recovery. It is capable of fixing Outlook data file errors.
How to Recover PST File – Working Steps
Download and launch the PST Recovery software on your local computer to start the process of recovery.
Now,  to add a corrupted PST file in the software, click on the "Add Files" Button. 
Then, select the scan modes: "Quick and Advance" according to your needs.
Now, all PST items can be previewed on the software penal.
To save the recovered PST file select "Export Type"  and hit "Advanced Settings".
Finally, click on the "Export" button to end this process.
The Bottom Line
As far as we have discussed the complete solution and quick hacks to Fix Outlook Error 0x800ccc13. But, there are certain things you have to remember and need to perform regularly to prevent huge data loss. These activities include the quick scan of the system via antivirus to safeguard the system from malicious software and checking vulnerabilities in the Outlook application by opening it in safe mode are some of them. You have to take a backup of your data before these hacks to 0x800ccc13 cannot connect to the network.
Frequently  Asked Questions
Q 1: What exactly is Outlook error code 0x800ccc13?
Ans: Outlook error 0x800ccc13 is a specific error code that indicates a problem with Microsoft Outlook that prevents it from connecting to the email server. This error usually occurs when there is a problem with the setup settings or network connection.
Q 2: Does Outlook error 0x800ccc13 have any specific error message?
Ans: The error message can vary, but it typically includes the code "0x800ccc13" and may also include other information about the nature of the error or which component is affected.
Q 3: Is it possible to avoid Outlook error 0x800ccc13 in the future?
Ans: Although problems cannot always be avoided, you can avoid Outlook error 0x800ccc13 by regularly updating Outlook, configuring your email account settings appropriately, and keeping your computer's security software up to date to avoid conflicts. can reduce the chances of facing Keeping a backup of your Outlook data files can help you recover from problems faster.