Tips to Fix An Unknown Error Has Occurred 0x80040119 in Outlook 2016, 2013
Introduction to Outlook Unknown Error 0x80040119
Being the best email client Outlook has its own legacy. It is one of the best email client and have world wide user base. Outlook provides multiple advanced functionality to provides more ease to user. But in some cases Outlook also get downtime due to unexpected issues & errors. In this blog we are going to discuss Outlook error 0x80040119 an unknown error has occurred.
Microsoft Outlook offers more flexibility to its users in terms of features such as email communication, creating & scheduling appointment via calendars, task scheduler etc. The Outlook have same no of non-technical user as most technical ones. That's why it have more user base than any other email client of same category. But in most of the case normal user do not follow necessary follow up procedures requires for the smooth functioning of Outlook. As a result of which an unknown error has occurred in Outlook 2016.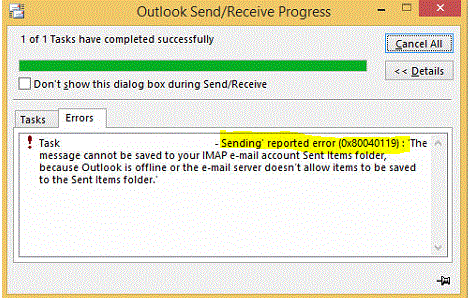 Consider the following scenarios to deeply understand the concept.
Most of the time Outlook user have to face common issue of oversized data file. This is because they do not how to make regular backup of email data so that this error does not hold its roots. These types of issues are open invitation for damage and corruption in data file and error 0x80040119
The Outcomes of Outlook 2013 An Unknown Error Has Occurred
All the active programs in Windows get crashed automatically
Windows Stops Working or Blinking
Windows take More Time to Respond to Input Devices
User Unable to Access Outlook Data
Quick Read: Quick solution to Fix Outlook 2016 Search Issue
The Root Cause of Outlook Error 0x80040119
When Outlook user trying to read write or access data have received the error message An unknown error has occurred with code 0x80040119This is the most common Outlook error and can be occurs in any Outlook version 2010, 2013, 2010, 2007.Outlook Error 0x80040119 can also be result of wrong installation or abnormal start up or shutdown of software. So its is better to keeps track of such events and cab be beneficial for further troubleshooting. Some other reasons also exist and we cannot neglect them such as
Outlook Data File Get Corrupted
Windows registry related to Outlook get corrupted.
Malicious Software affect smooth functioning of Outlook
Other Windows Application interrupt smooth processing of Outlook
Issues in internet connection or with mail server
Outlook is not properly configured
Quick Tricks to Solve Outlook 2013 An Error Has Occurred With Code 0x80040119
First of all you need to fix error in registry by typing command Win+R then regedit. But if you do not how to make changes in registry files then please do not try it without taking backup. Otherwise it may lead to serious issues.
Install and scan your system for viruses.
Delete junk files by pressing Win+R and the type %temp% or TEMP
Restore to last backup point. But do not forget to take backup of file created after recent restore point.
What to Do When Outlook Error 0x80040119 Not Able to Fix With Manual Solution
If the none of the method described above is able to fix Outlook 2016 Error 0x80040119. Then in such case use of an automated solution is feasible. With use of such tool you are able to get back you all Outlook data which includes email, calendars, tasks, journals etc. The software is lightning quick and fast to get back your data. The demo version of software is available for free download. With free version of software you can view and get data items up to 25 items from each folder.
The Last Ending Note
Most of the time error in Outlook are due to abnormal behaviour of user. It can be fixed by adopting healthy tricks & techniques to handle issues like Outlook 2016 Error 0x80040119. If none of the method works then it is feasible to go with automated solution such as Outlook PST Data Recovery. This is because with such tool, you will get more key features and option to effortlessly get back your crucial data.