Troubleshooting Outlook Hangs on Loading Profile for version 2016 & 2013
How to troubleshoot Outlook Hang on loading profile problem in Outlook versions 2016 & 2013?
Outlook is the email client platform developed by the big tech giant Microsoft Inc. For the purpose of formal communication in an organization. It is available as the single stand-alone application or part of the Microsft Office 365 Suite. It is most preferable email client by the organization because if its easy to use interface and sync with Microsoft Exchange server. But sometimes Outlook hangs on loading profile for version 2016 & 2013. The complete steps to troubleshoot Outlook hang problem is listed below.
There are certain issues which are reported by the user when opening it.
1. Outlook stopped Working
2. Outlook Profile Hangs for version 2016 & 2013
3. Outlook automatically get freezes and shut off
There might be many solutions are possible for the Outlook hangs on loading profile but I only described the best & easy tricks to resolve the problem in quick time
1. Opens Outlook in Safe Mode
Steps to open Outlook in safe mode
1. Press Window + R on your PC
2. Type outlook/safe & Press Enter to proceeds
This will opens Outlook in safe mode and Navigate to
File >> Options >> Add-ins >> COM Add-ins >> Go
Disable all the Add-ins from the Outlook using the check or uncheck a box. Restart the Outlook.
If the add-ins cause the problem in loading the outlook profile then the method can beneficial.
2. Disable Hardware Acceleration
It is the techniques in which the System's Hardware is forced to perform the task speedily than the standard architecture of Processor. It is generally used with the heavy computing tasks and for high media-rich content
Steps to Disable Hardware Acceleration
1. Open the Outlook in Safe Mode
Navigate    File >> Advanced >> Options. Find the hardware acceleration and disable it
Quick Method to disable the Hardware acceleration using the Regedit command in Windows
Press Windows + R & Type Regedit. Hit Enter
HKEY_CURRENT_USER\Software\Microsoft\Office\15.0\Common\Graphics
DWORD: DisableHardwareAcceleration
Value: 1 to disable
Also Read: How to Fix OST File is in Use And Cannot be Accessed Outlook 2016
3. Clean Boot of Windows
The Windows clean boot will be helpful in case when third-party applications interrupt smooth running of the Outlook. It does by capturing all the system resources. Disabling the external application may lead to smooth functioning of Outlook profile
Steps to Perform the Clean boot of windows
1. Press Windows + R and type msconfig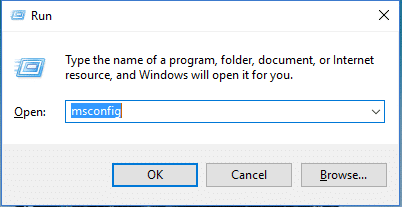 2. In General, Tab Select selective startup & Uncheck startup items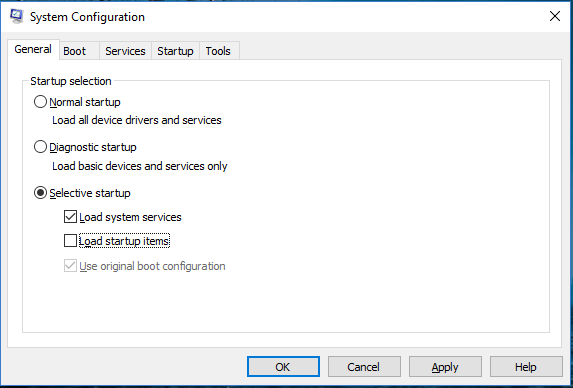 3. In Services tab check on the box to hide Microsoft services & Uncheck all the external services. Click on Apply & Hit ok to proceed further. Restart your system again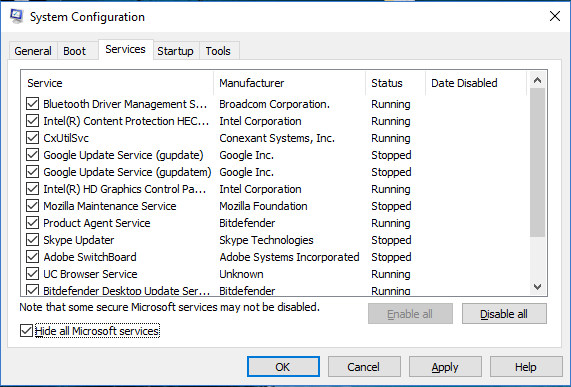 4. Use of Inbox Repair Tool to Fix Outlook Hangs on Loading Profile Issue
There many reasons for the corruption of Outlook data file. When there is corruption in Outlook. It automatically runs the repair process immediately to find the corruption issues. But sometimes, It is hard to determine the corruption in Outlook data file. It starts hangs when loading it. SCANPST.EXE is inbuilt utility provided by default with Outlook to repair & correct minor issues in Outlook data file. But Sometimes it leads to loss of information while attempting the repair. Therefore I preferred to use professionally built Outlook PST Recovery Software which has multiple magnificent features to restore & repair the corrupt Outlook data file while maintains data integrity. Download Software for free to fix Outlook stucks on loading profile in Outlook 2016, 2013, 2010, 2007

5. Delete Outlook Profile
Multiple ways to delete Outlook profile
1. Deleting Outlook Profile from control panel
Navigation:- Control Panel >> User Accounts >> Mails >> show profile >> remove
2. Using Regedit. Press Windows + R and Type Regedit
Navigation:- HKEY_CURRENT_USER > Software > Microsoft > Office > 16.0 > Outlook > Profiles.
3. From Default Storage Location
C:\Users\admin\AppData\Local\Microsoft\Outlook\
Select your profile & delete
6.Repair Outlook Application
Steps to repair Outlook Application to fix Outlook Hangs on loading profile issue
1. Select the computer in file explorer menu & Click on Uninstall or Change the program
2. Find the Microsoft Outlook & Right Click on it then choose Change option & Select the Repairing Method: Quick or Online Repair
Repairing Outlook Application diminishes the effect of virus or malicious software & make it perfect for using again