How To Export Outlook Email By Date Range – Get Solution Here!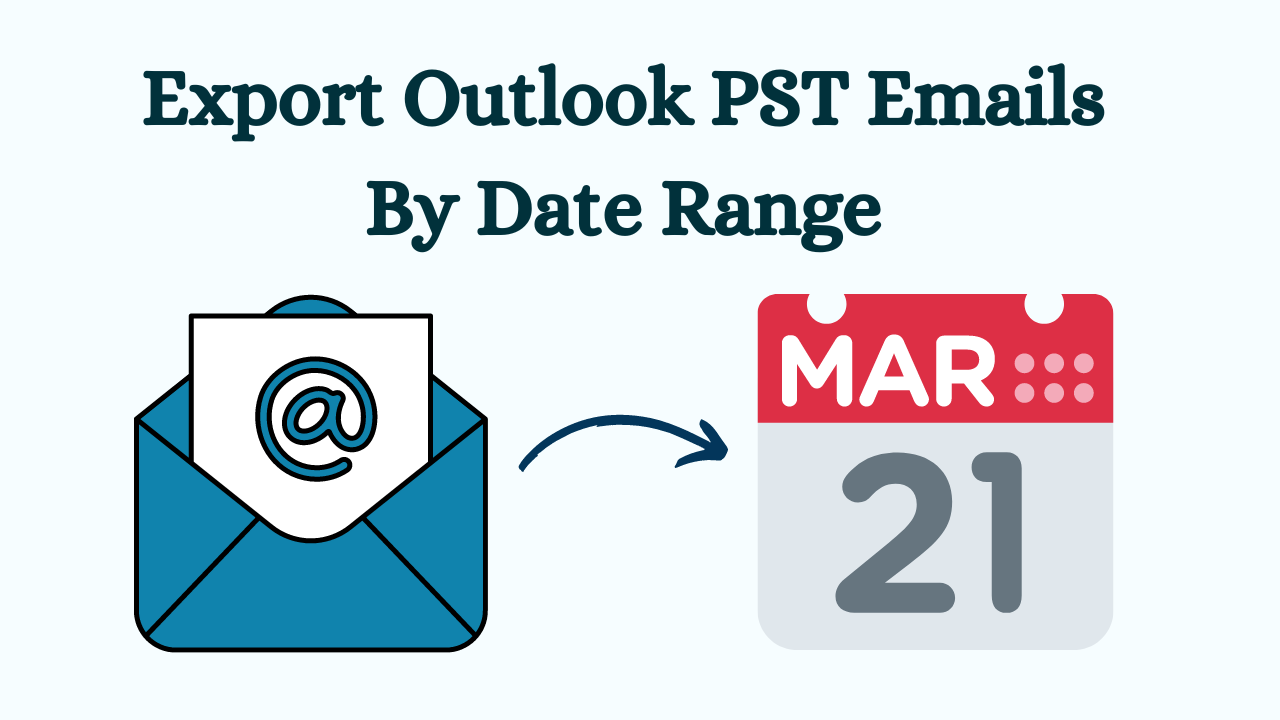 Undoubtedly, Microsoft Outlook has won the hearts of users to a greater extent by showcasing powerful functions for a seamless email experience. However, there comes a point when users have a hard time finding a specific email message when there are large amounts of emails. To make this tedious task easier, this blog is exclusive to all users who want to know how to efficiently export Outlook Email by Date Range.
Table of Content – Easy to Find
User Query: "I work as human resources in an IT company. I require employees to keep all records related to their leave. It becomes very difficult for me when I have to search for holiday emails by date in Outlook. Please suggest to me how to export Outlook PST email to date range as I have a non-technical background. Also, I do not have enough knowledge about Outlook. I need to know if there is a simple method that can Outlook filter emails by date range."
After knowing the user query, let us know about the reasons for the Outlook search date range. 
Why Export Outlook Email by Date Range?
There are lots of motives behind exporting emails by date range. Now, we are going to explain some reasons in below part:
Archiving: Over time your inbox can fill up with old emails. You can create a backup or archive by exporting emails within a set date range, keeping your mailbox organized and essential information accessible.
Compliance: In some cases, emails may be required as evidence of legal or regulatory compliance. Exporting emails by date range lets you quickly find relevant communications.
Storage Management: Large email accounts can cause Outlook to slow down. Exporting emails by date range and deleting older emails can help free up storage space and speed up your client.
Organization: Separate folders or backup files for emails sent or received during a given project, event, or period can be helpful for the organization. Exporting by date range lets you organize your emails precisely.
Now, we are going to discuss the manual method and automated solution to Outlook filter emails by date range in a hassle-free way. Let's begin one by one!
How to Export Outlook Email by Date Range Manually?
You can only export Outlook to PST, but Outlook does not provide the option to Outlook email by date range. If you want Outlook PST email in any format as per date range. Follow the below manual method working steps which are divided into 2 parts:
Method 1: Using Import/Export Option
Firstly, click on File >> Open & Export >> Import/Export.
In the opening Import and Export Wizard, Click on Select the Export to a File option, hit on Next
Now, select the Outlook Data File (.pst) option, and click on the Next button
Click to select the mail folder which you want to export emails from, and click on the Filter button.
Go to the Advanced tab, and specify the filter criteria. 
Browse to open Outlook Data Files dialog box, specify the desired folder where you want your PST file
At least, in the new Create Outlook Data File dialog box, click on the OK button.
Method 2: Copy and Paste Method
Open Microsoft Outlook in your system and then click on the search bar to export Outlook email by Date Range.
Then, type "Received:2023/8/20..2023/8/29" in the search box. Also, you can change the data range as per your requirements.
Now, select the emails by pressing "CTRL + A" and copy them by pressing "CTRL + C".
After that, open "MS Excel" and create a new workbook.
Finally, select "Cell A1" and press "CTRL + P" to paste the copied search results and save the sheet.
Limitations of this Method
Through this method, email folders will be destroyed and integrity will be lost.
This method requires Outlook to be installed on your computer.
Along with this, it is also very important to know some technical things.
All the free method's steps end here. However, we have seen that this method has many limitations, so, to get rid of all those limitations, we have described an excellent and reliable solution below.
Export Outlook Email By Date Range – Professional Solution
To export PST emails by Data, you can use the Split PST Software from REVOVE. This marvelous utility provides an option to split multiple Outlook PST files by data range. Moreover, its unique functionality such as it can divide Outlook PST files mailbox items like emails, calendars, contacts, journals, notes, etc. by date. So, one can select a range of dates from which it needs to split the PST file according to the Outlook search date range.
This utility gives the facility to create separate PST files for date ranges. Furthermore, this reliable tool gives freedom to export outlook data according to Size, Date, Year, Folder, Email ID, and category. Also, you can divide PST File archive or active PST file. Users can split Outlook files by multiple date range(s) without file size limitation.
Step-by-Step Guide: How This Tool Works?
First, download this tool on your systems to start the process.
Now, to add a PST file in Software click on the "Add Files" option.
Then, choose "Split Option" according to your requirements.
After choosing the "Split by Date" then, select the date to export Outlook email by Date Range.
Now, this utility will show you the summary of Split Information.
Finally, Hit "Next" to start the process to split PST files into smaller parts.
Why Choose Splitter?
Advanced scan option to replace even badly damaged files
Choose the destination you want to save your Outlook data
You do not need to install MS Outlook to export PST file data
Quickly scan the PST file and generate a quick preview of all items
Any PST size limit of 2 GB: Split both ANSI and Unicode file types
Bringing It Altogether
This article describes how to Export Outlook Email By Date Range. Here we have talked about a manual method and professional tool for you to export Outlook export filter date. This way, users can segment Outlook filter emails by date range without losing data. For Outlook search date range, we recommend using Professional Solutions.
Through this, you will be able to get rid of all the limitations of the Manual method. Also, a few clicks can solve a task that takes hours. You can install its demo version to test this tool.
Answers to Most Popular Questions
Q 1: How do I search for emails received within a specific date range in Outlook?
Ans: For example, suppose you want to view emails sent between 2016/3/1 and 2016/3/31. Please enter the search criteria Received: 2016/3/1…2016/3/31 in the Quick Search box, and all emails received between these dates will be retrieved quickly.
Q 2: What file formats are available for exporting Outlook emails by date range?
Ans: Email in Outlook can be exported in a variety of formats, including PST (Outlook Data File), CSV (Comma-Separated Values), and MSG (Outlook Message Format). The format you choose is determined by your needs.
Q 3: Can I export emails from Outlook for Mac by date range?
Ans: Yes, Outlook for Mac allows you to export emails by date range. The process is similar to Outlook for Windows. Use the search or filter options to limit emails by date, then export Outlook email by Date Range.
Q 4: Is there a size limit for Outlook email export?
Ans: In older versions of Outlook, the most common export format, PST files have a size limit (for example, 2 GB for Outlook 2003 and earlier). Although newer versions have larger restrictions, it is still necessary to monitor file size to avoid corruption of the outlook search date range.