How to Open NSF Files Without Lotus Notes in Outlook? – Solutions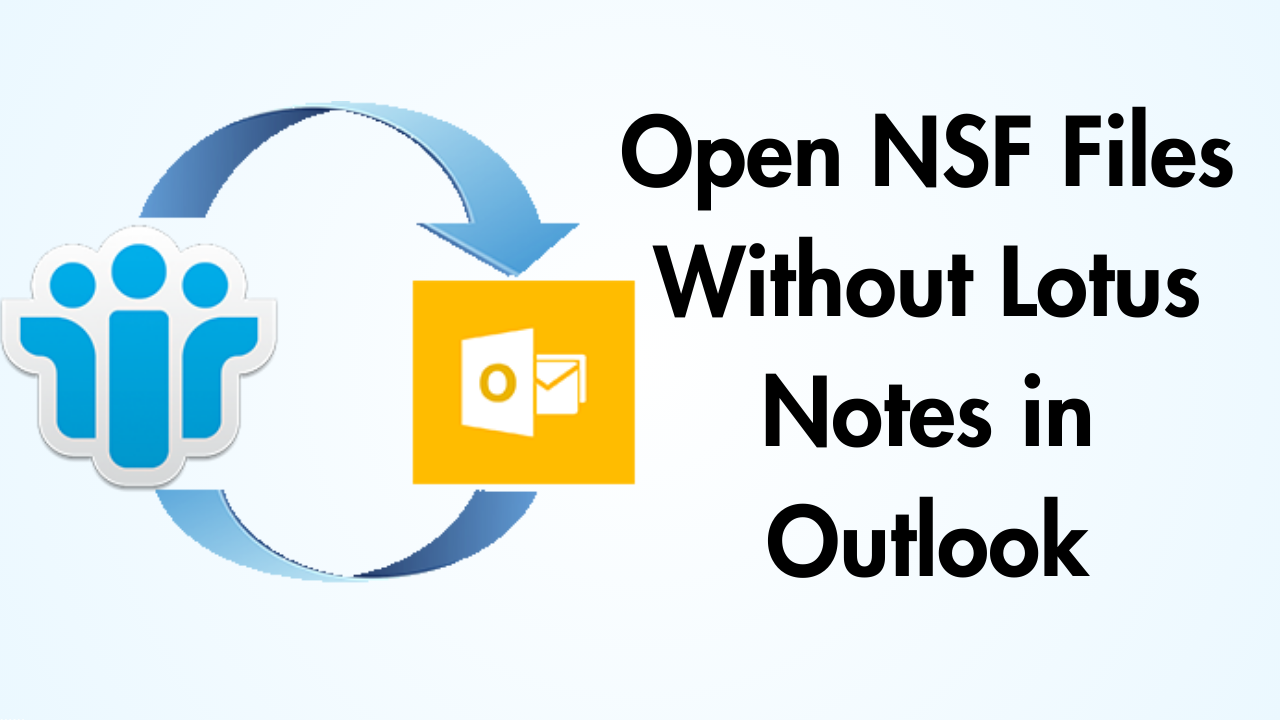 In Summary: In this technical guide, you will get all the possible solutions to open NSF Files Without Lotus Notes in Outlook. Today, this blog provides you with an amazing solution that helps you to make your task easy & simple. Let us go one by one to get an answer to open the NSF file in Outlook.
Navigating the Contents: A Guide
Lotus Notes Application – Explained
IBM Lotus Notes is a majorly used email application that is used by large organizations in office environments to achieve their daily needs of email communication. Also, a lot of users prefer to use this email client to open and view their daily emails on their machines in offline mode. Such a Lotus Notes account creates a separate NSF file to store the entire data integrated with each profile.
Apart from Lotus Notes, email applications such as Microsoft Outlook, Mozilla Thunderbird, Eudora, Windows Live Mail, Outlook Express, and many more. These are some of the popularly used desktop-based email applications for accessing email in offline mode.
You can open NSF files in any of the platforms listed above, but for that, you must first convert NSF files to other formats that are compatible with that application. Hence, in this article, we will discuss the most important question: How to open an NSF file in Microsoft Outlook without Lotus Notes.
So let us take a look at the reasons why users want to convert NSF files to Outlook.
Open NSF Files Without Lotus Notes in Outlook – Reasons
When a user wants to open and read an NSF file without Lotus Notes installation, there can be multiple reasons behind it. Some of them are listed below:
When a user is transferring the email client by his desire, then the need to open NSF without Lotus Notes occurs.
The most reasonable cause is if a user wants to move to a new work environment, where the Outlook email application is adept.
The maintenance cost of the Lotus Notes application is high enough compared to other email clients.
Migrating to Microsoft Outlook for its features and functionalities like configuring various user accounts at the same time.
So, it is not completely incorrect to open an NSF file without Lotus Notes downloaded on the system. But the problem arises when a user does not have any idea about how to read an NSF file without the IBM Lotus Notes installation or to access it in MS Outlook. If we talk about the professionals solution then, it is a highly recommended tool suggested by experts.
Professional Solution to Open NSF File in Outlook
Grab the best Revove NSF to PST Converter Software which is designed for a user-friendly interface to its users. You can easily access or open your NSF file without any Lotus Notes installation in Outlook. This application provides you with 100% security for your data for future use.
Moreover, it has no file size restrictions, you can access several files at a time without losing any data. Also, both technical and non-technical users can easily use this automated tool to get a resultant result for their issues.
Step-by-Step Process to Open NSF File in Outlook

Install and run the tool on your system to start the process to open NSF Files Without Lotus Notes in Outlook.
Now add the NSF file by selecting the option of Add File and Add Folders.
After this, with the help of the Data Filter Feature, filter the data that you want to export.
Finally, browse the location to save the result file and hit on the Export button.
Benefits of Implementing a Tool
This tool allows users to extract the maximum number of emails, contacts, attachments, journals, etc. from Lotus Notes NSF.
Also converts NSF files to PST in batch.
You can export Lotus Notes calendar to Outlook using the date filters option.
Furthermore. It provides you to translate canonical names into SMTP format.
You can also remove duplicate items before exporting data through this.
Note: If you want to open multiple NSF files without any other application installation, Then, go with a professional solution that is explained above. Or if you want to perform a manual method to solve your issues, then you need to follow the below instructions for the same:
Open NSF Files Without Lotus Notes in Outlook – Manually
The manual technique utilized to access and open NSF files without Lotus Notes download is executed in two workarounds. After performing both phases, the Lotus Notes NSF files are successfully transferred to the MS Outlook application. These two workaround process is described in the following segment:
Method 1: Export data from IBM Lotus Notes
Launch the Lotus Notes application and click on the Open button from the menu bar.
Then, hit on the File option and navigate to Export from the list that displays
An Export window will open and you are required to select a location to store the file after export. Choose to save type from the drop-down as Comma-Separated Value (CSV) or Structured Text
Now, you need to name the file after that click on Export
After export, you will either get a CSV file or a Structured Text Export display
After properly selecting the appropriate option click on OK to proceed forward
At last, that you have successfully migrated the Lotus Notes data file; you have to import the resultant data file in MS Outlook.
Method 2: Import the Resultant File to MS Outlook
Initially, launch the Microsoft Outlook application in your system and click the File menu
Choose to open and then navigate to the Import option from the list in the right panel
Here, an Import Export Wizard will open from which you have to choose the option "Import from another program or file" under the option to choose an action to execute
Click on Next to proceed. An import a-file wizard prompts up
After that, choose comma-separated values (CSV) and then hit on "Next"
Browse and choose the file migrated from Lotus Notes
Then, choose the desired location or folder in the user account, where you need to store the exported files. Moreover, you can also enable the option of "Replace the Duplicate items"
Select the folder to store the data after importing and click on Next
This procedure takes some time to complete after that hit on the Finish button once the task completes successfully
On perfect completion of the process, a user can easily open an NSF file without Lotus Notes installation on the system.
Those users who want to complete this process only through the manual method are then told their manual method. But also tell you together that this method has many flaws. So let's read the below part to get to know them.
Restrictions Associated with Free Solution
Selective or specified file conversion is not possible.
If the files are not considered with proper precaution, it can induce file corruption.
The technique is a lengthy process and can take time till successful execution.
A user can encounter loss of data issues after performing this manual method.
Observational Verdict
In this article, we have discussed both manual & automated methods which help you to open NSF files without Lotus Notes in Outlook. As the manual method is a little challenging for new beginners and non-technical users. And, has some limitations in completing the task on time.
Then, don't worry, our experts also recommend a professional solution that is easy & simple for all kinds of issues. Users can easily & freely use this tool and no restrictions on file size. For better knowledge, you need to read this post!
Regularly asked questions
Q 1: How to Recover Corrupted NSF File?
Ans: If your NSF file is corrupted or damaged, you can try to recover your NSF file using the built-in recovery features of Lotus Notes. Take these steps:
Start Lotus Notes on your computer.
Click "File" > "Database" > "Open".
Navigate to the location of the NSF file and select it.
Select "Fixup" and then click "OK".
The NSF file will be repaired by Lotus Notes. If successful, you should access it one more time.
Q 2: How to measure the size of Lotus Notes database?
Ans: These steps can be used to determine the size of the Lotus Notes database:
Go to the database you want to inspect by opening it in the Lotus Notes client.
You can access "Database Properties" from the context menu by right-clicking on the database icon.
Click the "Info" tab in the Database Properties dialog box.
The "Size" section, which also displays the amount of disk space used and the number of Notes documents, reveals the size of the database.