Export Lotus Notes Emails to PDF – Free Solution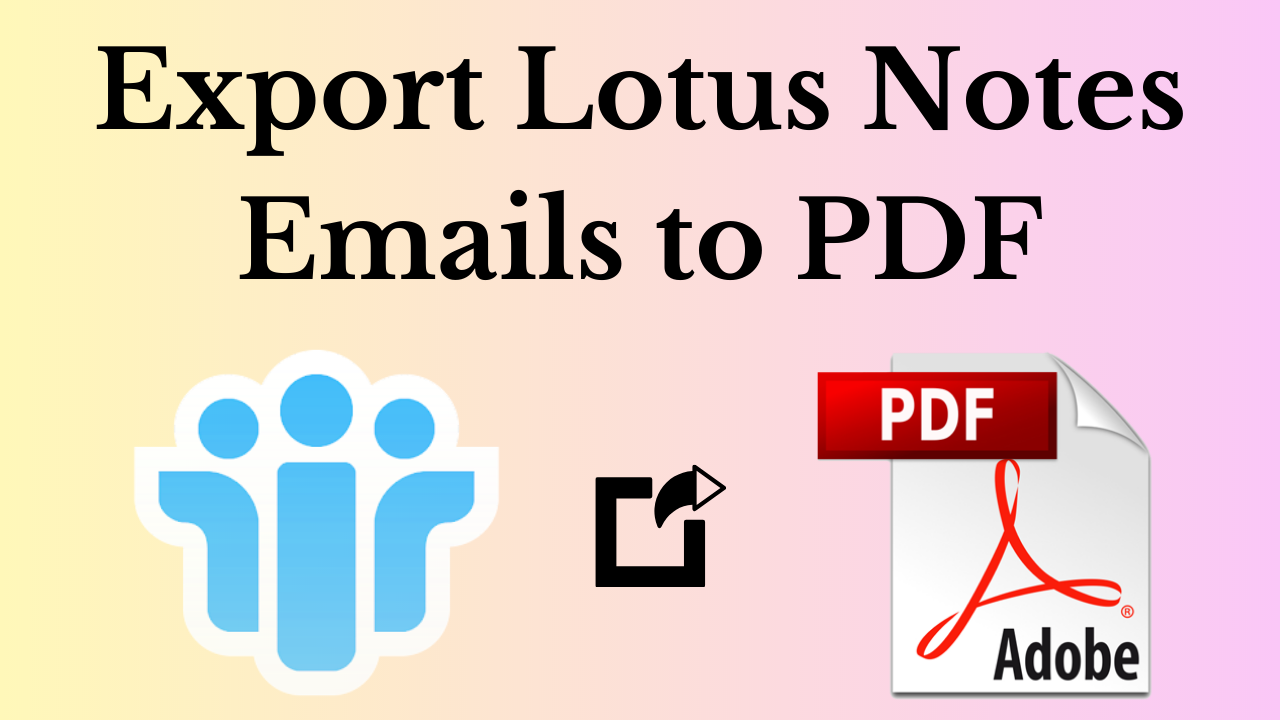 When we talk about IBM Lotus Notes, there is a set of users who are moving from IBM Notes to other email applications, and also there are users who are still using the Lotus Notes application. Well, now these two types of users want to take a backup of their IBM Notes data either in case of importing the data into another application or to prevent any data loss in the future. When it comes to exporting Lotus Notes emails, most users prefer to export Lotus Notes emails to PDF. But the sad part is that these people are quite confused about the process of implementing their needs.
Are you among those users who want to convert lotus notes to pdf, unfortunately not aware of the steps to perform? Then, this blog helps you with all your difficulties in saving email as PDF from Lotus Notes. So let's start the blog.
Table Of Content
Let's first know about the advantages of saving Lotus Notes in Portable Document Format (PDF), which we are going to tell in the lower part. Then, we will learn about the solutions with the help of which we will be able to complete this task successfully. So without wasting any time let's go ahead.
Export Lotus Notes Emails to PDF – Advantages
Here are some of the reasons why users have a strong desire to convert Lotus Notes emails as PDF files.
Compatibility is All that Matters: PDF is an independent file format, which is capable to open on any OS, no matter it is Windows, Linux, or Mac. Apart from these platforms, this versatile file format can also be launched on mobile phones and various other devices.
Better Data Security Options: Security is one of the major concerns, which is faced by users. Now, PDF stands on top when it comes to security as it not only allows password protect the PDF document but also enables the application of various operations like copy, printing, reading, etc to restrict the various unlawful act.
Limited Storage Capacity of IBM Notes: Lotus Notes has got limited database size to store the files. However, when the size goes beyond the limit, it makes the data inaccessible. Therefore, exporting Lotus Notes emails to PDF is a wise option. Hence, there arises a need to convert Lotus Notes email to PDF
Safely Accessible from Anywhere: Different users use varied web browsers that may differ from one another. Therefore, the PDF file, on which a person is working must be easily saved without facing any technical challenges. Furthermore, regardless of the web browser being used, PDF files can be quickly retrieved.
Changing Organisational Need:  Most organizations these days are migrating to other email applications from the default email client. Also, there is a chance of data loss when exporting data from IBM Notes. So to prevent such failures, converting Lotus Notes emails as PDF is the best backup option.
Well, after knowing all the advantages. Let's go to the bottom part. In the upcoming part, we are going to tell you about two types of approaches first are the manual method and the second is the automatic method. The same methods have existed since the beginning in terms of backup, conversion, recovery, and export/import. So first of all we will proceed with the first method. So, let us go.
Manual Workaround to Convert Lotus Notes to PDF
There are a lot of users here who want to complete this process with a free solution without spending any money. So for those users, we are going to tell the free solution here, which we have divided into three parts. so let's see
A: Export Lotus Notes Emails to PDF Using MS Outlook
To get started, run the Lotus Notes (HCL) program on your Windows computer.
After selecting the email you want to export as PDF, drag that specific email to the desktop.
Your drag-and-drop email will now be saved in EML format.
You can then use MS Outlook to select the option and click on the Save As option to open and read your saved emails.
After selecting HTML as your export format, you can immediately launch Microsoft Word.
Now, select Save As in the File menu option.
Choose the PDF option from the Save As menu and navigate to the location where you want to save your emails.
B: Convert NSF Email to PDF Via Adobe Acrobat
Open the Lotus Notes on your computer, then select the File menu item.
Then, select the Toolbars tab from the menu by clicking on the Preferences option.
Finally, select the Visible tab of Adobe PDF Maker.
C:  Save NSF File as PDF Using the Print Option
First of all, open the Lotus Notes email client on your system. And then open the mail which you want to convert to PDF.
Then, click on the print icon which you will see in the right upper corner.
Now, go to a destination and click on save as pdf, and finally hit on save button.
So that's it. To convert Lotus Notes to a PDF document, that's all you need to do. But before using this method, you should be aware of some restrictions. So we have given below some disadvantages:
Some Limitations of the Manual Method
This process is quite time-consuming and demands a lot of time and energy from the consumers.
The manual method mentioned above does not convert NSF files to PST instantly. Which increases the chance of losing data.
This method is difficult for novice users as it requires technical expertise.
Human error is a real possibility.
Also, you can convert only one email to PDF at a time.
If you have not been able to save the data in PDF even after following these methods, then move on to the lower part.
Export Lotus Notes Emails to PDF – Professional Solution
With the help of the Lotus Notes to PDF Converter Tool, one can convert an unlimited number of Lotus Notes data items like emails, contacts, calendars, etc. into PDF format. It does not impose any file size restrictions, so the user can export NSF files of any size.
If the requirement is to convert only selected emails, then use the date filter option to convert NSF to PDF. Furthermore, it provides an option to translate the canonical name into SMTP format. It is also capable of retaining Internet headers and HTML formatting after applying the conversion process.
How to Run Tool – Fully Explained
First of all, to start this process, run the tool after downloading it on your local system. And click on the start button.
Now, select NSF files and select add file and add a folder to add the file.
Then, you will see various file types like PST, EML, MSG, PDF, MBOX, vCard, ICS, and HTML. So from that select the file format in which you want to save the NSF file.
You can select mailbox items such as Mail, Calendars, Contacts, and Tasks from the Select Category, if desired, you can also use the Data Filter option.
Now select the destination location by hitting on the browse button.
Click on the export button to Convert NSF to PDF.
After the task is completed, click on the OK button and go to the location to see the converted file.
Wrap-up
This post explains the two alternative techniques to export Lotus Notes emails to PDF. We have talked about the numerous aspects that influence the conversion of IBM Lotus Notes NSF files to PDF files. Using Outlook's Import/Export feature, the manual solution is demonstrated. But this could be a complicated and time-consuming process.
Therefore, users can use the third-party tool to easily and securely convert NSF to PST files online. Customers can also download the available software demo version to evaluate the software's capabilities.
Frequently Asked Questions: Tips and tricks
Q 1: What Format Does Lotus Notes Email Use?
Answer: The file format used by Lotus Notes has the NSF file extension, which stands for Notes Storage Facility.
Q 2: In Lotus Notes, How do I Download Each Attachment?
Answer: You can follow the instructions listed below to download each and every attachment from Lotus Notes:
You must first open the email message that contains the attachment you want to download.
To access the "View Attachments" dialog box, click the attachment icon in the email message.
Holding down the "Ctrl" key while selecting each attachment in the "View Attachments" dialog box will allow you to select all the files you want to download.
To save the attachments to your computer, click on the "Save As" option.
Select the folder where you want to save the attachments and click "Save" in the "Save As" dialog box.
Each attachment will be downloaded by Lotus Notes to the specified location.
Q 3: How Can I Export Lotus Notes Emails to a CSV File?
Answer: First open the Lotus Notes program on your local system. After you open your email program, choose File from the menu. To migrate, select the Export option.