Top Free Methods to Convert Lotus Notes Mail to Thunderbird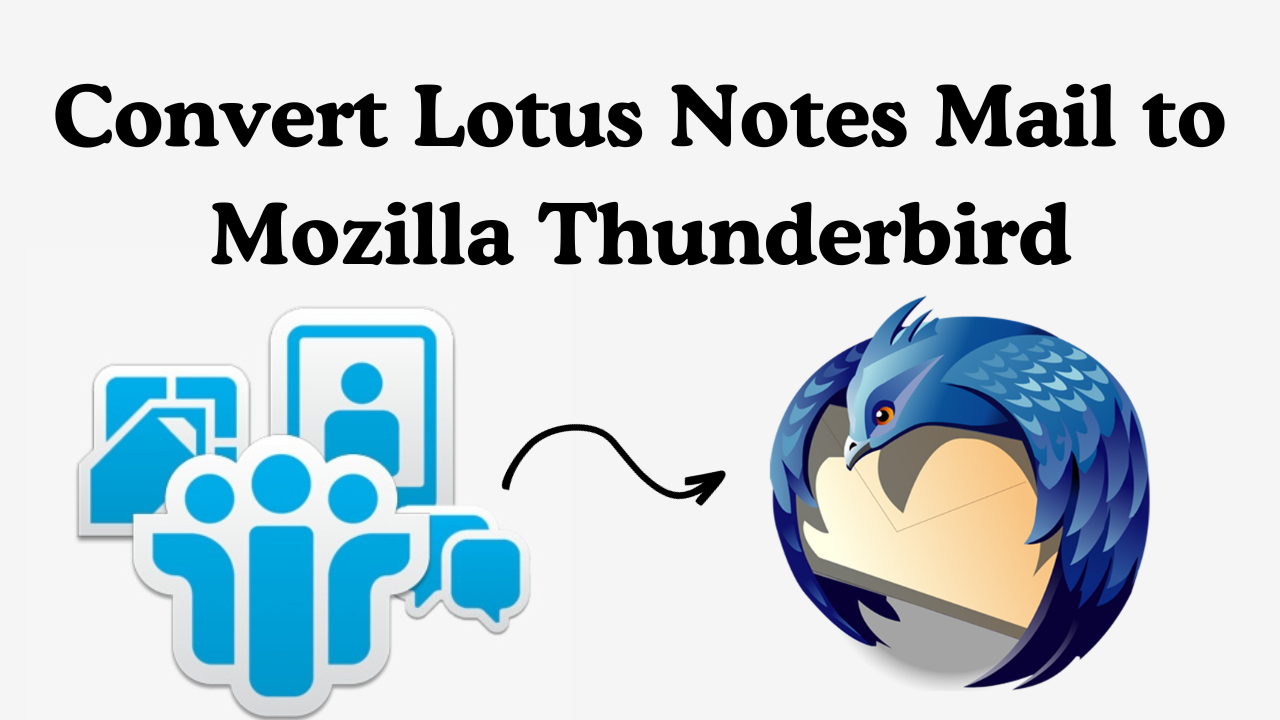 Summary: IBM Notes aka Lotus Notes is a highly complex email client application. In this post, we will learn about the top free methods to convert Lotus Notes Mail to Thunderbird. So, keep reading blogs and enjoy your hassle-free journey from Lotus Notes email to Mozilla Thunderbird.
With the advanced evolution of science and technology, there is a substantial change in the email communication pattern. The flow of email communication is moving from complex infrastructure to easy-to-use and scalable technologies. Undoubtedly, Lotus Notes is one of the secure email client applications but despite this fact, most Lotus Notes users are interested in moving to other desktop and cloud-based applications such as Thunderbird, Outlook, Office 365, etc.
Table of Content
The accurate reason for this type of behavior is under scrutiny by data experts. But at first glance, there are so many reasons for the same. However, in this post, we will discuss the mechanism to get access to Lotus Notes mailbox data into Thunderbird.
Unavoidable Reasons Migrate From Lotus Notes to Thunderbird
Below are the foremost reasons why users are willing to convert Lotus Notes mail to Thunderbird. There is a possibility that the facts mentioned below may be distorted for someone.
1. Proprietary Database: Lotus Notes does not allow access to the NSF file format in any other application. One can only view or read files exclusively in the Lotus Notes application.
2. High Maintenance Cost: This could be another major driving force for selecting Thunderbird over Lotus Notes.
3. Restriction Limitation: Lotus Notes does not allow access to mailbox data without an associated user.id file of that user.
So, these are the reasons why Lotus Notes users select to go with Mozilla Thunderbird on the Windows 10 operating system.
Ways to Export Data From Lotus Notes to Thunderbird
Technically, there is a manual solution available to access Lotus Notes Mailbox in Thunderbird. However, the manual solution is not easy to implement without any errors. The user must have sound technical knowledge of the subject matter. For caution please save the backup of Lotus Notes mailbox data at a safer location in Windows 10. Then follow the below-mentioned steps:
Export IBM Notes Emails to EML
Download the Lotus Notes email application on your PC.
Click on the File tab and choose the Save As option to convert Lotus Notes Mail to Thunderbird
Choose EML as your export type and save your IBM Notes data in EML format
Now, Navigate to the File menu and hit on the Preferences tab
Once you have done this, select the Basics Notes client configuration tab
Choose the Drag and Drop save as the EML file format option
At least, you will get their output files saved at your destination path.
After converting NSF to MBOX format. Now, you have to import an EML file into Thunderbird to complete this manual method. Follow the below steps to migrate from Lotus Notes to Thunderbird:
Also Read: How to Save Lotus Emails to PDF Format?
Import the Exported EML Files Into Thunderbird
Launch the Mozilla Thunderbird application on your local system.
Now, add the Import & Export
Navigate to the Local folder and create the new folder by clicking right on them
Then, right-click on the New folder option and make sure to select the Import/ExportTools NG >> Import all the messages directly and then from its subdirectories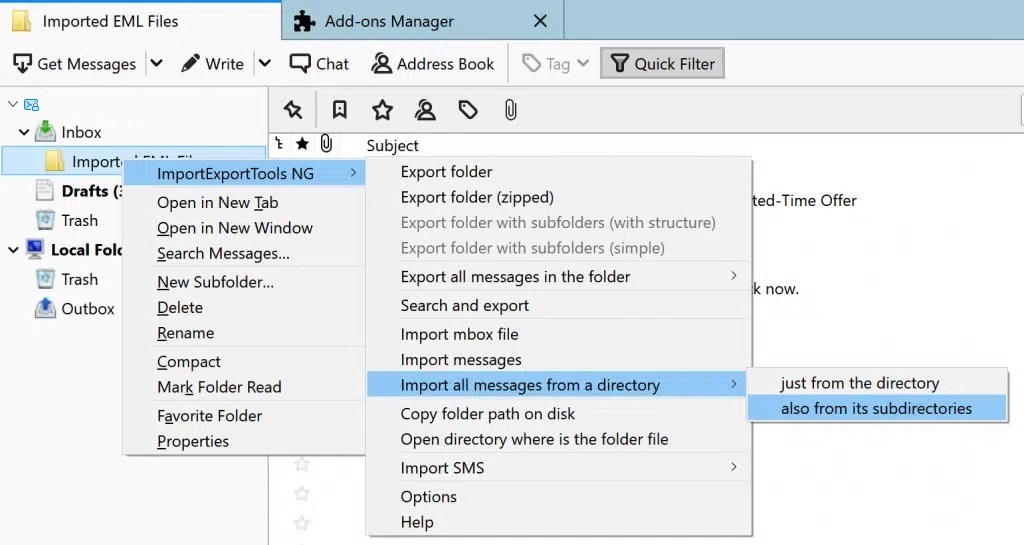 Browse to the destination folders and hit "OK"
Finally, you will get your EML files in the Thunderbird email client.
So in this way, you can convert Lotus Notes mail to Thunderbird. However, this manual solution is not meant for exporting bulk NSF files.
Also Read: How to Export Calendar from Lotus Notes to Outlook?
Limitation of Manual Solution to Export Lotus Notes Email to Thunderbird
The manual solution is only limited to exporting single NSF emails to EML file format at times. If you have bulk NSF files having thousands of emails. Then this manual solution is feasible. As it will consume time and also create the possibility of data loss.
With the manual solution, you cannot export Notes mailbox items such as contacts, tasks, calendars, notes, and journals to Thunderbird.
So it is better to deploy the expert-recommended software for the conversion of Lotus Notes mailbox items to MBOX.
Professional Solution to Convert Lotus Notes Mail to Thunderbird
To avoid the limitations of a manual solution, it is recommended to use the Revove NSF Converter Tool. It is one of the most preferable software to export Lotus Notes mailbox data to Thunderbird. Moreover, you can easily convert multiple Lotus Notes mail into Mozilla Thunderbird without losing any data.
Also, there is no need for sound technical knowledge; the novice user can easily complete their task in just a few clicks. So, what are you waiting for? Go ahead and download this professional software on your machine and get the desired results.
Now, follow the below-working steps to batch convert Lotus Notes Mail to MBOX in a hassle-free manner.
Step-by-Step Guide of Lotus Notes into Thunderbird
Follow amazing steps to convert single or multiple Lotus Notes mailboxes into Thunderbird without facing any errors.
1. Launch the tool and select the NSF File(s) and "radio" button then choose Add File(s) or Add Folder option.
2. Now, Add the desired file format for conversion
3. Click on "Advanced Settings" to apply settings to convert Lotus Notes Mail to Thunderbird
4. After that, click on "Export" to convert NSF to your desired file format.
Let's discuss some of the Highlighted Features of Software.
Allows to Bulk Export Lotus Notes Mailbox data to Thunderbird
Supports Export Lotus Notes Domino Mailbox to Mozilla Thunderbird
Translate Canonical Values to SMTP format
Remove the encryption from the Lotus Notes mailbox file
Maintain Internet Header of Lotus Notes emails
Offers Folder to folder mapping of Lotus Notes Folder to Thunderbird
No file size limitation is associated.
After performing this professional solution, I hope you get an easy way to batch convert Lotus Notes into Thunderbird. And, if you want to perform the same issue using the manual method. Then, it is not possible to convert multiple Lotus Notes mail to Thunderbird. Using this method you have to convert Lotus Notes one by one. So, choose as per your need to migrate from Lotus Notes to Thunderbird.
Last Word
There is no doubt that Lotus Notes is a secure email client and provides better features than any other email client application of a similar category. However, it's the user's choice to Convert Lotus Notes Mail to Thunderbird. The user can take either a manual way to move from IBM Notes to Mozilla Thunderbird or a professional solution to export mailbox data from Lotus Notes to Thunderbird without any data loss.
Frequently Aksed Questions
Q 1: What is Lotus Notes email format?
Ans: Email in Lotus Notes: Lotus Notes email content is stored on the server in CSN format, not NSF format. As a result, if the value of retained. Original. True when exporting a document to HTML, it is saved in the export directory as CSN files.
Q 2: Is Lotus Notes POP3 or IMAP?
Ans: IBM Lotus Notes supports a Secure Sockets Layer (SSL), which ensures the security of communications for your POP3, IMAP, or LDAP accounts. SSL encrypts the data exchanged between your Notes client and the server you designate for your account.
Q 3: How can I export emails from Lotus Notes to EML files?
Ans: Start by launching the Lotus Notes application on your local machine. After that, select the email you want to save in EML format. Go to the File menu and then click the Save As button. Choose a file name, navigate to the destination, and then click the Save button.