Troubleshooting Outlook Hangs on Loading Profile for version 2021, 2019, 2016, 2013 and Below
Summary: Outlook is the email client platform developed by the big tech giant Microsoft Inc. For formal communication in an organization. It is available as a single stand-alone application or part of the Microsft Office 365 Suite. It is the most preferable email client by the organization because of its easy-to-use interface and sync with the Microsoft Exchange server. But, sometimes Outlook Hangs on Loading Profile for versions 2010, 2013, 2016, 2019, and 2021. The complete steps to troubleshoot the Outlook stuck on loading profile problem are listed in this technical and informative blog. So, let us start the blog to solve the Outlook loading profile stuck issue.
Table of Contents – Easy to Find
First of all, let us know about some important factors why Outlook stuck on loading profile. So, we are going to explain all the points related to outlook 2016 stuck on loading profile in the below sections.
Also Read: How to Create PST File in Outlook?
Outlook Hangs on Loading Profile – Reasons
Processes that are still active in the background, including Outlook.exe and others.
Outlook can be hindered by applications such as add-ins, VPN software, Lync (or Skype for Business), etc.
The Hardware graphics acceleration option of the Outlook Options dialog is not disabled.
Desktop theme issue after installation of Office 2013 SP1 on Windows 7.
It turns out that the Outlook Data File (.pst) is corrupt.
After knowing all the things, now it is time to know the solutions, Many solutions can be possible for Outlook stops at loading profile, but, below we have told you all the best and tested solutions. So, without wasting your time let's go further below and follow all the steps of the solution to complete the task to resolve issues of the Outlook loading profile stuck.
Outlook Stuck on Loading Profile – Solutions
While opening Outlook, if you have outlook stuck at loading profile error show, then solving it is a very frustrating task. So, you don't need to worry anymore. Below we have given all the tested and reliable solutions for you. So, let us stats.
Read More: How to Fix Microsoft Outlook Not Responding Error?
Method 1: Run Outlook as an Administrator
Enter "Outlook" in the search box.
"Right-click Outlook" in the search results, and then choose "Run as administrator".
When presented with a confirmation dialog, select "Yes". This will enable administrator mode for Outlook.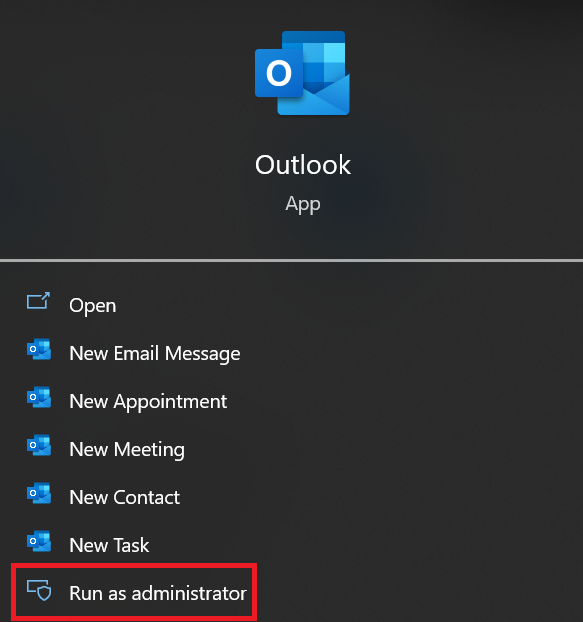 Method 2: Discconetnt Your Internet Connection
If Outlook is getting stuck on loading the profile then, you should check your internet connection once. If you are connected to WiFi internet or content from a LAN network then, you have to need to "Disconnect" your connection.
Disconnecting from Wi-Fi
To open the "Action Center", click the "Notification" symbol in the bottom right corner to fix Outlook Hangs on Loading Profile issue.
Click "Network" in the Action Center.
To disable "Wi-Fi", click on it. "Enabling Airplane Mode" also disables Wi-Fi.
Disconnecting the LAN
Search for the "Control Panel" in the Start menu to fix Outlook Stuck on Loading Profile issue.
From the search results, choose Control Panel.
Navigate to the "Network" and "Sharing Center" in the Control Panel.
"Change Adapter Settings" can be found in the left bar.
Disable your "Ethernet Adapter" by right-clicking it. This will terminate your "LAN Connection". Enabling the connection is as simple as right-clicking the adapter and selecting "Enable".
More Information: How To Export Outlook Email By Date Range?
Method 3: End Task Manager Office-Related Processes

Use the keyboard shortcut "Ctrl + Shift + Esc" to open "Task Manager".
Office-related tasks can be searched, selected, and then "Finished". This includes more Office programs and operations such as Click-to-Run.
Finally, "Start Outlook" to fix Outlook Hangs on Loading Profile error.
Method 4: Disable Hardware Acceleration
It is the technique in which the System's Hardware is forced to perform the task more speedily than the standard architecture of the Processor. It is generally used with heavy computing tasks and for high media-rich content
Press "Win + R" on your keyboard to open "Run". Additionally, you can search for Run in the Start menu.
Enter the code in the text box: "Outlook.com/safe"
In "Safe Mode", Outlook will now launch.
Go to "Options" by selecting the "File tab" in Outlook.
Find the "Advanced" tab in the Outlook Options box.
"Disable Hardware Graphics Acceleration" is checked under Display, further down.
Select "OK".
After closing Outlook, open it without using Safe Mode to solve the Outlook Hangs on Loading Profile problem.
Method 5: Build a New Outlook Profile
Select "Control Panel" in the list of search results.
Find and select "Mail" in the Control Panel. The Mail Setup window will then appear as a result.
Click "Show Profile" in the "Mail Setup Window". This will launch a new tab.
Select "Add".
Type in your "New Profile" and give it a "Name".
After setting up your email, click "Next". The mail servers will be detected and connected to by Outlook.
When your new profile is ready, change Use this profile from Outlook when creating the new profile.
Open "Outlook" after clicking "OK".
Method 6: Repair Corrupted Outlook Data Files (.pst)
If Outlook hangs on loading profile then it may be that its data file PST is corrupted or damaged due to which you have to face this error now we need to repair the PST file. You can use Outlook Inbox Repair Tool. But, this will solve a small problem of Outlook PST and it runs in different locations on different Outlook versions. Apart from this, its process is very long and time-consuming, in which case your data can be harmed.
Follow the below-mentioned steps to run the Scan.pst utility:
Start the "Inbox Repair Software" program on your local system.
After opening the application, select "Browse" to access the "PST File" you want to repair.
After you've opened the PST file, click "Start" to begin the scanning procedure.
After that, when you hit the "Start" button, the repair tool scans the whole PST file.
Always make sure that you have created a backup of your file before fixing it
Finally, click the "Repair" button to resolve all PST file errors.
So, if you want to face all these problems, then, you should use this Professional Outlook PST Recovery Software. This tool is quite reliable and cost-effective and can be used by any tech and nontech user without any fear as per their requirement, moreover, it solves bigger and more corruption issues from Outlook PST in just a few clicks.
Time to Wind-up
When Outlook hangs on loading profile, it can be annoying, and you need to take some serious action to solve the Outlook stuck on loading profile problem. We have provided some solutions above if you want to make it run smoothly. Even though there are other excellent methods, we still recommend using Tool as it is the most reliable technology available. We sincerely hope that you will get relief.
Frequently Asked Questions
Q 1: What does it mean when Outlook says "loading profile"?
Ans: When Outlook hangs at "Loading Profile", it indicates that the application is unable to launch because it is unable to initialize your email profile. This can be caused by a variety of problems, and it is important to fix them in order to access your email and other Outlook functions.
Q 2: Can I get my data back if I have to recreate my Outlook profile?
Ans: Yes, even if you recreate your Outlook profile, you can recover your data. PST (Personal Storage Table) or OST (Offline Storage Table) files are commonly used to store email data. Backup or export these files before rebuilding the profile so that you can import them into the new profile.
Q 3: Why is Outlook 2016 stuck on loading profile?
Ans: Outlook 2016 may become stuck while loading your profile for a variety of reasons, including faulty profile settings, add-in conflicts, or problems with your mailbox or Outlook installation.