How to Fix "Outlook Crashes When Opening Email" Problem? Top Methods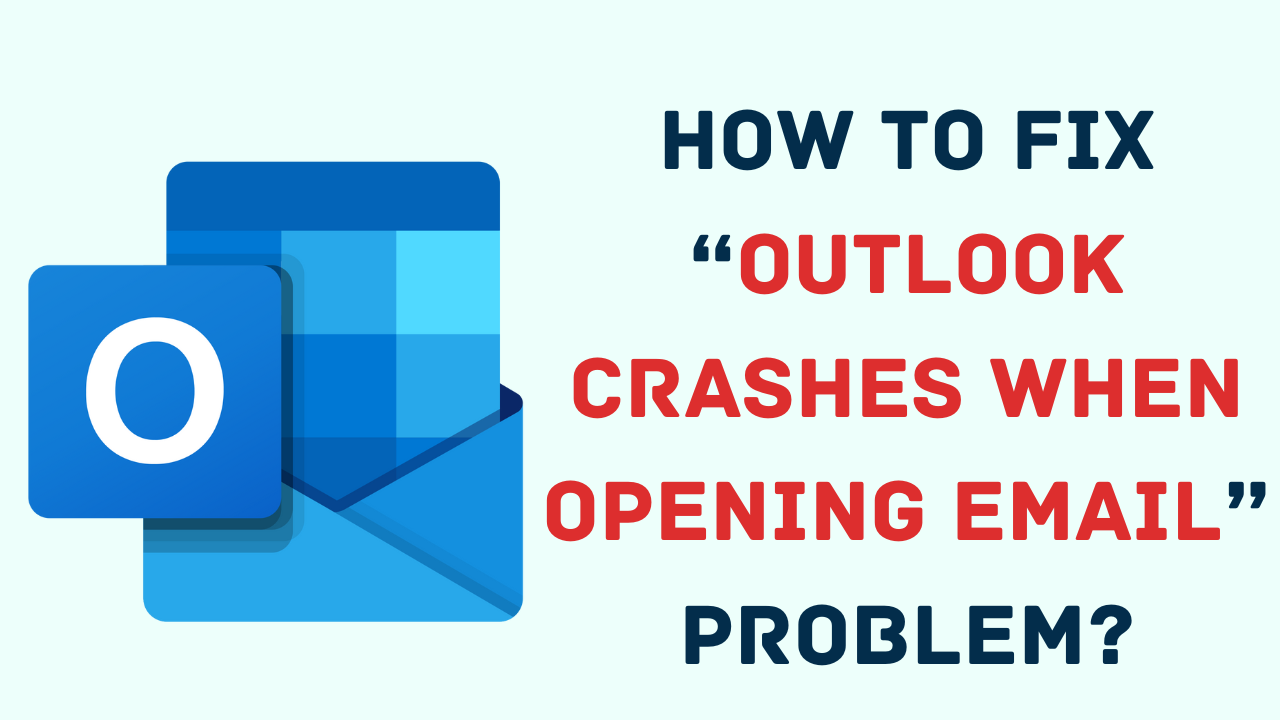 In Summary: Today, in this growing technology, we need a great email client to race on sending emails to another person daily. So, Outlook is one of the applications used worldwide, which provides excellent features and strong security to its users. But, sometimes users are looking for a solution to know how to fix the "Outlook Crashes When Opening Email" problem. In such a situation, this guide will tell you all the methods to solve Outlook hangs when opening the email. So, without wasting any time let's start the blog.
Table of Contents – Easy to Read
But, let us know why users want to fix the "Outlook freezes when opening email" problem. So, below we are going to explain all the reasons related to this problem.
Outlook Crashes When Opening Email – Reasons
There are many situations in which users want a solution to the problem of why Outlook hangs on opening emails. So, below we list some of the reasons:
The first reason behind this error can be that both PST and OST files of Outlook have become corrupt.
It is also possible that the computer on which Outlook is installed has been attacked by a virus.
Or an error or software failure was encountered during the installation of Outlook.
Corruption of Outlook profile causing Outlook to freeze while opening emails
You are using an older version of Outlook and have not updated to the newer version.
Also Read: How to Fix Outlook 2016 Search Issue
Now, we know all the reasons behind this issue. So, let us know the solution to fix Outlook crashes when opening attachments. In the upcoming part, we are going to explain the step-by-step methods to fix Outlook freezes when opening email issues. Let us start.
User Query: I use Microsoft Outlook as my default email client at home. For the past few days, MS Outlook has crashed when I open emails. I have tried opening Outlook in Safe Mode. The most surprising thing is that my Outlook crashes even in Safe Mode. Can anyone suggest how to get rid of the problem with Microsoft Outlook? Thanks in advance!
We have received the above-mentioned user queries from technical forum sites. , it shows that many users are facing this problem, so, below we are going to tell you two types of automated and manual solutions to resolve Outlook crashes when replying to email issues.
More Information: How to Fix Microsoft Outlook Not Responding Error?
Outlook Crashes When Opening Email – Automated Solution
As we mentioned in the reason part, PST data file corruption of Outlook can also be the reason for this error. So, to fix this corruption you should use the Revove Outlook Recovery Tool, this tool is very reliable and valuable, which solves the problem of Outlook freezing on opening emails very easily and in a few clicks.
This program offers two modes for scanning Outlook data files: regular and advanced. When data corruption in Outlook is severe, Advanced Mode is turned on. Even with corrupted Outlook data files, normal mode functions properly. Additionally, it enables you to recover Outlook data in various formats including PST, EML, MBOX, etc.
How to Effectively Use the Tool?
First, download and run this utility to fix Outlook hangs when opening email problem.
Then, click on the "Add Files" button to "Select, Search PST and BAK Files" as per your need.
Now, all PST file items can be previewed on the software panel.
After that, hit on the "Export" option to migrate all PST file data items together.
Then, choose the "PST" option to save the resultant data and press the "Advanced Setting" button.
Finally, click on the "Export" button to save previewed data in the PST file.
After knowing all the steps of a smart solution. Now, you are still looking for a free approach. Then, you can follow the below-mentioned method.
Read More: How to Create PST File in Outlook
Manually Fix "Outlook Freezes When Opening Email" Problem
Outlook crashes when opening email, here are some more manual methods to solve the problem, which you can use for free to solve the problem. But before starting the solution, you should know the drawbacks of this method like technical knowledge, Outlook should be installed, missing a single step can lead to data loss, more time-consuming, or even more. Well, follow the steps given below carefully to solve Outlook crashes when replying to email.
Method 1: Restart MS Outlook
To solve many such small problems, we restart Outlook, which helps a lot. So, you should start with that. Follow the below steps:
First, Right-click the "Start" icon and click on the "Task Manager" from the list.
Pick "Microsoft Outlook" from the "Processes" tab next.
Finally, click the top-positioned "End Task" button.
Method 2: Open Outlook in Safe Mode
You can start Outlook in Safe Mode and use it without any add-ins. This can help you analyze the root cause of the problem, whether it's an add-in or something else.
First, to open the "Run Dialog Box" press "Win + R" together on your keyboard.
Now, type "Outlook.exe /safe" in the "Open Field" and hit on the "Enter" button to open Microsoft Outlook in Safe Mode.
Method 3: Update Microsoft Outlook in New Version
Outlook releases new updates daily to bring new features and improve app stability. So if you have not updated Outlook for a long time, then follow the steps mentioned below:
Launch the "MS Outlook" application and head over to "File" >> "Office Account".
Next, in the pane on the right, select "Update Options" >> "Update Now".
Wait while Outlook searches for and installs the latest updates. After the update, Outlook should be running smoothly on your computer.
Method 4: Use Scanpst.exe Repair Tool
To fix Outlook errors, Microsoft has developed an Inbox Repair Tool (ScanPST.exe) that can fix minor issues with Outlook's data files. Therefore, to do this, take the following actions:
Choose "Properties" from the context menu when you right-click the "Outlook" shortcut.
Under the Shortcut tab, click the "Open File Location" button.
After you find "SCANPST.EXE", double-click on it.
In the Microsoft Outlook Inbox Repair Tool, click "Browse" and go to the following directory:
Be sure to replace *username* with your username in the above path.
After selecting the profile you want to repair, click on "Start".
Method 5: Make a New Microsoft Outlook Account
It is possible behind this error that the currently running Outlook profile has become corrupt or inaccessible due to which Outlook has crashed. So, follow the below steps to create a new profile:
To display the Search menu, press "Win + S".
Select the first option that appears after typing "Control Panel" into the search box.
Select Large icons from the drop-down menu in the Control Panel window.
In "Microsoft Outlook", select "Mail".
Select "Show Profile" from the "Profile Menu".
To "Create a New Profile", click "Add", then "OK" after providing a name for it.
Then, "Enter Your Account Information", and then click "Next" in the Add Account window.
Finally, select your new profile under When you launch Microsoft Outlook after it is created, then click "Apply".
Now, here all manual methods end. Now if you are thinking of using the manual method then, you can lose your data, so, we recommend that you use the solution mentioned in the first approach above.
Time to Wind-up
In this complete guide, we have mentioned all possible solutions to solve the "Outlook Crashes When Opening Email" issue. Besides this, we have also mentioned the reasons why users want to fix "Outlook hangs on opening email" problems. There are two types of solutions above, now you have to decide which solution is better according to your needs.
Frequently Asked Questions
Q 1: What Does Outlook Safe Mode Accomplish?
Ans: Microsoft Outlook has a feature called Safe Mode that enables the email client to launch with a limited range of functionality. If Outlook crashes frequently, try starting it in safe mode.
Q 2: How to Check Outlook Errors?
Ans: You can use the inbox repair program SCANPST.EXE to check for Outlook problems. This program can be used to identify and fix problems in Outlook data files.
Q 3: Why Does Outlook Crash When I Open an Email?
Ans: Outlook may crash when you open an email that contains pictures for a variety of reasons, including unsupported file formats. Outlook is an older client. On the system, inappropriate updates were deployed.