Tips to Fix Microsoft Outlook Not Implemented in Outlook 2016, 2013, 2010, 2007
Microsoft is one of the most popular email client platforms for business communication perspective as well for the personal uses. Sometimes when the user clicks on Send/ Receive button an error appears on the screen with the following Message "Not Implemented". In this article, the root cause and the solution to fix Microsoft Outlook Not Implemented error is discussed in detail.
At First sight, most of the user could not identify or understand the error and why it appears instantly when send or receive button is pressed. The message only describes "Not Implemented". Then, How a normal user can understand or resolve error not implemented in outlook 2016, 2013, 2010, 2007.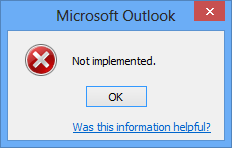 Genuine Queries Raised by User when swamped in Outlook Send and Receive Not Implemented Error
"I am a legitimate user of Outlook application since its version 2007. I recently upgraded my Outlook version to 2016 from 2013 on Windows 10 operating system. After the up-gradation, it worked fine for a month without any issues. But from last night, I got the error Outlook not implemented when I am trying to click on send and receive button to update my inbox folder. I have tried all the hacks to resolve the error but failed to do so. I am frustrated now. Please suggest me any solution to fix Microsoft outlook 2010 send receive error not implemented"
"I worked with the company which provides the cloud services to the different small organization having an employee base of 100-500 peoples. Yesterday, one of our prestige customers called us about the problem that is facing since one week. He is unable to use outlook application to send or receive the emails and other sorts of things. Outlook not implemented error always appears when he tried to use send and the receive button. We also do not understand the reasons behind this error and hold our client for a while to get the genuine solution of the Microsoft outlook not implemented message."
Let's try to understand the root cause of Microsoft Outlook Error Message Not Implemented
There might be multiple reasons for the Outlook not implemented error. Some them are discussed below:
Antivirus Scanner
In Outlook there is antivirus scanner installed which scans each mail before sending or receiving process. Due to which sometimes the send or the receive button get hangs up and raise not implemented error

Peculiar Outlook Plug-ins
There is always be possibility that installed Outlook plug-ins interrupt the smooth working of outlook application

Outlook Send & Receive Settings
If the send or receive settings are not properly configured then it also is the cause of outlook not implemented error.

Faulty Installation of Outlook Application
The Outlook installation is not executed by following the standard guide to install an outlook application on the system.
Instant Solution to Fix Microsoft Outlook Not Implemented Error
Disable the antivirus scanner compulsively. If you do not face such error and enables the antivirus scanner. Then it is recommended to disable antivirus scanner. This might interrupt the smooth processing of Outlook.

Check the issues caused by installed plug-ins by launching Outlook in safe mode. If in the safe mode outlook works fine then disable the plug-in from outlook interface itself.

Go to Outlook Option>> Switch to Add-ins tab.

Then click on Go button.

The new pop-up dialog box will open

Disable only one plug-in open at a time

Restart the Outlook application again

Check for the issue solved or not.

Go to C:\Users\%username%\AppData\Roaming\Microsoft\Outlook\ location and SRS file store there. Rename the SRS file to .old. The File will be created automatically on next launch of Outlook application

If the Microsoft Outlook application is itself damaged then repair it first. Follow below steps.

Control panel >> Uninstall Program >> Office >> Click Change Button >> Choose Repair >> Click Continue

Create New Outlook Profile is always the best method to fix any outlook error

Steps to Create Mew Outlook Profiles

Go to Control Panel >> Mail Applet >> Show Profiles >> Click Add Button

Check Corruption in Outlook PST file using the Scan PST utility. If there are minor corruption issues inbox repair tool works fine.

Professional Software to Fix the Outlook not Implemented Error
The Inbox is the free utility and will be helpful in case of minor corruption issues only but for major corruption issues, you have to use professional software such as Outlook PST Recovery tool. It is capable of fixing outlook pst issues instantly without losing any data.
The Bottom Line
All the methods mentioned above to fix Microsoft Outlook not implemented error in Outlook version 2016, 2013, 2010, 2007 are so convincing and assertive. After following methods, the problem further persists But as per my experience your problem get solved by above methods only. But when you are attempting this solution randomly then there might be the possibility of corruption in Outlook Data file.  To Fix Corruption issues in Outlook file you have to deploy the professional solution. One such tool is Outlook PST Recovery tool most of the time recommended by the experts to handles the issues of Outlook easily and quickly.