How to Fix Outlook Keeps Asking For Password? – Quick Solution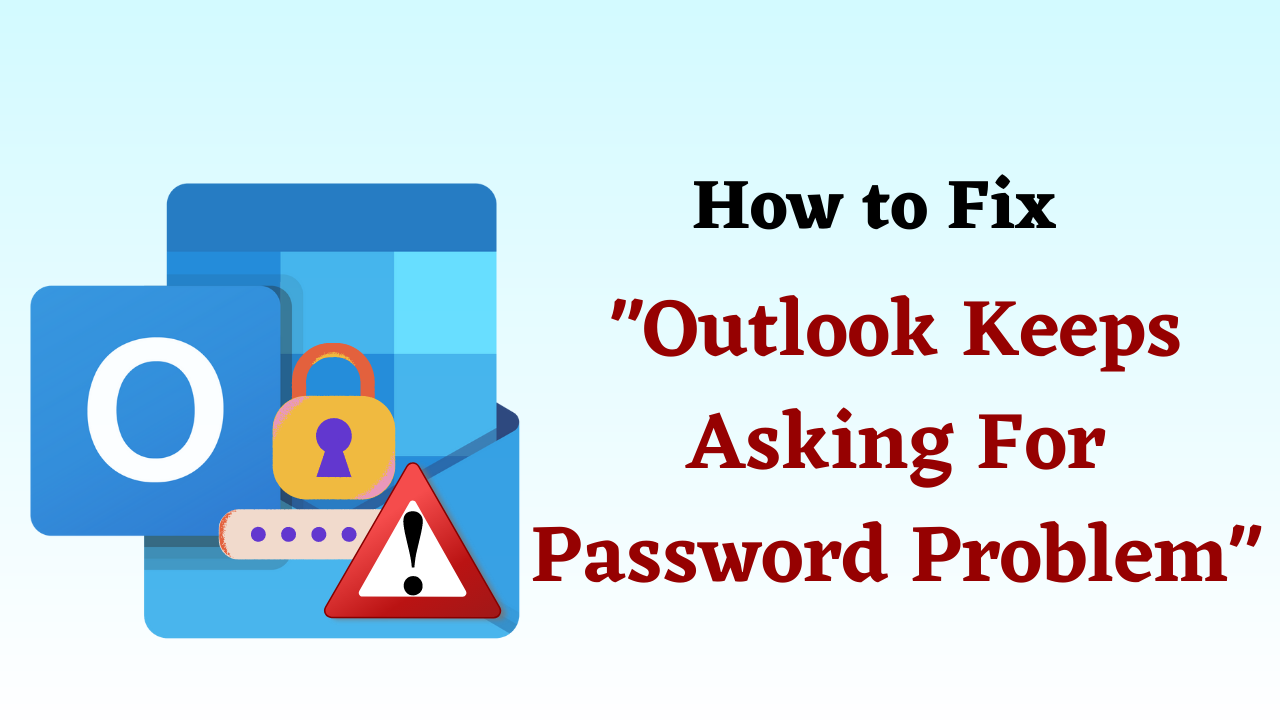 Introduction: According to the user base and popularity, Outlook is one of the best and most widely used email client platforms for business communication perspective. Outlook provides easy to use interface with top security protocols for effective secure communication. But, after the recent Windows 10 up-gradation, Outlook users have to face certain issues such as Outlook keeps asking for passwords, Outlook 2016 not accepting passwords, and many more similar types of problems. Therefore, solving Outlook asking for passwords 2016, 2013, 2010, and 2007 issues in quite an effective and simple manner, a comprehensive list of solutions is mentioned and described here. So, let us start the blog.
But, first, we need to know why Microsoft Outlook asks for passwords. So, below we are going to explain all the reasons.
Why Does Outlook keeps Asking For Password Error?
There are many reasons why Outlook asks for a password, again and again, every time you try to open it, some of which are as follows:
Outlook is set up such that you must provide your login information whenever you try to use it.
This error can occur if the "Credential Manager" stores an invalid password.
Also, this problem can be brought about by a faulty network that prevents Outlook from connecting to the server.
After knowing all the reasons, now it's time to know the solutions to solve Outlook need password issue. So, there is a manual method available to solve it. Which we have divided into several parts. So, let's go step by step and know the solution and fix the error.
Outlook Asking For Password – Simple Solution
The methods and solutions described here are simple and easy to follow. You can try it yourself. But, before flaunting this solution, you need to take a backup of your data and install MS Outlook on your system. Well, let's start the blog.
# 1: Installs the Latest Update for Outlook
If you are unable to install the latest updates for MS Outlook 2016, 2013 and 2013 then follow these steps:
First, open MS Outlook on your system.
Then, click on "File" and Then, "Office Account".
Finally, Choose "Office Updated" and then, click on the "Update Now" button.
# 2: Restart or Reboot Your System
These methods are effective for users with a non-technical background. Outlook keeps prompting for password problems, rebooting the system is one of the easiest ways to resolve it. When you reboot your system, it simply reloads all the registry files. Follow the below steps to solve Outlook keeps asking for password issue:
First, click on the "Windows Icon" at the bottom left corner.
Then, after selecting the "Power" button, press the "Restart" button.
However, if this method does not work then they proceed with the other mentioned methods.
# 3: "Remember Password" Option Should Be Enabled
If the above-mentioned methods do not work for you, then you have to verify whether you have selected the option to save username & password in Outlook. To simply verify that follow the below-mentioned steps:
Click on the "Start" button and search for "Control Panel".
Open Control Panel and choose "User Accounts".
Now choose "Mail" from the menu.
After this, a box will appear on your screen. Select the option for the "Email Account".
In the list, select your "Outlook Email Address", and then click the "Change" button.
You can choose "Remember Your Password" under the Login Information area. Mark the option with a checkmark to enable it.
# 4: Open Outlook in Safe Mode
If you are facing Outlook asking for a password, again and again, an issue. Then, you can try to open your MS Outlook in safe mode. For this, follow the below-mentioned steps:
First, locate the "Outlook Shortcut Icon".
Hold down the "Control Key", then double-click the Outlook shortcut.
When you double-click Outlook, a popup option will appear asking you to start the program in "Safe Mode". To proceed, select the "Yes" button.
There is a possibility that one or more add-ins were installed in Microsoft Outlook if the password is not requested in Safe Mode. So, check them and get rid of suspicious ones.
Last Words
Now, let's end the blog, we hope above discussed solutions definitely solve your problem and are able to solve your query about how to fix Outlook keeps asking for password problems. Along with this, we have also told such a solution, with the help of which you can solve the corruption issues of your Outlook.