Unable to Download Yahoo Mail Attachments – Tested Solution!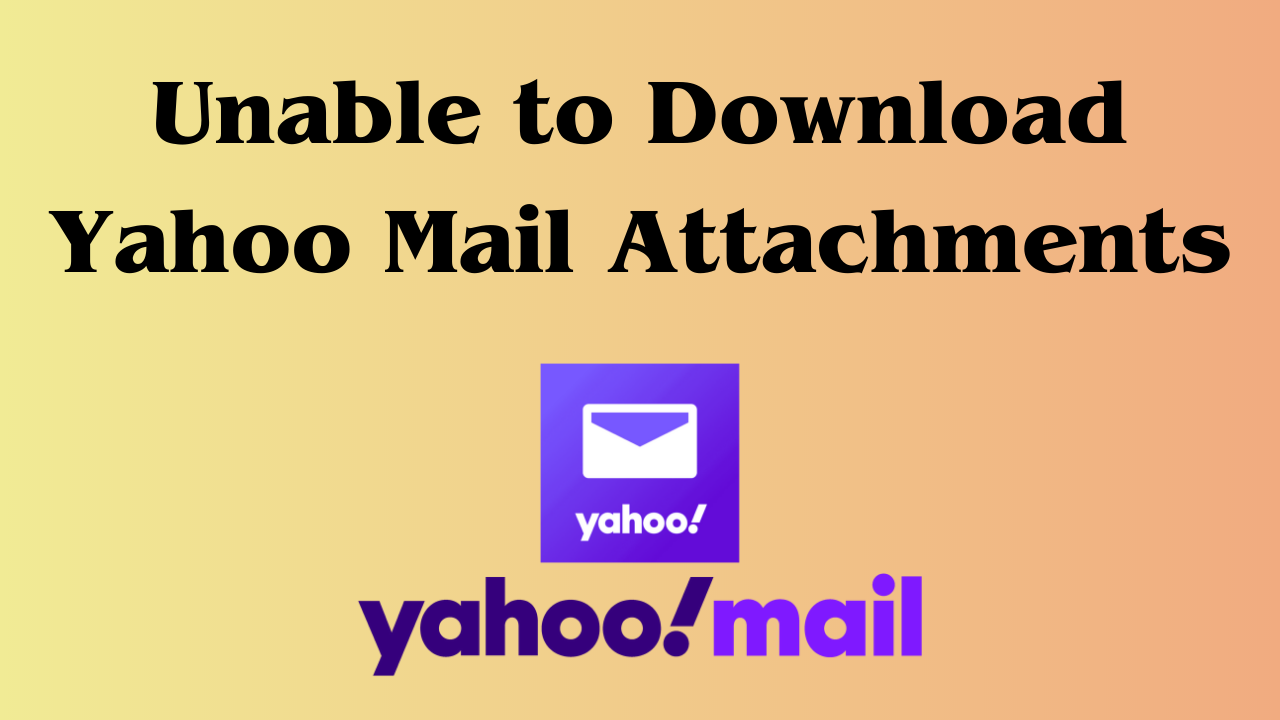 Abstract: You are unable to download Yahoo Mail attachments. And looking for a solution that can do this without losing data. So now there is no need to inform you because you are reading the right blog, today we will tell you through this technical blog how you can solve the Yahoo email attachment not downloading issue by following multiple solutions. So without wasting precious time let's move ahead.
But before starting the blog, it is important to know why the Yahoo mail attachment is not downloading. So we have told you some reasons below. Let's see.
Unable to Download Yahoo Mail Attachments – Common Reasons
There could be several reasons why you may be disabled to download Yahoo Mail attachments. Some common reasons are:
The maximum attachment size for Yahoo Mail is 25MB. Therefore, if the file size exceeds this limit, you will not be able to download the file.
Yahoo Mail issues may be related to the browser you're using. Thus, cache or cookie issues, or outdated software, can all be to blame.
However, some antivirus programs have the ability to block attachment downloads. By doing this your machine is protected from possible attacks.
Likewise, connectivity issues can make it challenging to download attachments. Slow internet connection or connection issues can be the cause.
It's possible that problems with downloading attachments are caused by problems with Yahoo's servers.
You may be unable to download attachments because Yahoo Mail doesn't accept certain file types.
From this part, till now we have discussed all the reasons which will help us to solve this issue. Now the time has come for us to know about the solution. So below we have given several solutions with the help of which you will be able to solve the problem. So let's take our steps toward the solution.
Solve Yahoo Email Attachment Not Downloading Using Manual Method
To download attachments easily from Yahoo mail, follow all the solutions below. so let's go:
Update Your Browser: The fact that your browser has not been updated to the newest version. This may also be the cause of your inability to download the file from Yahoo Mail. First update it to the new version. So for this, we have given you some steps below:
Open Google Chrome.
In the upper right corner of the browser window, click on the three vertical dots.
"Settings" will be selected in the drop-down menu.
In the menu on the left, select "About Chrome".
If updates are available, Google Chrome will automatically search for them and download the latest version.
Click Relaunch to finish the update process.
Keep one thing in mind: If you are using any other browser like Mozilla Firefox, Apple Safari, Microsoft Edge, etc. then there will be some changes in the steps mentioned above.
Install Adobe Reader: If any email attachment is in PDF file format. Then it is difficult to open it easily. So for this, you download and install the best and most free Adobe Reader application on your computer or phone.
Uninstall Anti-virus Program: After performing the above procedures and the attachment is still not opening, consider turning off your system's firewall and anti-virus software. You may be unable to open email attachments because of your anti-virus program.
Restart the System Again: Restarting the system is one solution that solves many issues, be it the problem of downloading email attachments from Yahoo Mail. So for this, you have to restart your system once again so that the internet connection will fix the connectivity of email, then to do this follow the steps given below:
In the lower-left corner of your screen, click the "Start" button.
At the bottom of the menu, close to the power icon, click it.
Select "Restart" from the menu.
Disable Browser Plugins: If the previous solution is unsuccessful, consider disabling browser plugins and other add-ons. Because of these, you will not be able to access the email attachment. Then, try opening the email attachment one more time after restarting your browser. So here are the general steps to disable plugins:
Open Google Chrome.
Then, click on the three vertical dots in the top right corner of the browser window.
After that, Hit on "More tools" and "Extensions".
Select the toggle button next to the plugin you want to disable to turn it off.
If even after following all the steps mentioned above, you are not able to download attachments from Yahoo mail. So you follow the best and more reliable solution mentioned below.
Also Read: How to Sync Yahoo Mail with Outlook?
Unable to Download Yahoo Mail Attachments Try the Professional Way
Yahoo Backup Tool is a proprietary tool for downloading attachments from your Yahoo mail. By saving copies of Yahoo emails and attachments to your computer, this utility helps users protect the information associated with their Yahoo accounts. This tool is tested by great experts. It can be used by any user as per their need. Also, users are able to download Yahoo mail to computers without any hassle.
With this software, emails are saved in the PST, MSG, MBOX, PDF, and MSG file formats. Users of Windows and Mac OS can access it. You can easily save Yahoo email data thanks to its great features. This will fix the problem with Yahoo Mail not opening attachments and make it simple for users of supported mail clients to read email attachments.
How to Use This Utility 
Download the tool on your computer and launch it.
Use your personal or business Yahoo account to log in.
Select the Save attachment on disk option and PDF format.
Select a location to save Yahoo Mail emails containing attachments.
By using the "Apply filters" button, you can apply personalized filters.
Press Start to start the process.
As a result, all your Yahoo emails will be saved in PDF format. When you open the email on your computer, all attachments are located in a separate folder. To preview attachments, just click on them.
Unbelievable Utility Characteristics
This utility gives the option to export emails from Yahoo Mail to Outlook. Additionally, you can save data in any other mail client like Mozilla Thunderbird, Apple Mail, etc.
Plus, include a date-based email filtering feature so users can choose which Yahoo emails to save.
In contrast, supports email from @rocketemails.com, @oddpost.com, and @yahoo.com (all domains).
With multiple domains, including @yahoo.co.uk, users can sign in and back up their data.
Wrap – Up
We have told you two types of methods to solve this whole unable to download Yahoo Mail attachments issue, manual and automated. If you are not able to solve the Yahoo email attachment not downloading issue even through the manual method, then you can use the third-party solution mentioned above, this tool is very reliable and cost-effective.