How to Sync Yahoo Mail with Outlook? – Effective Method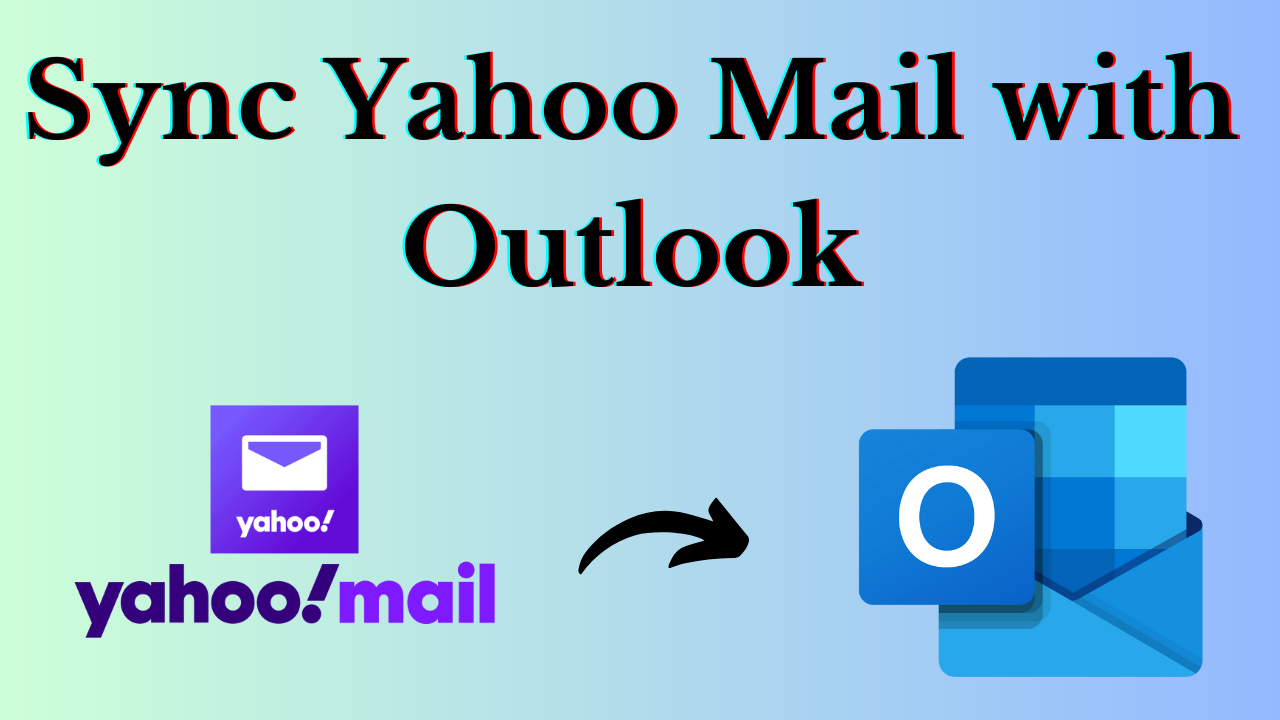 Overview: There are many email clients, two of which are Yahoo and Outlook. The user uses both of these to send and receive mail. But due to having two email clients simultaneously, the user is not able to manage them. Because of this, they want to sync Yahoo Mail with Outlook. So today we will tell you in this informative blog how to add Yahoo mail to Outlook. So read the blog till the end to know the process.
Summary of Contents
Now, let us move to the next part. In this section, we are going to learn about the motive behind why the user wants to perform this action. Therefore, let us see.
Identify Motivating Factors to Sync Yahoo Mail with Outlook
Here are many motivating factors that might lead someone to add their Yahoo Mail account to Outlook. So here are some of them:
Syncing Yahoo Mail with Outlook makes it possible to access all your email in one place.
You can keep your inbox organized and prioritize important emails with Outlook's powerful organizational tools, such as folders, tags, and filters.
Outlook's offline access feature is useful if you don't have an Internet connection because it enables you to access your email even when you're not connected to the Internet.
Integrating Yahoo Mail with Outlook can give you a more integrated experience across all your productivity tools, especially if you use other Microsoft products like OneDrive, Teams, or Office.
Those accustomed to sending and receiving email through Outlook for business or personal purposes may find that integrating Yahoo Mail into Outlook provides a more familiar interface and workflow.
After knowing all the reasons, let us proceed to the next part and take our steps. In the coming part, you will know about those solutions, with the help of which you can complete this process, so let's go.
Add Yahoo Mail to Outlook By Using Manual Method
From the beginning, there have been two types of resources here. The first process is manual, whereas the second is automated. Therefore, we will attempt to finish this task manually first.  So there are 3 steps of the free method which are given below
Step 1: Enable IMAP Access in Y! Mail
The first step to sync the Yahoo account is to enable Map access in the Yahoo mail account. The protocol is known as IMAP (Internet Message Access Protocol). Which allows users to access their email messages from any device or application that supports it. So here below you are told the steps to access imap:
Enter your Yahoo Mail login information.
In the top-right corner of the screen, click the gear icon, and then choose "Settings" from the drop-down menu.
In the left-hand menu, select "Accounts".
To view all of your preferences, click on your Yahoo Mail account.
Toggle the switch to make it active in the "IMAP Access" section by scrolling down.
To save the changes, click "Save".
Step 2: Integrate Your Yahoo Mail Account with Outlook
Add your Yahoo mail account to Outlook in the following step. Here's how to go about it:
On your computer, launch Outlook.
Click "File" in the upper-left corner of the screen and select "Add Account" from the drop-down menu.
Click "Connect" and type in your Yahoo Mail email address.
Select "IMAP" under Account Type.
Click "Connect" after entering your Yahoo Mail password.
Your Yahoo Mail account's IMAP settings will be detected by Outlook immediately. If this does not happen, you can set the following parameters manually:

Server for receiving mail: imap.mail.yahoo.com
Server for outgoing mail: smtp.mail.yahoo.com
Your Yahoo Mail email address as username
Password: Port number: 993 for incoming mail and 465 for outgoing mail. your yahoo mail password
Enabled SSL/TLS encryption

Click "Connect" to link your Yahoo Mail account to Outlook.
Step 3: Sync Y! Mail with Microsoft Outlook
Once you add your Yahoo Mail account to MS Outlook, you can sync all mailbox item data from your Yahoo Mail to Outlook. To do this follow the steps given below.
In Outlook, select your Yahoo Mail account from the left-hand menu.
The "Send/Receive" tab can be found on the top menu.
To sync your Yahoo Mail messages with Outlook, click "Update Folder".
That's it, you have synced your Yahoo account to Microsoft Outlook through these methods. Now you can manage all the emails in your Yahoo Mail as well as in Outlook. If you have faced many problems while syncing, then follow the method mentioned in the next section.
Sync Yahoo Mail with Outlook – Automated Solution
If you still can't sync your Yahoo account after using the manual method. Then, you can use this Yahoo Email Backup Tool. It is developed by great IT experts which is very trustworthy and profitable. Through this, you can add a Yahoo account to any other email client very easily. Also, Yahoo mailbox data can be backed up in multiple file formats such as PST, PDF, MSG, MBOX, and EML within Windows and HTML, TXT, CSV, EMLX, and MHT in Mac. This tool can be used by any person whether he has technical knowledge or not.
Click Here to Install this Utility:
Qualities of this Software
The tool allows you to back up all of your Yahoo Mail data, including emails, attachments, contacts, calendars, and tasks. In case of data loss, you can use the tool to recover your data easily.
Also, supports multiple file formats, including PST, EML, MSG, MBOX, and PDF, which gives you flexibility in how you want to store and access your Yahoo Mail data.
You can choose to back up only specific folders or emails, which can save time and storage space.
The tool allows you to schedule automatic backups of your Yahoo Mail data, which can ensure that you always have an up-to-date backup without having to remember to do it manually.
You to schedule automatic backups of your Yahoo Mail data, which can ensure that you always have an up-to-date backup without having to remember to do it manually.
The tool is designed to ensure the security of your Yahoo Mail data. It encrypts your data during backup and ensures that your login credentials are never stored or shared.
Final Thoughts
Sync Yahoo Mail with Outlook is a useful way to manage your email more efficiently as discussed throughout this blog. By enabling IMAP access to your Yahoo Mail account and adding it to Outlook, you can access all your emails in one place, organize them more effectively, and even work offline. Additionally, integrating your Yahoo Mail with Outlook can provide a more familiar interface and workflow for those who are already accustomed to using Outlook for their email.
Frequently Asked Questions
Q 1: What are the Disadvantages of the Manual Method?
Ans: There are several disadvantages of the manual method of syncing Yahoo Mail with Outlook:
Time-Consuming
Must have technical knowledge
Risk of data loss
Incomplete transfer
limited functionality
Q 2: Do I Need to Choose IMAP or POP3 Configuration While Syncing Y! Mail to Outlook?
Ans: When syncing Yahoo Mail to Outlook, you should choose an IMAP configuration instead of POP3. Choosing an IMAP configuration will give you more flexibility and functionality when syncing Yahoo Mail to Outlook, and allow you to access and manage your email from multiple devices and locations.
Q3: Will I Get All My Emails in the Outlook Application While Syncing YMail to Outlook?
Ans: Yes, when you sync YMail with Outlook you should be able to get all your emails from your YMail account in the Outlook application. And to do this, we have told you some methods above, through which you will be able to add Yahoo Mall to Microsoft Outlook very easily.