Learn How to Download Yahoo Mail to Computer / USB Drive in Easy Steps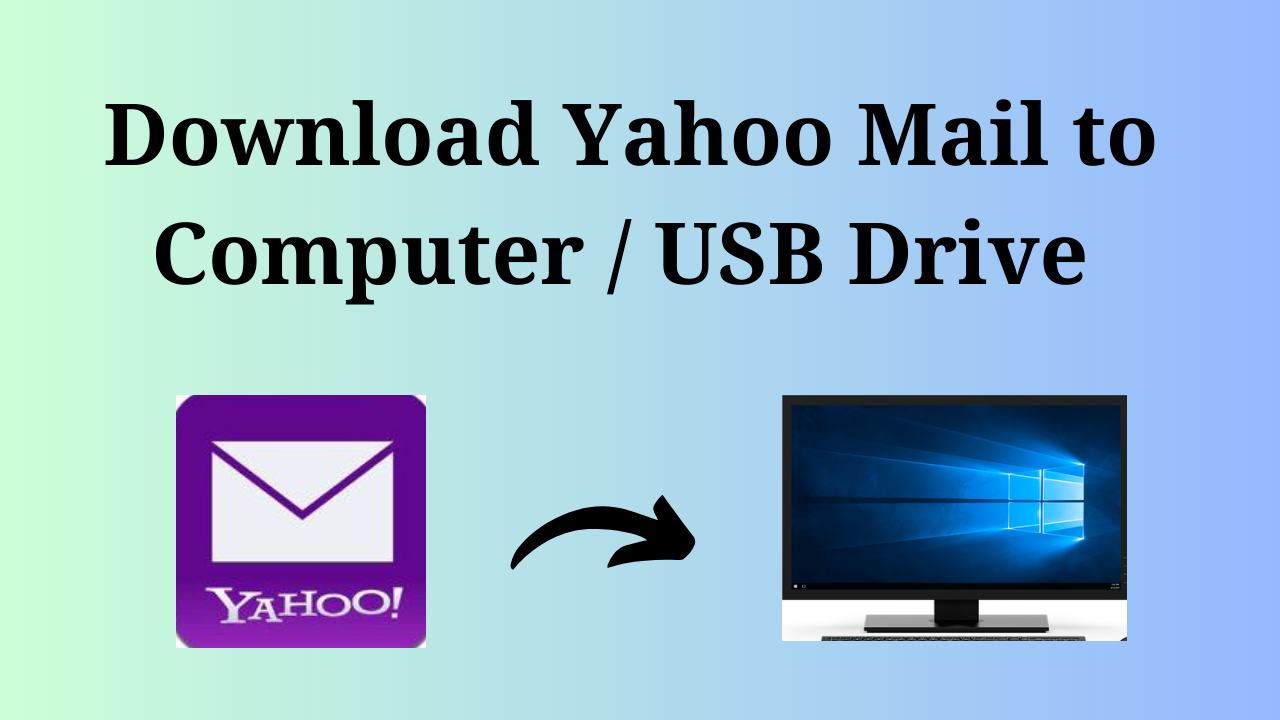 If we look forward to today's time, daily online users search for many solutions deleted from download Yahoo Mail to Computer, but they are unable to find out which solution is best for them. If you are also one of those users, then you do not need to worry anymore. Today, through this small technical blog, we will tell you some such solutions. With the help of this, you will be able to solve your problem in just a few clicks. So read the blog till the end.
Yahoo Mail – Definition
Yahoo, a digital service provider owned by Verizon Media, offers a free email service called Yahoo Mail (often spelled Yahoo! Mail). It enables users to send and receive emails, set their email preferences, and organize their inboxes. In addition to spam filters, virus scanners, calendars, and messaging, Yahoo Mail has other functions. Additionally, it gives users a lot of storage space for their emails and attachments. Yahoo Mail can be accessed online or through the Yahoo Mail app, which is offered for iOS and Android smartphones.
In the case of Yahoo, it has faced a large number of issues that prompt some of its users to switch to other mail clients. So let's take a look at the user query. 
Understand the User Query

"Hello! I've used Yahoo for a very long time, but suddenly I chose to back them up on my computer. The result is that I'm unable to complete tasks. I'm having trouble saving Yahoo emails to my documents. Need help. As I have required emails on yahoo I definitely need step by step process. I would be grateful.
Some Reasons Behind Download Yahoo Mail to Computer
Offline Access: You can access your emails even if you don't have an internet connection by downloading Yahoo Mail to your computer.
Backup: A excellent option to back up your emails in case something happens to your Yahoo Mail account is to keep a copy of them on your computer.
Organization: By storing your emails on your computer, you can more easily organize and find the information you need.
Security: Having a duplicate of your emails on your computer rather than only depending on Yahoo's servers may make some individuals feel more secure.
Integrating Yahoo Mail with other email applications or services, such as Microsoft Outlook or Apple Mail, is possible if you download Yahoo Mail.
Downloading your Yahoo Mail can make it simpler to move your emails to your new account if you're intending to switch to a new email provider.
So till now, we have come to know about Yahoo mail as well as we also know how they are looking for online solutions daily and what are the reasons why they have to transfer Yahoo mail to a computer. Is. Now we will know about the solutions. So without wasting any more time let's go ahead
How do Transfer Yahoo Mail to Computer or USB Drive?
There are two approaches to accomplishing your task. And we have both the techniques listed below:
Transfer Yahoo Mail to another account and download Yahoo Mail to PC
Directly download Yahoo email to the computer
Each process is discussed below and only the tested procedures are given. So be sure that you will get the expected result after performing the process. Let us start with the direct method first.
How to Save Yahoo Mail to Computer Directly?
In the direct transfer of Yahoo emails and the attachments (docs, pictures, videos, etc) to PC, use the Yahoo Backup Tool. It gives away some extraordinary functionalities that efficiently download and saves a copy of Yahoo mail pictures to a computer or any mounted external hard drive.
Install Tool from Here: 
Now, we directly move towards the procedural part. Here, you can understand how a Yahoo Mail user can easily download Yahoo Mail to Computer/USB Drive. Before you start the procedure, please download the application and install it on your system.
Steps to Download Emails Yahoo Mail to Computer
1: Launch Yahoo Backup Tool & Login in with your Yahoo credential
2: Select the file format to download emails
3: Browse a destination to save the pictures of Yahoo mail on a PC
4: Hit on the Start button
When the process is complete, a notification pops up, click "OK" on it. This will complete the process of downloading Yahoo mail to the PC. Now, you can view the exported file(s) from the destination location. This is the first approach to downloading pictures from Yahoo Mail to a computer.
Some Attractive Features Of this Approach Are:
Backup Yahoo emails and pictures to the local machine
Save Yahoo emails in PST / EML / MBOX / PDF / MSG file types
Filter emails with a specific date range
Archive Yahoo emails to the local system (and not in the account)
Download pictures from Yahoo mail in original format
Incremental data download option available
Next, we move to the other method and find how to download Yahoo mail to the computer using that approach.
Download Yahoo Mail to Desktop – Indirect Process
In this approach, we will add Yahoo mail to another account that supports a download function. Some mail clients that have the download facility are Outlook, Thunderbird, Gmail, Zoho, Apple Mail, etc. You can add your Yahoo account to any of these mail clients and then perform the data download process. Here, we have used the Outlook application to transfer Yahoo Mail to Computer.
Once you add Yahoo mail in Outlook, then download important emails and attachments from the Yahoo account using the Export function.
So let us start with the process to add Yahoo Mail to Outlook. Please install the Outlook (any version) application on your system.
Step 1: To Configure Yahoo Mail to Outlook
Launch the MS Outlook

application on the system

Go to File

menu →move to

Info

→ select

Add Account

option

Select "Manual setup or additional server types

"

Choose the "POP or IMAP

" option

Enter server information required

Full Name of the user
Set Account Type

as IMAP (or POP)

Enter imap.mail.yahoo.com beside Incoming Server
Enter smtp.mail.yahoo.com beside Outgoing Server

Go to the More Settings

option

Move to the Outgoing Server

section

Check My outgoing server requires authentication

Select Use same settings as my incoming mail server option

Shift to the Advanced tab

For IMAP

Enter 993 & 465 for Incoming & Outgoing Server port numbers
Check SSL encryption

for both servers

For POP

Enter 995 & 465 for Incoming & Outgoing Server port numbers

Check SSL encryption for both servers

Click OK

>>

Next

>>

Finish

on consecutive pages
When you complete these steps, then restart the Outlook application. On your next access to the Outlook mail folder panel, you will also see the Yahoo mailbox folder in the email folder panel.
The sync process may take time according to your internet connectivity and bandwidth stability. As the sync is in progress, some of your Yahoo mail won't show up in the Outlook application. but as the sync is complete, you can access all the emails and pictures of the Yahoo account in Outlook. Now, perform the Export function in Outlook to download pictures from Yahoo mail to the computer.
Steps 2: To Export Yahoo Mail Data from Outlook to Computer
On MS Outlook, Move to File

menu >>

Open & Export

>>

Import / Export
Choose Export to a file

option

Click Outlook Data File (.pst)

and proceed

Choose the account

and

folder

to export

Browse

the destination to save the PST file so created

Click Finish
This process will create a pst file containing your emails and their attachments from Yahoo mail. These are the two successful procedures to download emails and pictures from Yahoo mail to a computer.
Before ending, let us just hook up on the issues held in the Yahoo mail that made the users start to check for results on downloading Yahoo mailbox data locally.
Issues Faced by Yahoo Mail Users
If you see the stats of Yahoo Mail over the past few years, it will show a downstate of the Yahoo Mail servers in multiple intervals. It's not the concern that only Yahoo faces this issue, but the occurrence number is far large than other webmail clients. Also, the data breach issue is never forgotten. This also made many Yahoo users switch to other mail clients.
If you notice your account, you can find in some situations, it seems irresponsive. this state is termed Outage and Yahoo often occurs with this issue. In case you need to check for the Yahoo mail status of the Outage in your region, try using the online down detector. Apart from this, Yahoo users have raised queries on other cases as well. Some of them are listed below:
Yahoo mail login issues

Yahoo Mail not downloading attachments

Email messages not able to be viewed

Not receiving emails
These are some popular issues seen in Yahoo Mail apart from the Outage. It is just an overview of the problems with Mailo Mail for its users. There could be other reasons as well. Meanwhile, if you find any such case in your usage of Yahoo mail, better to download important pictures and emails from Yahoo mail to the computer. You can use the procedures discussed above.
Wrapping It All Together!!
Yahoo Mail is a popular email client having a large number of users. A user will be more convenient to download Yahoo Mail to Computer and use it locally than on an online account. Some users even try to create a copy of their important data in Yahoo mail so that they don't lose it under any circumstance.
For all this to come true for you, it's better to find the solution on how to download Yahoo mail to a computer. For your assistance, we got you some proven and verified approaches to get the task finished easily with your expected outcomes achieved.
Frequently Asked Queries
Q 1: How do I download Yahoo Mail to my desktop?
Ans- Simple Steps to Save Yahoo Emails on Desktop
1. Download and run Yahoo Backup Software
2. Login application with a Yahoo account
3. Select a format to download Yahoo mail emails
4. Browse a location to save emails on the desktop
5. Start the process
Q  2: How to download Yahoo mail attachments?
Ans- Steps to Download Yahoo Attachments to Desktop
1. log in to your Yahoo account and open the email having the attachment
2. Click the attachment and click on the Download icon.