How to Fix Outlook Error 0x800ccc0f: Error Causes With Its Solution
Microsoft Outlook frequently flashes annoying errors, which can appear anywhere at any instant of time. These errors might not be simple to grasp at their first look due to which we come across Microsoft Outlook user's complaints on different technical forums. Apart from this, there is one more thing to be noticed that Microsoft Outlook errors are not difficult to fix and a few simple instructions are needed to be executed.
This article will be focusing on Outlook error 0x800ccc0f, which is one of the most common errors among Outlook users. This receiving' reported error (0x800ccc0f) 'the connection to the server was interrupted denotes that there is some kind of interruption in the established server connection. So, let's read more about this Outlook 2013 error 0x800ccc0f message with its causes and solutions to fix it.
Microsoft Outlook Error 0x800ccc0fError Description
This Microsoft outlook error 0x800ccc0f occurs whenever a user tries to exchange SMTP based messages. The worst thing about this situation is that the error appears without any prior notice and suddenly stop users from doing their work. Till the moment Microsoft office Outlook error 0x800ccc0f is not resolved, an individual will not be able to continue working with Outlook. In Microsoft Outlook 2016, this error 0x800ccc0f occurs with following statements :
The error also appears in other versions of Outlook like 2016, 2013, 2010, 2007, etc. Also, Microsoft Outlook Express users had faced this error either while sending or receiving emails.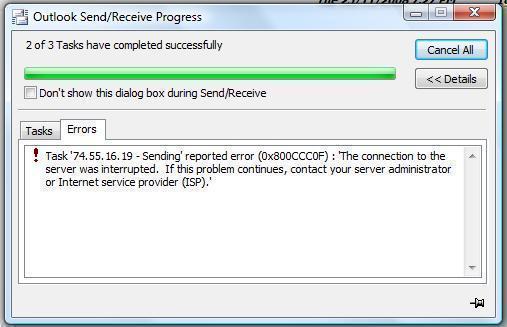 Causes Behind the Outlook 2013 Error code 0x800ccc0f
It becomes easy to resolve the problem when a person gets aware from its cause. So, the following points will help users in understanding causes behind Microsoft Outlook error 0x800ccc0f :
There is some connectivity issues on the Internet or the network
System firewall blocks Microsoft Outlook from exchanging emails
The email protection via antivirus products is enabled, which checks messages whenever they are downloaded from the POP server.
The settings of Microsoft Outlook profile and the server are gone wrong or incorrect.
The offline database file of MS Outlook is corrupted or damaged due to one or another reason.
Also Read: Fix Hyper-v Failed to Change State With Error Code 32788
Solutions on How to Fix Outlook Error 0x800ccc0f
Till now, users are aware of the exact causes, which are behind triggering this the connection to the server was interrupted Outlook 2016 message. They can try few handy solutions, which are mentioned here to troubleshoot it. Execute each solution one-by-one and after the completion of one measure, try to send or receive messages. If the error gets rectified at any point of the stage then, no need go with further approaches.
Measure #1: Check For the Internet Connection
Initially, check that all data cable or Wifi connection to your PC is established perfectly. After this, open a web browser and try to open any website within it.
Measure #2: Disable Microsoft Windows Firewall
Use following measures to deactivate Microsoft Windows system firewall:
Open Control Panel on your machine and click on Network Connection
Right-click on the internet connection, which you are utilizing on your PC
From the listed menu, click on the Properties option and proceed
Click on Security and then disable the Firewall section
Measure #3: Examine the MS Outlook Profile Settings
Verify the default settings of Microsoft Outlook profile. If you find that they are wrong then, make them correct. If you are unsure of tracking what is wrong or what is not then, delete the recent profile and then generate a new profile. Set this recently created Outlook profile as the default.
Measure #4: Remove Suspicious Emails From Outlook
It might be possible that presence of suspicious messages with harmful attachments may lead to the error occurrence. If it seems that these emails are present in any email folder of Outlook then, permanently delete them without wasting a single minute. Apart from this, if the 'deleted items' folder is overfull then, clear it for improving the Outlook performance.
Measure #5: Check the Maximum Transmission Unit
The router size of maximum transmission unit can also create an issue at the time of exchanging particular emails. So, check this and make updates to the predefined size of outgoing messages, accordingly.
Measure #6: Open Microsoft Outlook in Safe Mode
If the error is not resolved after implementing these measures then, try to fix Outlook error 0x800ccc0f by opening MS Outlook in safe mode. This will disable all the add-ins from Outlook and launch email app with very basic settings. Follow below-mentioned instructions to resolve the issue :
Open the Run window on your PC and type outlook.exe /safe
Press Enter to finally open Microsoft Outlook in the safe mode
Measure #7: Utilize the Inbox Repair Tool
After coming to this workaround, it becomes 100% clear that receiving' reported error (0x800ccc0f) 'the connection to the server was interrupted is caused due to corruption in OST file. So, if the corruption is up to header part only then, users need to utilize scanost.exe utility. To learn its utilization, you need to take help of following steps :
Open Windows Explorer on your machine and in search box, type scanost.exe
Press enter and let the system search for this inbuilt tool
Right-click on this free OST repairing software and click on Run as administrator option
A User Account Control dialog box will appear in which you have to click on Yes
Click on Browse button and add corrupted PST file into it
Hit on Start to enable the utility to check whether the file is actually corrupted or not.
If the file is corrupted then, the result will be displayed in front of you. Check the checkbox of 'Make backup….' and click on Repair button
The free tool begins repairing PST file in 8 different stages. If the file is having corruption at the low level then, it will be repaired and hence, error fixing.
Conclusion
All the possible workarounds are mentioned on this blog to fix 'Outlook error 0x800ccc0f'. However, if still, the error continues then, the only solution left is to open OST recovery software. This is recommended only because the cause of the error message is severe corruption in Outlook storage file. This restricts one from working with their OST file, which cannot be fixed normally with manual measures. If nothing works then, users have to use third-party programs to deal with the error 0x800ccc0f in Outlook 2016, 2013, 2010, 2007.