How to Fix Outlook OST "Internal Error Code=0000000E "? Quick Solution
Getting Outlook Internal Error Code=0000000E ? Here is How to fix it
Most of the users are facing Internal Error Code=0000000E in MS Outlook. If you are among one of them then, you have certainly landed on the exact page. In this write-up, we are going to cover up all the warning signs, causes and the solutions to fix this issue appropriately. Apart from this, we will also discuss an automated workaround to fix Outlook "Internal Error Code=0000000E".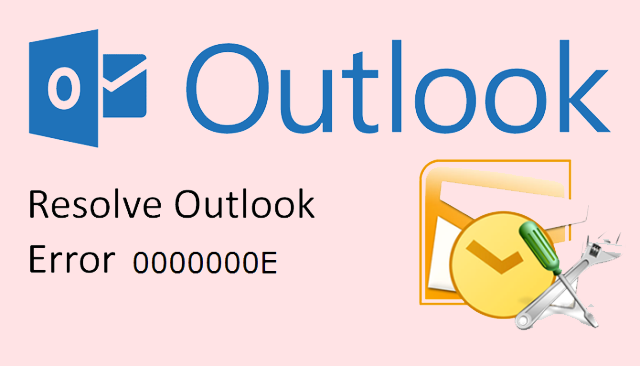 Reasons For Outlook OST Internal Error Code=0000000E
As the blog is headed by the term Outlook OST "Internal Error Code=0000000E" so, it indicates the OST file error. The Offline storage table is one of the main Outlook data files, which is a replica of Exchange mailbox data. It also plays an immense role in data synchronization with the Exchange Server while reinstating the connection. OST files become prone to corruption because of large data size. However, there are various reasons that can damage the OST file. Some of them are mentioned below:
Malware or else Virus attack

Improper data synchronization

Incompatibility in Versions

Unexpected system shutdown

Abrupt Outlook termination
The synchronization and corruption issues in OST can arise due to hardware crash, power surge affected data storage appliances and Network errors.
Fixing Techniques of Outlook "Internal Error Code=0000000E"
The mentioned error is one of the notorious error messages of MS Outlook. It occurs because of OST file corruption and defective Exchange server synchronization. Here is how to resolve this error code via some manual tricks:
#Technique 1: Using MS Outlook Inbox Repair Tool
ScanOST.exe is a built-in OST file mending programs that is provided by Microsoft. Users can repair their corrupted OST file through this application. Here is how to do this:
Quit MS Outlook program (if open)

Navigate to the default location of ScanOST.exe tool on your PC

Browse and unlock the OST file you need to repair 

Let the tool to scan OST file and repair errors via clicking on Begin Scan >> Repair Errors
Tip: The ScanOST.exe tool varies its default location on the various versions of Windows.
In Windows XP:
Drive >> Documents >> Settings >> User >> Local Settings >> Application Data >> Microsoft >> Outlook    
In Windows 7 and Vista
Drive >> Users >> user >> AppData >> Local >> Microsoft >> Outlook 
#Technique 2: Rebuilding OST Data File
If the error message is not resolved even after using ScanOST.exe tool then, there is another manual approach for this. This time you have to delete the corrupted OST data file. After deleting it, create a new OST data file. Via OST rebuilding, this error can resolve successively.
Limitations of Manual Techniques to Fix internal error code=0000000E in outlook offline storage table
Even if manual procedures seem easy to follow but they consist some limitations that might force you to think twice.
Highly damaged OST files cannot be fixed

Deleted data items cannot become recovered

Time taking and a slow procedure to execute

High chances of data loss and unsafe methods
Professional Technique: Fix internal error code=0000000E in outlook offline storage table
For avoiding the restrictions of manual techniques, we suggest users to apply a sure shot way. This sure shot method is to internal error code=0000000e" in outlook offline storage table and gets it back in healthy condition. After OST file recovery, users can regain the access to all their data wedged inside that damaged OST.
Since the recovery of Outlook OST file is a crucial task. Consequently, our recommendation would be to undertake this process via a trusted third-party tool as Revove OST Recovery Tool. This application proficiently recovers the deleted data items from OST files: emails, contacts, notes, calendar, journals etc. It is compatible with all versions of MS Outlook and Windows OS. 
Also Read: OST File is in Use And Cannot be Accessed Outlook 2016
Summing Up
In this article, we have focused Outlook "Internal Error Code=0000000E". After getting this error prompt, accessing Exchange Server's data becomes a complicated task for users. Hence, is necessary to fix this dilemma. Users can opt any of the mentioned methods, as per their requirements and the causes behind the error.