Import PST to Office 365 Using Network Upload & Drive Shipping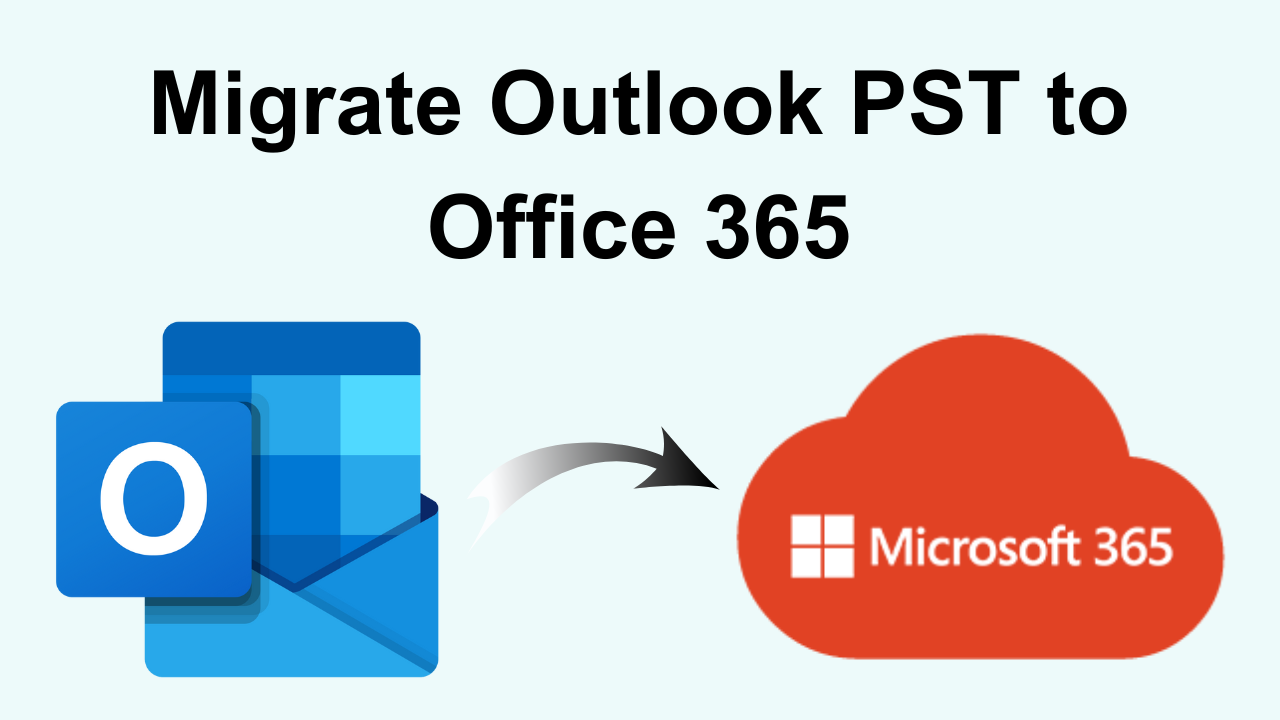 Summary: Due to the growth in cloud technology, more and more organizations are planning to move to cloud platforms like Office 365. For most organizations unfamiliar with the Office 365 cloud, switching from an email client like Outlook to Office 365 is difficult. User query "How to import PST to Office 365 cloud seamlessly?" increases. So today we will tell you through this blog how you can move PST to Office 365 without facing any problems. So let's save the problem and proceed further below.
Therefore, to help all those users, we have created this blog. In this, we will provide the best methods for the upload PST to Office 365 process using manual and automated solutions for solving this problem.
Migrate PST to Office 365 – Reasons
Cloud-based applications provide more beneficial services than desktop-based applications. Similarly, we are going to tell you below some other reasons due to which the user copies PST files to Office 365:
Office 365 users can access data at any time, from any location, using any device because it is a cloud-based service. Additionally, data is backed up regularly using state-of-the-art security techniques.
Users can be easily managed and set up using Office 365. After the setup is over, you can start installing utilities. Either you or your IT partner can handle this yourself.
When using Office 365, you can easily edit files, manage projects remotely, communicate with your employees from any location, and more.
It doesn't matter what storage tool you're already using, switching PST to Office 365 is simple. You don't need to transfer your data again because Office 365 allows for continuous updates.
For any business, data, and documents are incomparably valuable. Therefore, losing any important information can sometimes lead to disastrous consequences.
You can prevent such loss with the data protection and backup capabilities of Office 365. Because it's the global leader in cloud security and privacy, Microsoft guarantees that all your data is secure in Office 365.
After knowing all the important reasons. Now, it's time to go ahead and find out the solution. So, below and we are going to tell you those solutions which will help you to complete this task so, let's start.
Also Read: Export Contacts from Office 365
How to Import PST to Office 365 Cloud?
There are two types of solutions to import PST files into Office 365 cloud, the first is a manual method and the second is an automated method. So generally, the most common manual way to upload PST files to Office 365 is by using network upload and drive shipping which is provided by Microsoft for its users. The details of both methods are given below. Also, after this, we will know about an efficient and reliable solution.
First of all, we are going to tell you the manual method, which we have divided into several parts. Which has different steps and shortcomings. then, follow the steps carefully.
Method # 1: Manually Import PST Using Network Upload
Microsoft provides its manual solution for importing PST files to Office 365. This method is completely free but requires high-technical knowledge for its execution. If you are comfortable with the working of PowerShell commands then this method can solve your problem. Perform the following steps carefully as given below:
Step 1: Assign Roles
First, sign in "Exchnage Admin Center" and then, click on Roles >> Admin Roles >> Search >> Import Export.
Now, hit on the "Add" option under the "Assigned Tab" and then choose "User".
Then, add the "Admins" and click on the "Add" button.
Step 2: Make an Import Job
To create an import job visit Home and then hit on the Data Lifecycle Management >> Import >> Import PST Files.
Now, click on "+ New Import Job" and then, enter "Job Name" and click on the "Next" button.
Then select "Upload Your Data" >> "Next" under "SelectImport Job Type".
After that, hit on the "Show Network Upload SAS URL" then, press on "Next"
choose "Copy to Clipboard" >> "Download Azure AzCopy" tool on your Windows, Linux, and MacOS systems.
Step 3: Upload PST in Azure Storage
To import PST File in Azure, move the tool on your desktop and copy the "Folder" which contains your PST file.
Now, open "CMD Command Prompt" and find the "Extracted Folders azcopy.exe file" on your desktop.
Then, run the command: "Azcopy copy "pathToFolder/ContainingPST" "SAS URL" –recursive=true" to upload the PST data file.
Step 4: Verify the Upload Outlook File
After choosing Blob Container >> Shared Access Signature URL (SAS), paste the "SAS URL" you copied into the Blob Container SAS URL: field.
Click Connect >> Next.
You can "View" the "PST Folder" by selecting "File Shares". Test by opening PST files.
Note: You will need to wait for the PST files to be uploaded to Azure Storage before closing it. when the process is complete. Make sure that the PST files do not exceed the recommended 20 GB size limit as doing so may affect and disrupt the import process.
Method #2: Move PST By Using Drive Shipping
Many non-technical users face difficulty in using Network upload. Then, Microsoft provided another approach that doesn't require much input from the user. All the complex commands and procedures will be done by Microsoft. To copy PST to Office 365 cloud using Drive Shipping, Microsoft will cost 2$ per GB of the PST file.
Basically, in the Drive Shipping method, users need to copy the PST files to a hard drive and then they can physically move or ship the hard drive to the Microsoft data center. Moreover, it is an efficient technique to move the bulk amount of Outlook emails to Office 365. It can also transfer large amounts of the archive mailbox data items to the organization.
Limitations of this Method
There are some drawbacks to manual techniques for importing PST files to Office 365. Here, some of the major disadvantages of manual processes are given:
The Office 365 import service is available for limited countries.
Manual methods need to follow lots of steps that are time-consuming.
It is difficult to upload large-sized PST files by using manual procedures.
Technical knowledge is required to understand complex manual methods.
Any mishandling of the steps may lead to file corruption or deletion in Office 365.
Strong knowledge of PowerShell commands is required for execution.
This is where all human method ends. Now, if you are going with the above-mentioned steps then you will have to face a lot of choices. Which we have already told above. So, if you do not want to face any kind of loss, then, try the automated method mentioned below.
Import PST to Office 365 Using Automated Tool
To overcome the above-discussed drawbacks of the manual solutions, it is highly suggested to choose reliable third-party software like Outlook to Office 365 Migration tool. This is a very beneficial tool that can easily upload Outlook PST files to the Office 365 account. In addition, the software provides a self-explanatory user interface that makes the entire migration process facile and easy for the users.
The software is capable to upload complete emails, contacts, and calendars from Outlook to Office 365. It is also supported by all versions of the Windows operating system. Additionally while importing PST to Office 365, the tool provides multiple filtering options to upload only selective data from PST files.
Steps to Import PST File to O365 Cloud
To upload the Outlook PST files to your Office 365 account, you need to perform the following steps that are given below:
1. First, Download and Run the Office 365 PST Import tool.
2. Choose the desired Login option in the tool.
Select the Login option as Admin for import PST to Office 365 multiple accounts and enter Office 365 admin credentials. This method doesn't require user credentials in which you are importing the PST file.
Without Admin login, during the mapping of the PST file and its associated Office 365 account, you need to provide user credentials and authenticate it.
3. Then, choose the "Add File" or "Add Folder" option to import PST files within the application.
4. Now, you have the option to select Categories like emails, contacts, calendars, notes, etc.
5. If you need to migrate selective data within some specific date range, then you can apply the Date Filter option.
6. Additionally, you can choose options like 'Include Folder', 'Attach Outlook PST File', or 'Incremental Import' option.
Note: Incremental import feature will skip the already imported data from a pst file previously imported and migrates only new and updated data.
7. Finally, click on the Start button & the software successfully imports PST to Office 365 mailbox.
Advanced Features of Outlook PST to Office 365
Admin and User login options.
Import complete data from a PST file.
Multiple options to add a PST file to the tool.
An easy option for mapping PST files and their associated user account.
Migrate PST files into Office 365 shared mailboxes using an Admin account.
Incremental import option to skip already imported data.
Category and Data Filter for the selective data import from pst files.
Wrapping Up
It is a very challenging task to import PST to Office 365 Cloud. So, after considering the challenges faced by users during migration, we have covered both manual and third-party solutions. But, manual approaches have been executed along with their limitations. Thus, to overcome these limitations, it advised to choose a reliable and secure application. The Office 365 Import tool ensures the migration of Outlook data to Office 365 without any data loss.
Frequently Asked Questions 
Q 1: Is it possible to import multiple PST files into O365?
Ans: Yes, you can easily import data from batch PST files into an Office 365 account using this tool.
Q 2: How to import PST to O365 without an internet connection?
Ans: You will be unable to move the mailbox to Office 365 if there is no internet connection.