Technique to Export Contacts from Office 365 – Free Try Right Now
Query: "Hi Experts! I am using Office 365 for a very long time. I have a lot of contacts in my Office 365 account, but due to some personal and other issues, I don't want to use O365 anymore and want to migrate it in desktop based email client application i.e; Microsoft Outlook so that I can access it on my system. If anyone has any solution to export contacts from Office 365 account to PST so that I can access it on my PC, please suggest me. Any assistance will be exceptionally valued."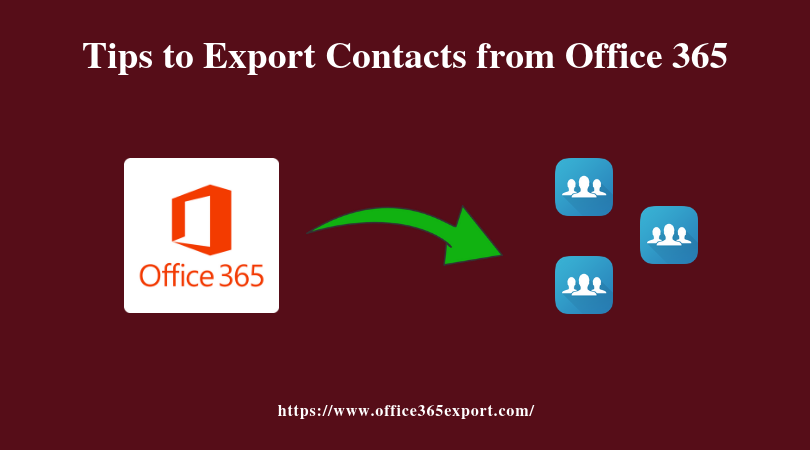 Before going to the solution let us understand why users need to export contacts from Office 365 online. One of the major use for exporting Office 365 contacts into PST is easy availability of contacts on your desktop or in other desktop based email clients. PST file is most suitable for backups and they are easy to access in Microsoft Outlook.
How to Export Contacts from Office 365 Account?
First of all, configure your Office 365 account to an Outlook application. Add your Gmail account to Outlook. You will get a view of all contacts. Now add Office 365 account to Outlook. This will sync Outlook with Office 365.
Perform the following steps to export Office 365 contacts to PST:
Open Outlook and Choose File option.
Click on Open & Export >> Import/Export.
You will get a screen of 'Import and Export Wizard', Click Export to a file >> Next.
Select Outlook Data File(.pst) and then Next.
Under the Select folder to export from, select the Contact that you want to export under your account. And Click Next.
Browse the file location under Import a File option where you want to save .pst file. Type the file name you want to save as .pst and Click Ok.
You will get three different options for exporting. Replace duplicates with items exported, allow duplicate items to be created, or Do not export duplicate items. Choose it accordingly and Tap on Finish.
If you click to choose to create a .pst file option, you will get the Create Outlook Data File screen in which you have to add Password for keeping it safe. Or if you choose to export an existing Outlook Data File which is already password protected, then type the password and Click Ok.
Your Outlook contacts for a selected account has successfully migrated to .pst file.
Note: If you want to save the file other than PST format then you can Choose CSV option in Point 4.
What If You Want to Export Multiple  Office 365 Contacts to PST?
The manual approach allows you to export single contact to Office 365. But if you are using Office 365 for a very long time, you must have hundreds of Contacts. What would you do if you want to export multiple Office 365 contacts?
The solution is here!
If you want to export multiple Office 365 contacts in PST, you can download Office 365 Export Tool. This application exports bulk Office 365 contacts to PST. Not only this, you will be able to export your items in EML, MSG file format also. Download Now For Free.

Perform Following Steps to Export Contacts from Office 365
Step 1: Open and Launch Office 365 Export.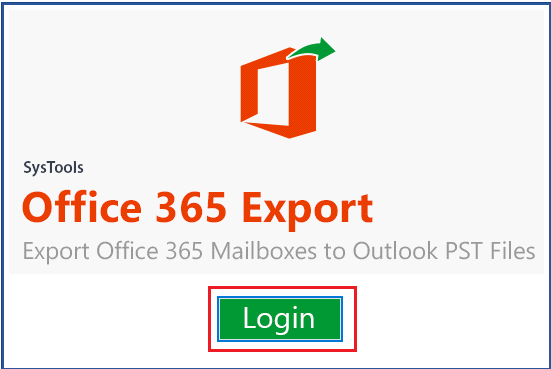 Step 2: Sign in with the credentials for Office 365 user account.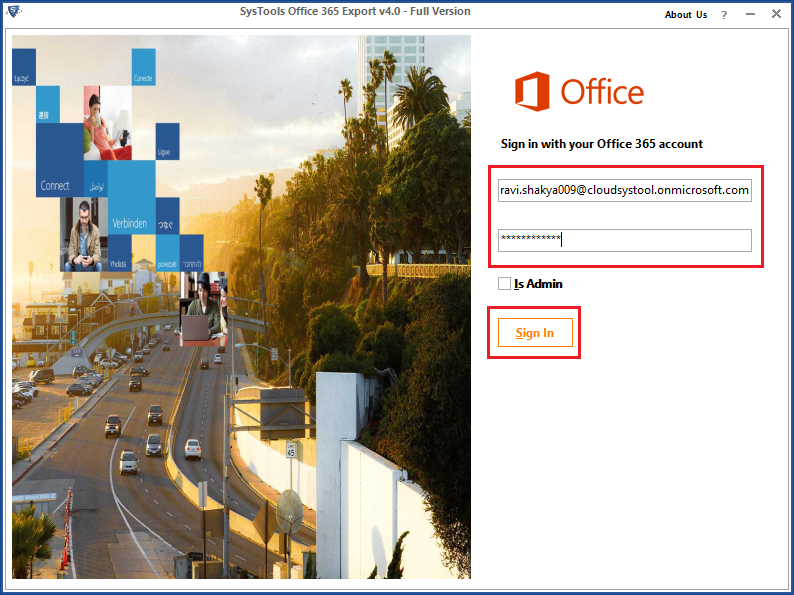 Step 3: Software will preview all the folders of that id. Check on Contacts folder and then Next.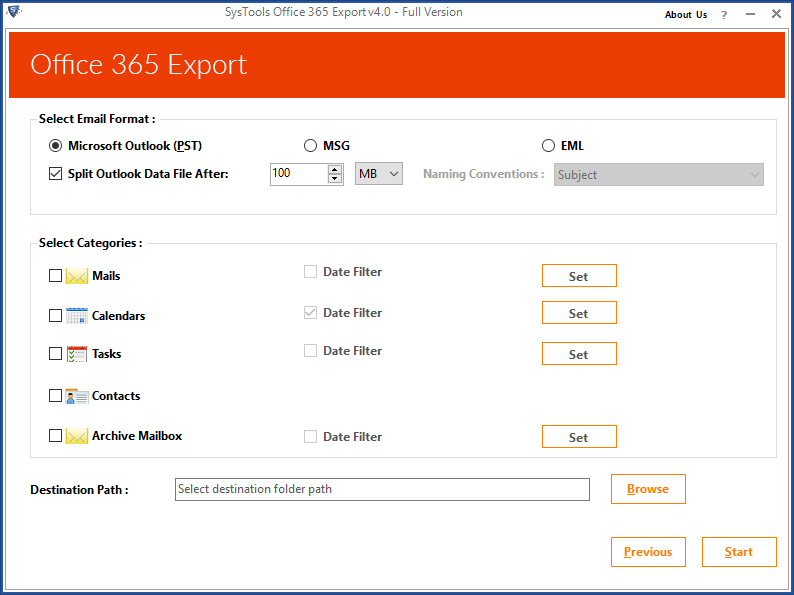 Step 4: Click on the PST file format. If you have huge size PST file then you can split your PST file and by Enabling Split Outlook Data File.
Step 5: Please Select Category Contacts.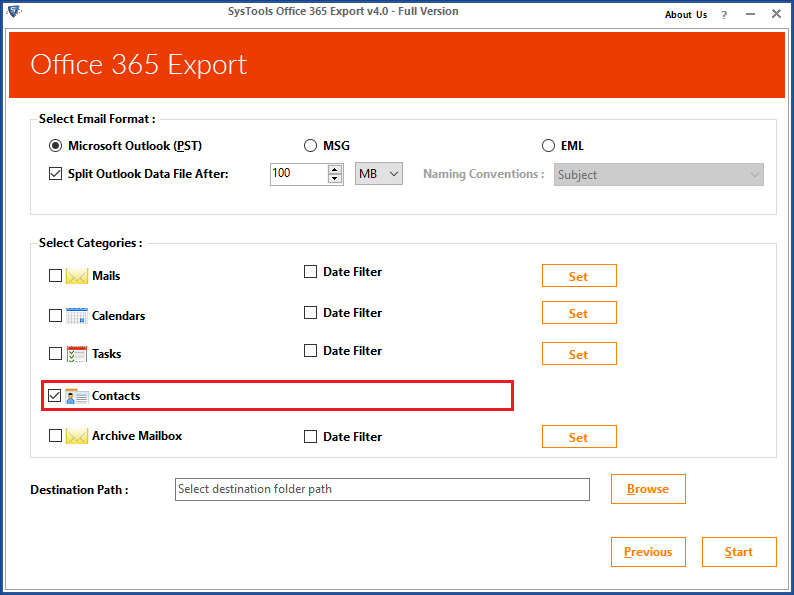 Step 6: Then Browse the destination path in which you want to save your file and Click Start.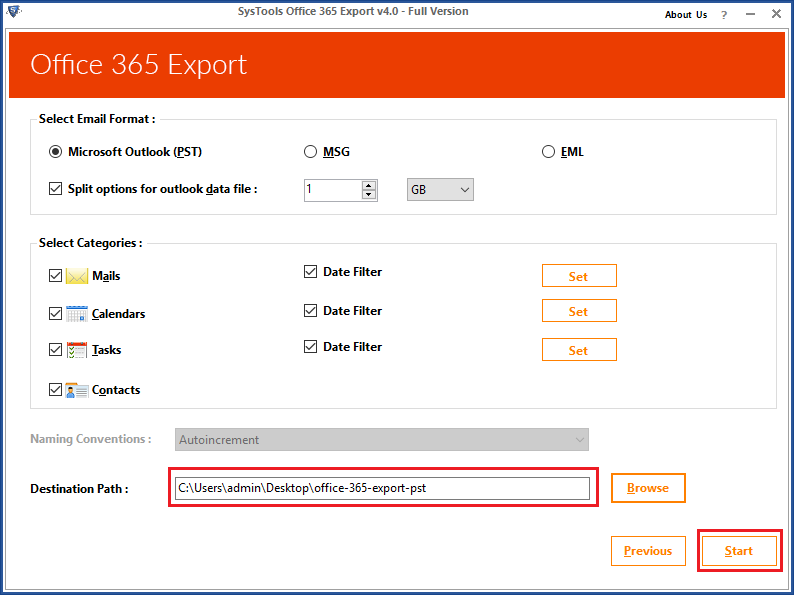 Step 7: You can access your PST file finally.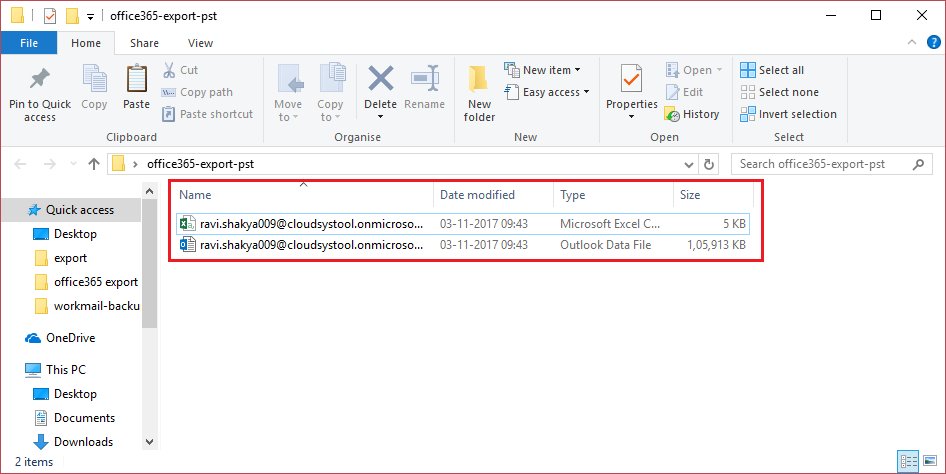 Conclusion
Get to learn how to export Office 365 contacts to PST in an efficient way. The blog discusses the basic reason why user export items of Office 365 into PST. It also covers the manual approach of exporting contacts from Microsoft Office 365. An alternative approach has also been discussed if you are having multiple accounts and then you can easily export contacts from Office 365 into PST file format.