How to Import Contacts to Outlook From VCF File?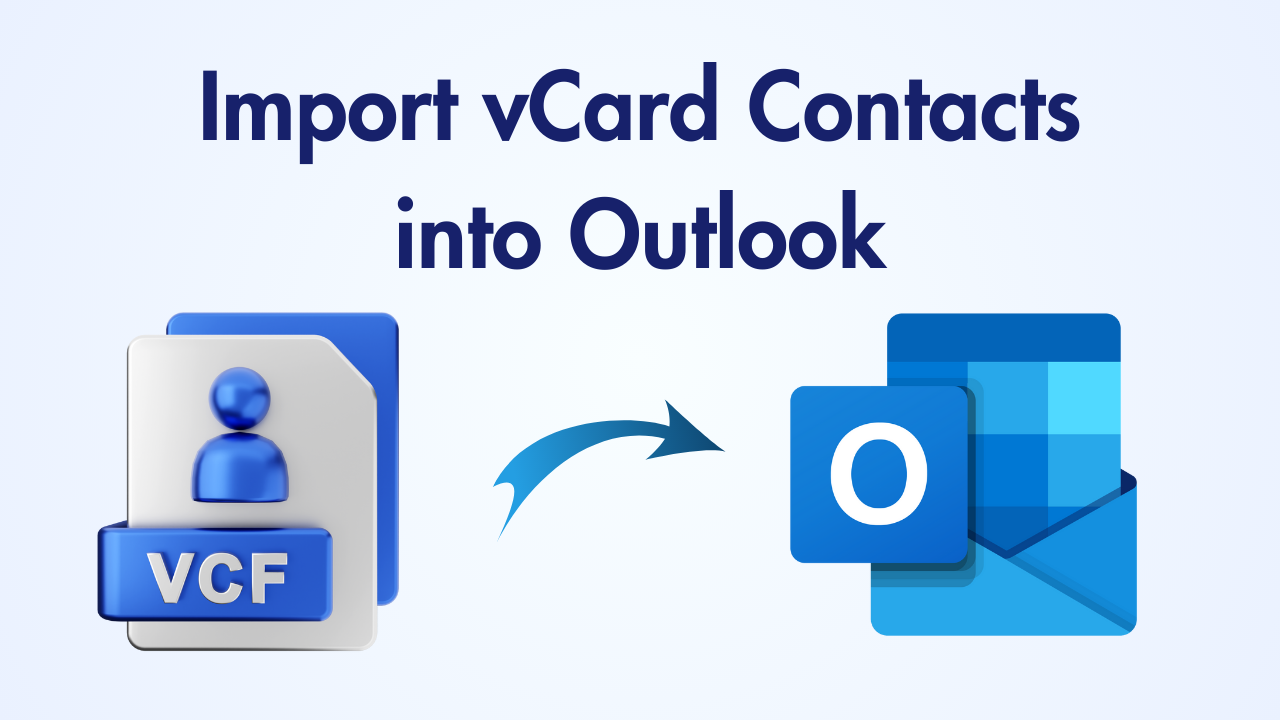 Summary:  Have you saved your address book in a format you didn't know about? If you are planning to import Contacts to Outlook From VCF file. But, you do not know how to import vcf to Outlook. Well, then no need to inform you that you are reading the right blog. Here, you will learn about methods to transfer address books from different types of file formats.
Different types of files support contact formats such as .csv, .pst, .vcf, .xls, .xlsx, .contact, and many others support address books. It is an easy way to import contacts and file them into MS Outlook when you do not know the procedure. The Outlook email client is not very versatile when it comes to file extensions.
Blog Content – Easy to Find
User Query: "I have contacts saved on my laptop in different formats. I urgently need to export contacts to Outlook but, I do not have a single clue how to go about it. How can I transfer all of these files with different extensions into the application? Thanks in advance!!"
If you are also facing these types of queries then, continue reading this blog post. Here, in the below section, you will get all the possible solutions using manual methods and professional solutions to import contacts to Outlook from VCF file. Let us first take a look at the manual method:
What is a VCF File?
A VCF file is a standard file format to store contact information for one or more users or a business. It typically includes a name, address, phone number, email address, and other contact details. VCF files also support custom fields, images, and other types of media. Now, after knowing about the VCF file let us move towards the professional solution that helps you to import contacts to Outlook from the VCF file in bulk formats.
After learning about the VCF file. let us move on to the below part to know why users want to import multiple VCF to Outlook. So, let us start.
Import VCF to Outlook – Reasons
There are many reasons behind importing VCF files with multiple contacts to Outlook 2021, 2019, 2016, 2013, and 2010 because Microsoft Outlook is the most popular email client today. Along with this, it provides the facility of new features to its users. So, let's move on to the following and know some of the reasons why users want to import contacts.
MS Outlook gives accurate contact information.
It has an easy-to-use interface for both technical and novice users.
Furthermore, the Outlook application can be connected to virtually any network.
It is more secure than other email clients or services.
Allows you to sync with other devices such as your phone.
Till now from the above section, we have come to know many important things which will help you to understand this import vCard to Outlook process. But, till now we have not gone into the solutions through which the convert vCard contacts into Outlook process can be completed. So, don't worry, we have described all the solutions below in the best possible way. Which is tested and 100 percent reliable.
Use Professional Solution to Import Contacts to Outlook
Grab an amazing Revove vCard Importer Tool to convert multiple VCF files to PST format. This is the best solution that helps you to import contacts to your Outlook account. Both technical and non-technical users use this tool without having any technical skills. It also provides a facility to batch import contacts to Outlook from VCF file format without losing any data information.
There are no restrictions to import multiple contacts to Outlook format of any size in a hassle-free way. So, download this tool to easily import your Contacts to Outlook in just a single click.
Now, in the below section, we have discussed the easy steps for this professional tool.
Stepwise Guide – Import Multiple Contacts to Outlook
Follow the below steps to import your Contacts to Outlook using this tool:
1. Download and run the Revove tool on your PC.
2. Browse vCard Folder from Local System
3. Select VCF Import Options for Existing PST, Outlook Profile, or New PST
4. Finally, hit on Imported vCard Files to Outlook PST
Here all the steps of the automated method are over. But, even if all of you are looking for a manual method, then do not worry, we have given the solution below and told you through which we will complete the import vcf to outlook process.
Import Contacts to Outlook From VCF File Manually
In this part, we have to tell you about the human steps, now if your contacts have a vCard file, then, you can manually import it into Outlook because Outlook gives the option to import the vCard directly. Let's follow the below steps.
First, open "Microsoft Outlook" on your system and go to File >> Open & Export.
Then, click on the "Import/Export" and then choose the "Import a VCARD File (.vcf)" option.
Now, choose the "vCrad File" that you want to import into Outlook and click on the "Open" button.
Finally, the import vCard to Outlook process is completed.
Why Automated Method is Better Than the Manual Method?
As we have done above and told you the steps to import multiple VCF to Outlook. Through which you can complete this task. But, these methods have their own merits and demerits. So, to know this we move further below:
Disadvantages of the Manual Method
The main disadvantage of using the manual technique to import multiple contacts into Outlook is repeating the same process over and over again. Because it allows you to import only one VCF file into Outlook at a time.
Furthermore, the manual approach tends to be extremely long, difficult, and time-consuming.
Because technical expertise is required, this activity is impractical for non-technical users.
During operation, data integrity and security are not guaranteed. It took a long time to complete this process.
Advantages of The Automated Solution
Allows you to import multiple contacts from vCard to Outlook.
There are no size restrictions for importing multiple VCF files into Outlook.
It also supports importing vCard (.vcf) files of different vCard versions.
Imports vCard contacts with multiple email IDs and phone numbers.
Importing VCF to Outlook Profile requires installation and configuration of Microsoft Outlook.
Supports vCard on a variety of platforms including Outlook, G Suite, iCloud, Skype, and Webmail.
Displays preview of each contact as well as attachments.
Supports importing contacts from VCF to Outlook default contact list separately.
Use this tool to import VCF to Outlook on Windows 11 and later versions.
Conclusion 
In this technical blog, we described all the possible files that store contacts in them. The individual methods to import contacts to Outlook from VCF files of all these files are well explained. Unfortunately, MS Outlook does not support maximum extensions.
Hence, they need to be converted into Outlook-friendly files to make the migration possible. We have recommended the most trusted third-party applications to import VCF to Outlook. These utilities make sure that none of your source files gets corrupted or damaged and ensures a great experience for the users.
Frequently Asked Question
Q 1: Does the Outlook Application Also Sync Contacts?
Ans: Yes, Outlook's two-way support ensures that any new contacts you add or old contacts you replace are synced between your smartphone and your Outlook 2021, 2019, 2016, 2013, or 2013 accounts.
Q 2: Are Contacts From a Microsoft Outlook Account Protected Locally?
Ans: Any new contacts are saved in your Outlook account's default Contacts folder, and you can also see them under All Contacts. If you want to keep the contact in a different folder, choose a folder when you create the contact in Outlook.