How to Import VCF to Thunderbird Address Book?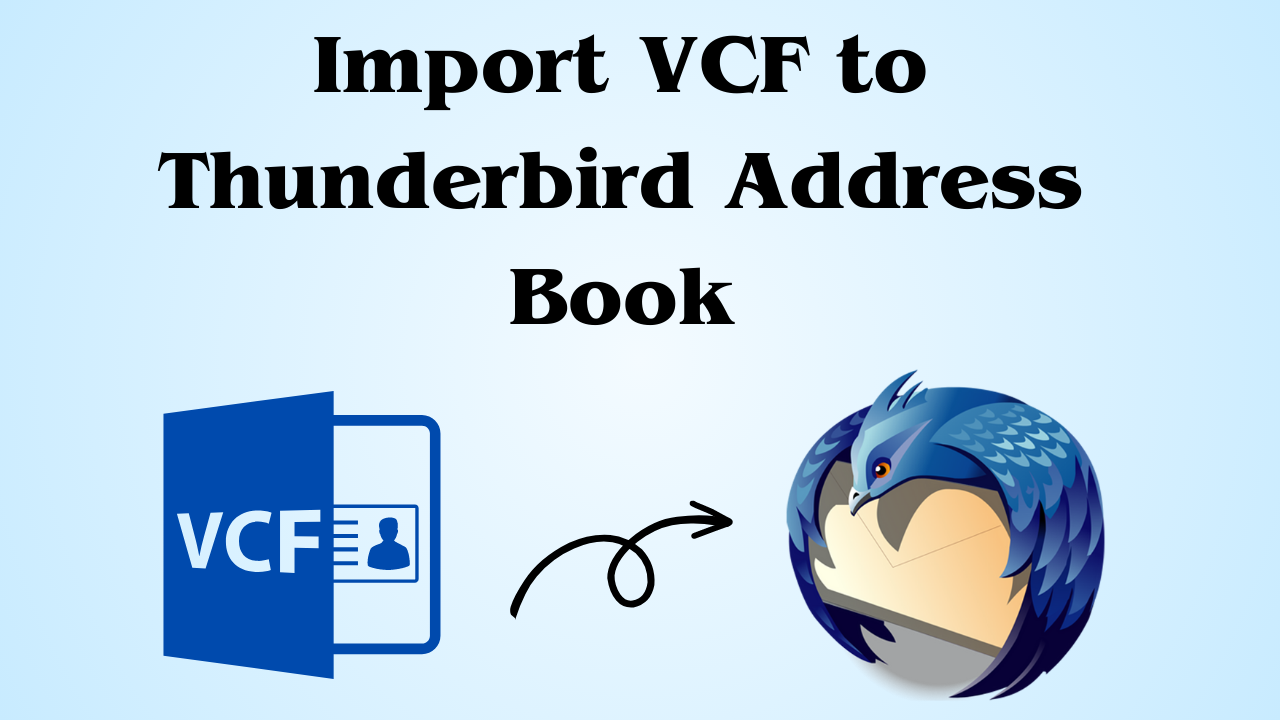 In Abstract: Thunderbird is an email client developed by Mozilla. Which is developed all over the world with its best features. It provides a powerful address book feature in which you can store and manage contacts. If you have a VCF file of your contacts that you want to import to Thunderbird's address book. But it is unsuccessful in doing so. So there is no need to inform you now. In this blog post, we will guide you through the process of import VCF to Thunderbird address book. So let's take further steps in this technical blog.
Table of Content:
Looking at the user query that has come, let's move forward. Then we will also know some reasons. This will help us understand this process to import multiple vcf contacts to Thunderbird. let's know.
User Query:

"I have some vCard files with over 150 contacts with all the details. Now, I want to transfer all this to my Thunderbird account. But, I don't know how I can import a list of so many contacts at once. Therefore, I am looking for a solution that will allow me to import VCF contacts into Thunderbird in a fast and quick way. Please suggest if anyone knows a solution for the same."
Now we will move our steps toward the cause.
Thunderbird is an independent, open-source application that allows users to store and access data locally on the system. On the other hand, a VCF file is a standard file format for storing contact information for a person or company. This usually includes a name, address, phone number, email address, and other contact information.
Read More: How to Convert vCard to CSV Mac
Import VCF to Thunderbird Address Book – Motive
By importing your VCF contacts into Thunderbird's address book, you can have a centralized location to manage and organize your contacts. This can be especially useful if you have contacts in multiple locations or different formats.
With your contacts all in one place, it is easier to send and receive emails to and from them. Thunderbird's address book also allows you to create groups or mailing lists, making it easier to send emails to multiple people at once.
By importing your contacts into Thunderbird's address book, you can create a backup of your contacts in case you lose them or your computer crashes. You can also restore your contacts to another computer or device by exporting them from Thunderbird.
Thunderbird's address book integrates with other features such as the calendar and task list, allowing you to easily schedule appointments or create to-do lists for your contacts.
If you are switching from another email client or device, importing your contacts into Thunderbird's address book can make the transition smoother and ensure that you don't lose any important contacts in the process.
After knowing all the important things. Let's know about the remedy. So, in the upcoming, we will tell you step by step solution to import multiple VCF contacts into Thunderbird.
Transfer Contacts from VCF File to Thunderbird – Manual Method
This method is for those users who want to import their contacts from the VCF file to Mozilla Thunderbird manually. Then below we have described this method step by step:
Firstly, start Mozilla Thunderbird with your credentials and pick the Address Book tab.
Select the Import option from the Tools menu bar at this point.
Then, in the Import wizard, select the Address Book option to import the.vcf file.
After making your choice, click the Next button.
Select the proper file formats for importation at this point. In this case, we'll select the vCard file(.vcf) option and press the Next button.
Then, to import the file, choose the VCF file from the system where it is kept by clicking Open.
When the file is opened, the import process can start.
when the import procedure is finished. Click the Finish button.
This will result in the creation of an Address book with the same name as the exported VCF file.
By using this approach to import VCF files into Thunderbird, the user can examine every contact in the Address book that was exported to it.
There are some limitations to this manual method. For this, Thunderbird should already be installed on your computer. Also, there is a risk of taking more time and losing data. Well, even with this method you are not able to complete the process. So follow the method mentioned in the below section.
Also Read: Convert VCF to PST
Import VCF to Thunderbird Address Book Using Smart Approach
In this section, we will present the best solution. Its name is VCF Converter Tool. With this one can easily transfer VCF to any file format. This program is compatible with Windows OS versions such as Windows 10, 8.1, 8, 7, and all other versions. This tool is more powerful and faster. This tool can be used by all types of users whether have technical knowledge or not.
How to Run Tool – Guidance
The steps to import VCF contacts to Thunderbird Address book are as follows
First of all, Download and Install this tool on your computer to start importing process.
Click on the "Add File" or "Folder" button.
Select CSV File Format from Export Options.
Choose the CSV file and click on the "Browse"
To finish this process, click the Export button to import VCF to Thunderbird Address Book.
Software's Highlighted Features
Some of the advanced features offered by this software are:
Transfer single and multiple contacts VCF files to PST and CSV format
It Supports importing contacts to Google Contacts & Yahoo File Format.
Permit to create single or separate VCF file for each contact
Option to Sort Contacts files within the vCard File in Any Desired Order
It supports converting VCF files from iPhone G Suite, Gmail, iCloud, Skype, Android, iOS, WhatsApp, etc.
Allows to create vCard in three versions i.e., v2.1., v3.0., v4.0.
Final Words
Most users think of moving VCF into the Thunderbird Address Book. Therefore, keeping these requirements in mind, professional solutions have been included in this article. You can use this and Import VCF to Thunderbird Address Book. In addition, you can download a free trial version to check the performance. If you are satisfied, you can buy the full version, which is available at a reasonable price.