VCF File Not Opening In iPhone – [Solved]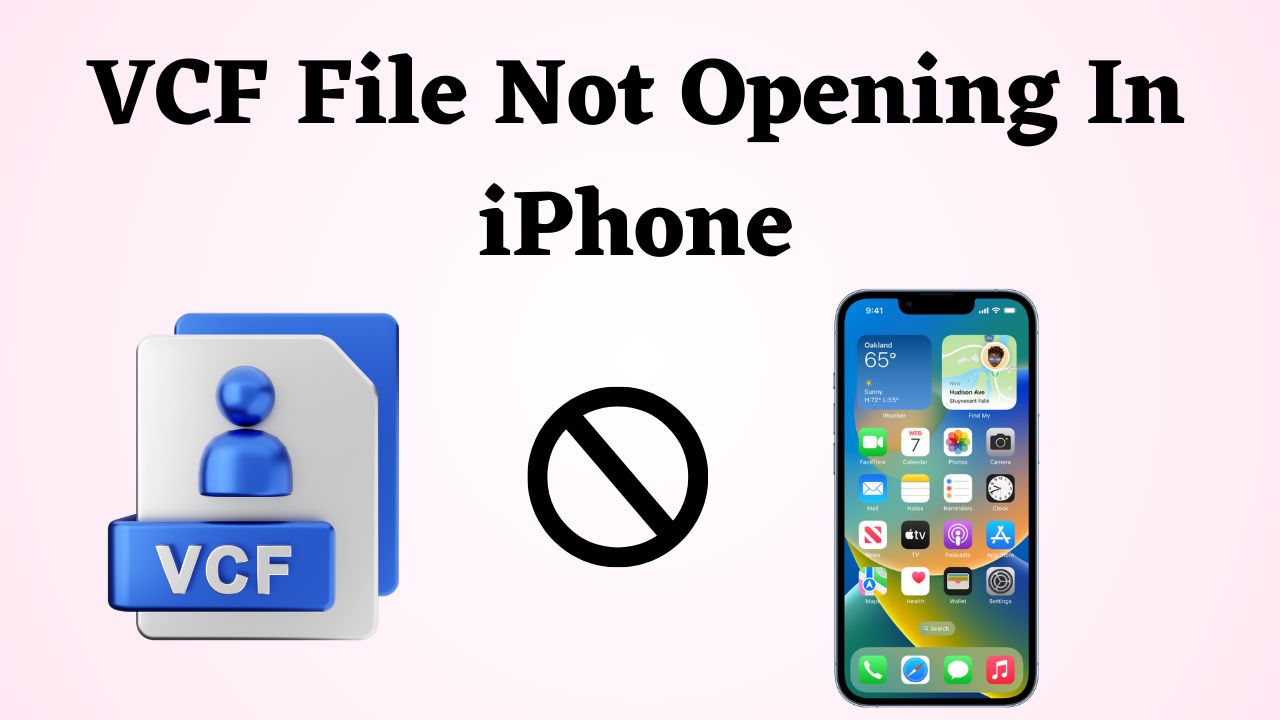 In Summary:  In today's digital age, sharing contacts with each other has become a part of our daily communication. Whereas, VCF (Virtual Contact File) is a standard file format used to store all contact information. However, facing multiple problems while opening VCF files on iPhone can be frustrating as well as harmful. So today we will introduce you to all the proper solutions for VCF File Not Opening In iPhone. Let's start by knowing all the important things.
Let us once get to know the user query received and some reasons why the VCF file is not able to open on iPhone.
"User Question: Hello, my name is Mercando. For the past few days, I have transferred some of my important contacts from my iPhone. Now, I am not able to open some contacts to work with a colleague in my office So now I am looking for a way to view VCF files can you suggest me a quick and easy way? I will be very thankful to you."
Now, move on to the reasons part why the VCF file won't open on iPhone.
VCF File Not Opening In iPhone – Possible Reasons
VCF file doesn't open on iPhone IOS can have many important drawbacks. Below we have listed some of the reasons:
File Compatibility: Make sure the VCF file is compatible with iPhone by checking its file compatibility. Although VCF (Virtual Contact File) is a standard format, it might not open if the file is malformed, in an invalid format, or has the wrong file extension.
IOS Version: Older iOS versions may have restrictions or problems opening certain file types. For best compatibility, make sure your iPhone is running the latest iOS release.
Network Connectivity: A weak or unreliable Internet connection may prevent the VCF file from downloading or importing properly if you're trying to import it from a cloud storage service or email attachment.
Security Settings: Verify that your iPhone's security and privacy settings aren't preventing you from opening or importing VCF files. It's possible that restrictions or privacy settings will prevent you from successfully accessing or importing the file.
File Size: Extremely large VCF files may exceed the iPhone's file size restrictions, making them impossible to open directly on the device. Consider chopping the file into smaller pieces, if necessary.
Here from the part till now, we have to go through the reasons for opening the file on the phone, as well as have a look at the query of the view by the user, now it is time to look at the bigger solutions. So below part and we have explained all the possible solutions step by step. Let's follow them, let's complete this process.
Fix VCF File Won't Open on iPhone – Manually
So any user who wants to fix the VCF file not opening in iPhone error manually, then follow the below-mentioned freeways. Along with this, it also has its drawbacks, which we are going to tell you after the steps.
First, log into your Google Gmail mailbox >> choose the category of contacts >> Hit on More >> Select Import option.
Browse the VCF file from your Machine >> Click the Import button.
Next, Launch Apple's iTunes >> Select the Info button >> click the Sync Contacts check box >> choose Google Contacts from the drop-down list >> click on the Apply Tab.
Disadvantages of the Manual Method
It is clear from above that this is a long and complicated process.
Any misunderstanding in any step can cause data loss.
Technical knowledge is required to understand the process.
If you do not want to face any problems while solving this error. Then, you can go with the solutions mentioned below. This solution is very reliable and fast. Apart from this, it also has many specialties. so let's use it.
VCF File Not Opening In iPhone – Instant Solution 
Manual focus is not a reliable solution. In general, experts are not satisfied with the results of manual techniques. Therefore, we recommend alternative solutions such as using VCF to CSV Converter Tool. According to experts, this is a smart solution to convert VCF files to CSV. It is a complete solution that allows users to easily import multiple VCF files in multiple formats. This software provides a simple interface that novice users can use without outside help. This tool is compatible with Windows 10 and all other versions.
Open VCF Contacts on iPhone – Steps
To accomplish this task., first, you need to convert VCF to CSV file format and then import CSV file to iPhone. Only then you can be unable to open your VCF file on the iPhone. So let's complete this task quickly.
1: Convert VCF File to CSV Format:
Install and Run the Free Software on your system.
Then, choose Add File or Add Folder.
After that, select the CSV file and click on the "Browse" Tab.
Finally. Click CSV Format from Export Options.
2: Import CSV Contact File to iPhone
Log in to your iCloud Account from www.icloud.com with your passcode.
Select "Contacts" on the home screen to check the contacts.
To select Import Contacts, go to the Settings icon at the bottom left and select the CSV file you want to import or open for your iPhone.
Why Smart Solution is Better than Manual Solution
The tool is capable of exporting vCard contacts to WAB, PDF, PST, CSV, MSG, HTML, Google, and Yahoo.
In addition, exports the following contact attributes such as name, email, phone, etc. from Outlook:
Also, multiple MS Outlook PST contact files can be scanned and loaded at once.
Additionally, many applications enable it, including Samsung, Lotus Notes, MS Outlook, Mozilla Thunderbird, and Office 365.
The same provides a straightforward user interface to home and business consumers.
It enables to convert VCF files to CSV in a safe and secure manner.
Conclusion
In this write up we have discusses a way to resolve the VCF file Not Opening in iPhone error. Here we have mentioned the manual and complete instructions for the workaround. Users can try all methods and find out who has worked to fix the VCF contact file not opening on the iPhone. For faster and confirmed solutions, you can use automated solutions.
Frequently Asked Questions
Q1: How to convert VCF to PDF?
Ans: Follow these steps:
Go to the VCF file you want to convert. Right-click on it.
Next, select Wordpad from the list of options under Open with.
Now, the WordPad file will display the selected contacts.
Then, press Ctrl+P to print the contact information.
Choose Microsoft Print to PDF from the menu, then click Print.
Finally, give the resulting file a suitable name and location. Select "Print" from the menu.
Q 2: How to open a VCF attachment?
Ans: to open the VCF file using Notepad
Click on the Start button.
Enter "notepad" to start the program.
Click "File" in Notepad.
Select 'Open' from the list.
Locate the VCF file by navigating there.
Select "All Files" from the drop-down menu for the file type.
Choose the VCF file and click "Open".