VCF File Not Opening In iPhone – [Solved]
Summary: If you are facing problem VCF file not opening in iPhone then you don't need to bother anymore. In this post, here we are going to discuss the reasons that users cannot open VCF contacts files into iPhone.
"For the past few days, I transferred some of my important contacts from the iPhone. Now, I cannot open some contacts to work with a colleague in my office. So now I am looking for a way to view VCF files on Android iPhones. Can you suggest me a quick and easy way."
Possible Reasons Behind VCF Contacts Not Viewing in iPhone Error
There are two reasons that can cause this problem.
The first is that the version of the VCF file has not been updated. Currently, iCloud only supports vCard VCF versions 3.0 and 4.0.
The second reason may be due to the lack of "FN" and "N" characteristics.
Manual Method to Fix VCF File Not Opening in iPhone Error 
First, log into your Google Gmail mailbox >> choose the category of contacts >> Hit on More >> Select Import option.
Browse VCF file from your Machine >> Click the Import button
Next, Launch Apple's iTunes >> Select the Info button >> click the Sync Contacts check box >> choose Google Contacts from the drop-down list >> click on the Apply Tab.
Disadvantages of the Manual Method
It is clear from above that this is a long and complicated process.
Any misunderstanding in any step can cause data loss
Technical knowledge is required to understand the process
Instant Solution to Resolve VCF File Not Opening in iPhone Issue
Manual focus is not a reliable solution. In general, experts are not satisfied with the results of manual techniques. Therefore, we recommend alternative solutions such as using VCF to CSV Converter Tool. According to experts, this is a smart solution to convert VCF files to CSV. It is a complete solution that allows users to easily import multiple VCF files in multiple formats. This software provides simple interface that novice users can use without outside help. This tool is compatible with Windows 10 and all other versions. The software is completely safe to download and run.
Steps to Step Guide to Open VCF Contacts in iPhone
To accomplish this task, first you need to Convert VCF to CSV file format and then import the CSV file to iPhone.
1 : Convert VCF File to CSV Format:
Install and Run the Free Software
Choses on Add File or Add Folder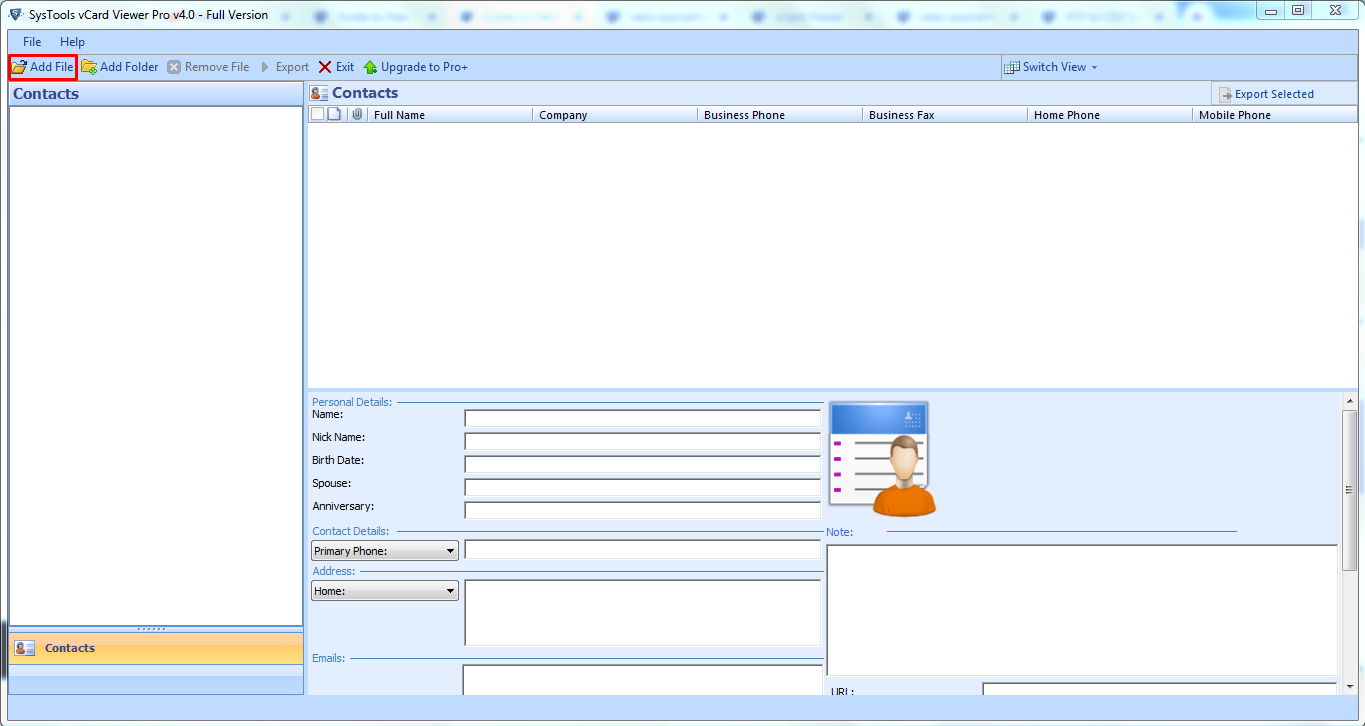 Select the CSV file and click on the "Browse" Tab
Click CSV Format from Export Options
2: Import CSV Contact File to iPhone
Log in your iCloud Account from www.icloud.com with your passcode.
Select "Contacts" on the home screen to check the contacts.
To select Import Contacts, go to the Settings icon at the bottom left and select the CSV file you want to import or open for your iPhone.
Read More:
Conclusion
In this write up we have discusses a way to resolve VCF file Not Opening in iPhone error. Here we have mentioned the manual and complete instructions for the workaround. Users can try all methods and find out who has worked to fix the VCF contact file not opening on the iPhone. For faster and confirmed solution, you can use automated solutions.