How to Access Verizon Email in Mac – Legitimate Solution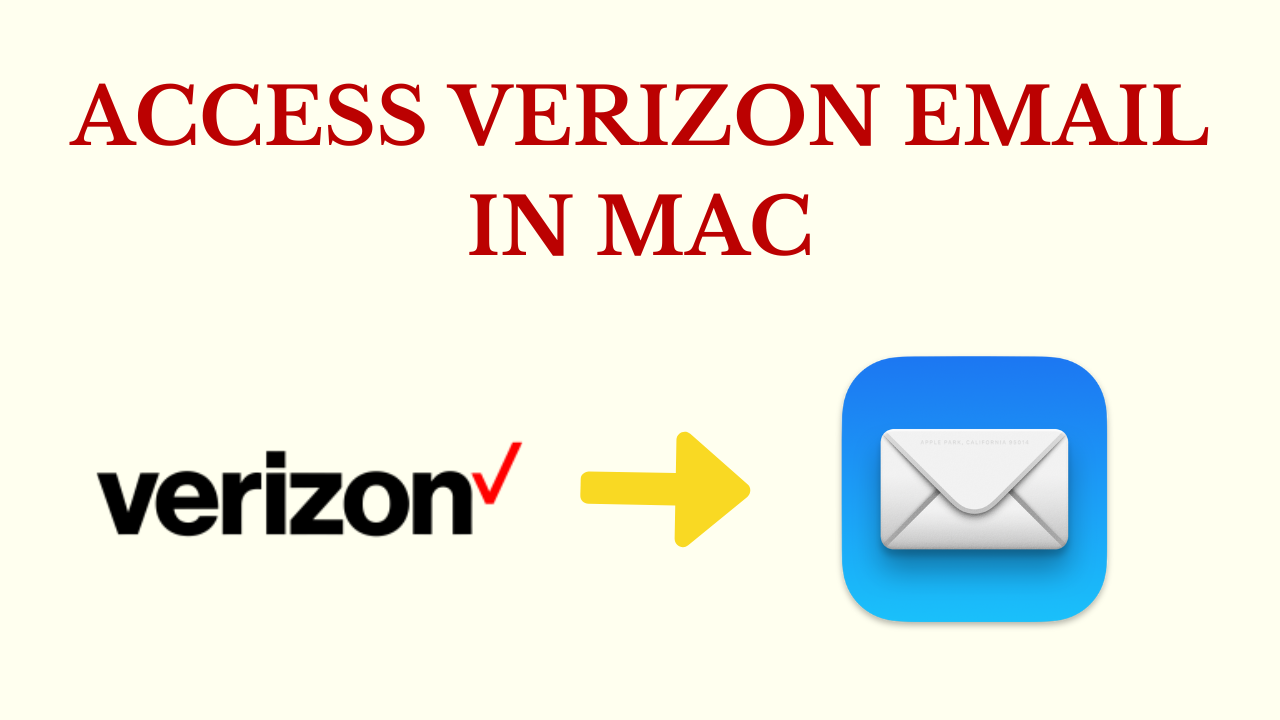 In Abstract: Accessing your Verizon email on a Mac is a convenient way to stay connected and organized, especially if you prefer to use the native Mail app. Whether you're a new Mac user or just making the switch to Verizon email, this in-depth guide will take you through each step of the process, ensuring a smooth setup and easy access to your email account. So, let's go ahead without any problem and know how to access Verizon email in Mac. So, without wasting any time let's start
Table of Content – Easy to Find
But, before knowing the solutions, we must have known some essential things related to Verizon Mail and AOL Mail, with the help of which we could understand the solutions easily. So, let's go further down.
Also Read: Move AOL Email to iCloud
Verizon & AOL Mail – Overview
Verizon and AOL Mail are independent email systems. However, their past collaborations and acquisitions have brought them closer together. Here's a quick summary of each:
Verizon Mail: Verizon Communications, one of the largest telecommunications companies in the United States, offers Verizon Mail, also known as Verizon Webmail or Verizon Email, as an email service. Verizon Internet customers had access to Verizon Mail, which provided them with email addresses ending in "@verizon.net".
Verizon's email services have seen adjustments over the years. It once collaborated with AOL to manage its email services, which led to Access Verizon Email in Mac.
AOL Mail: AOL (America Online), a leading Internet service provider and media corporation, offers AOL Mail as an email service. Free email addresses with the @aol.com domain are available through AOL Mail. It has been commonly used since the early days of the Internet, especially during the dial-up period.
Well after getting to know Verizon and AOL Mail, let's take a look at user queries received from the technical communication forum.
User Issue – "Hi, my name is Anthony. I use the @verizon.net mail account on my Mac system daily for my everyday email communication. Although it was performing great, I haven't had any problems so far. But the problem arose when I tried to add another Verizon account, and an error message floated across my screen saying that the Mac could not access Verizon email. I tried adding the version manually and IMAP is failing with each selection. Please suggest any sure solution that can work for me to access Verizon cloud on Mac. Any help would be appreciated"
So, from the above user query, we come to know that even today many users want to migrate the data of the version somewhere else. Now, to solve this problem, we have given all the possible solutions in this brief guide. So, there are two types of solutions here, let's use them.
Access Verizon Email in Mac – Manual Method
If you are not getting access to Verizon Cloud on Mac, then you just need to follow these steps to manually access Verizon emails on the Mac system.
First of all, you need to "Navigate" the "Application Folder" on "Mac OS" and then open "Mail".
Go to the "File Menu", and click on "Add Account".
Then a "General Information Window" will appear. Select the "IMAP" option as the "Account Type".
Then, click on the "Continue" button.
Now, type any chosen title in the "Account Description" space,
Then, add AOL email Id in the provided space as – "Jonathan@aol.com"
When the "Incoming Mail Server" prompt appears, add "imap.aol.com" to it.
Now, enter your "AOL Username and Password" in the specified space.
Add "smtp.aol.com" for the "Outgoing Mail Server".
Now, assure that you have correctly entered the required details and mark the checkbox denoting "Use Authentication".
Then, click on "Continue" to proceed further.
Finally, add the username and password again, and click on Continue.
Read More: How to Backup AOL Emails to External Hard Drive
Server Settings for Verizon Mail Setup
When resolving the 'Unable to access Verizon email to Mac Mail', you may be asked for more information about your Verizon email account. If you're running an older version of the Mac OS. Therefore, when necessary, use the following format.
IMAP server: imap.aol.com
IMAP User Name: Verizon screen name
IMAP password: Verizon Mail password
IMAP Port: 993
IMAP TLS/SSL: Required
SMTP server address: smtp.aol.com
SMTP user name: Verizon screen name
SMTP password: Verizon email password
SMTP port: 587
SMTP TLS/SSL: Required
Sometimes there are some conditions in which Verizon email to Mac is not added even with the technical method mentioned above. For this, users should have more knowledge of technical things. So what would you do in such a situation? That's why we have given the answer to the question in the best and most reliable solutions mentioned below. For that users do not need technical things. Let's use it and complete the task in no time.
More Information: How to Print Emails from AOL?
Access Verizon Email in Mac – Automated Solution
This query clearly shows that manual resolution is not always the surefire solution as it depends on the level of technical error in the background. But we have an efficient solution to access Verizon email on Mac. AOL Backup Tool is the self-explanatory and simplest way that gives you results in minimum time.
Apart from this, with the help of this tool, users can log in to new features like personal, country-specific verizon.net, target.com, etc. Also, one-time investment that helps you extract and download AOL emails from multiple user accounts of two types of domains on Mac or Windows OS.
How to Use this Tool – Stepwise
First, launch and run this on your system, and then click on the "Login" option.
Then, in the "Option" menu choose the "File Format" in which you want your Backup.
After selecting "MBOX" as an export type then, hit on "OK" and "Browse" the location".
Then, select the "Apply Filters" button to apply the customized filters.
Finally, press the "Start" button to end this process.
Now, we have exported AOL data to MBOX in an automated way. Let us move on to the below and import the resulting Verizon MBOX emails file to Mac Mail.
Import MBOX File to Apple Mac Mail
Open "Mac Mail" and then go to "File >> Import Mailbox"
By using the pop-up "Import Wizard", select the "MBOX Files", and click on "Continue".
Now, select the file which was formed in Step 1 and hit the Choose button.
As click the "Choose" option, a new prompt will appear indicating the path location of the selected "Data File".
Click on "Done" to finalize the process to access Verizon Cloud in Mac machine.
Finally, here are all the manual and automated steps to complete this task end. Now, if you choose the manual solution then, it has all the drawbacks due to which the data can also be lost. That's why we recommend that you choose Automated.
Time to Close-it
Verizon users sometimes go through issues like how to access Verizon email in Mac. The reason behind it is the authority issues and technical errors that cause Verizon email on Mac not to work. The manual method to access verizon.net email on Mac is not a sure-shot solution because the chances are very less of a successful login. To deal with this issue it is proposed to go for a legit automated solution that will make sure the authorization of user login.