Move AOL Email to iCloud – Dig in to Get Complete Export Procedure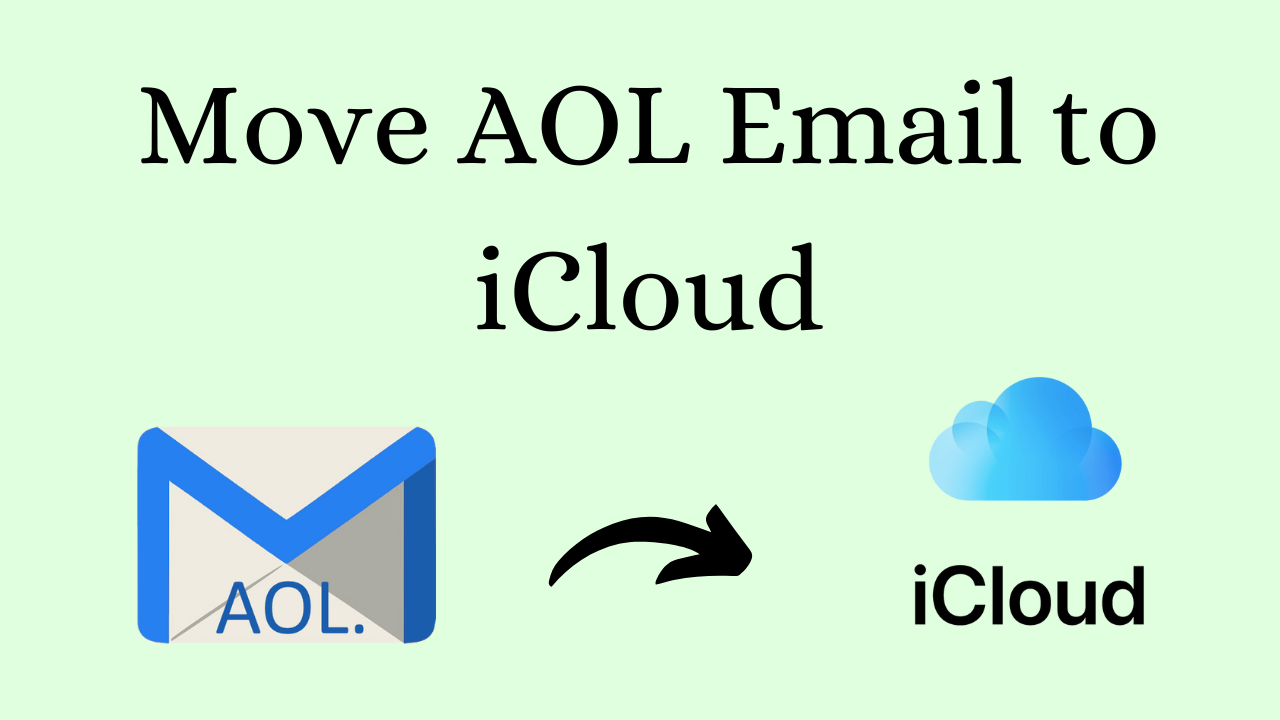 In a few days, it has been observed that people are looking for an efficient way to Move AOL Email to iCloud. But users are unable to reach the correct answer. Are you one of them? If yes, then finally you have come to the right place. Today we are going to introduce you to this article on how to transfer AOL emails to iCloud without any data loss. Along with this, we will also tell you about some reasons. So stay connected with the blog!!
Move AOL Email to iCloud – Blog Content
About a few days ago, we came across a question on the internet where someone needed to organize all their emails in AOL to their iCloud account.
User's Real-time Query

Hi need help! I have not been capable to get email messages from AOL mail. It would display that the server is down. Also, I am using an iCloud account. So, now I am thinking I should move AOL emails to iCloud. I've had my AOL account for 15 years so I have plenty of important emails. Please provide me a perfect method to export AOL email to iCloud without data loss. Thanks!
After reading this, you may know that users like you still face the problem of data transfer between mail clients. Thus, to resolve the issue users are facing in this section, we are helping you with a tested solution. You will have the complete process described below. But before that, we will tell you about AOL Mail and iCloud along with why a user wants to move AOL Email to iCloud then go below and follow it wisely.
Difference Between AOL and iCloud
AOL Mail:- AOL is an American online service provider that was established in 1983. It originally started as a dial-up service provider, but later expanded to other online services such as email, instant messaging, and web browsing. In the late 1990s and early 2000s, AOL had over 30 million customers, making it one of the world's largest online service providers.
AOL's popularity began to decline with the widespread adoption of broadband Internet and the rise of other online services such as Google and social media platforms. In 2015, AOL was acquired by Verizon Communications and now operates as a subsidiary of Verizon Media.
iCloud:- Apple Inc. offers the cloud computing and storage service known as iCloud. Provided It was launched in 2011 and is designed to work seamlessly with Apple's devices and services such as iPhone, iPad, Mac, and iTunes. iCloud allows users to store and sync their files, photos, music, and other data across all their Apple devices, as well as access them from a web browser.
iCloud also offers a range of other features, such as Find My, which helps users locate their lost or stolen Apple devices, and iCloud Keychain, which securely stores passwords and other sensitive information across devices. Stores and syncs from iCloud are available to all Apple users with an Apple ID and provide users with a limited amount of free storage, with additional storage available for purchase.
Compelling Reasons Why You Foreword Emails from AOL to iCloud
There are many compelling reasons to Move AOL Email to iCloud, including the following:
Access email from any device: Thanks to iCloud, you can access your email from any Apple device, like your iPhone, iPad, Mac, or even the web. d, You can keep in touch, and you can easily check your emails from anywhere.
Better email management: iCloud offers several tools that make it easier to manage your email, including advanced search options, filters, and programmable swipe actions. By doing so you can keep important communications organized and aware.
More storage: If you're running out of space on your AOL account, moving your email to iCloud can give you more space for your email and attachments.
After knowing all the differences between AOL Mail and iCloud why users would want to do this process? Now, we are going to learn about the solution. With the help of this we will be able to solve this problem very easily, so let's move forward.
An Automated Solution to Transfer AOL Email to iCloud
Now with the rise of many email clients on the internet AOL mail has become a thing of the past. That's why today a large number of people want to transfer their AOL data to iCloud. So for this, you should use this Revove IMAP Migration Tool.
This tool is very reliable and profitable, through this users can easily move AOL Email to iCloud without losing a single bit of information. Also, this tool supports many different IMAP accounts such as Gmail, AOL, Outlook, Hotmail, iCloud, and Others. Apart from this, its user interface is very simple, which the user, whether tech or non-tech, can use according to their needs.
Stepwise Process to Migrate AOL Data into iCloud
Follow the step-by-step process to start forwarding AOL data into iCloud.
Firstly, download, run, and install the software on your computer to start the process.
Now, provide the credentials for the source and destination accounts.
Then, apply a date filter for range-based migration.
Now, click on Start Migration to start the process.
Highlighted Features of this Amazing Tool
This excellent program can transfer email from multiple accounts at once. Multiple account migration histories can also be saved.
Furthermore, the date-filter option of this tool allows the splitting of selected running messages.
Also, this utility can print emails from AOL
It can check the migration status of both active IMAP entries and completed entries.
Various options for migration Retry Failed, Skip, Delta, and Full Migration
Email folders can be included or excluded from the All Mail, Sent Items, Spam/Bulk/Junk, and Deleted Items folders.
Maintain folder hierarchy and consistent metadata throughout the operation.
Final Verdict
Forwarding AOL email to iCloud becomes an easy task when you get a perfect solution to do so. Above in this article, we have illustrated an effective method to move AOL Email to iCloud email address. Follow it as guided to get all of your required AOL emails to send to iCloud account with data loss. It's a complete workaround for AOL users moving data to iCloud.
Frequently Asked Questions (FAQs)
1: What Are the Benefits and Drawbacks of AOL Mail?
Benefits of AOL Mail
Free email services are provided by AOL Mail, which also offers features such as unlimited storage, spam and virus protection, and an easy-to-use interface.
The program also gives users the option of managing multiple email accounts from different providers in one place.
Users of AOL Mail can manage their calendars and to-do lists without leaving their email inboxes thanks to the program's integrated calendar and task list.
Users have access to a wide range of themes, backgrounds, and fonts to personalize their email experience.
Drawbacks to AOL Mail
The interface may feel outdated to some users compared to other email services.
Occasional technical issues and long loading times have been reported.
AOL Mail's compatibility with some third-party email clients may be limited because it does not support many existing email protocols such as IMAP.
Your mail can't be viewed and opened offline. The computer's AOL also freezes at least twice every day.
On AOL, slow signatures, banners, and links are unreliable.
2: What Is the Price of an AOL Email Account?
If seen, AOL mail is free for all but it charges for its dial-up and new medicines. Which completely depends on your needs. Here are some of the schemes which are mentioned below:
You can take a subscription of $25.90 per month, in which you will get all the premium services provided by them.
For $11.99 per month, you will get 27×7 support for connectivity and security issues with software protection and dial-up service.
For $9.99 per month, you'll get the same services as $11.99 but with limited technical support for connectivity issues only.
3: Can I Transfer my AOL Account to Gmail?
Yes, you can very easily export AOL email data to your Gmail account. Here are some steps with the help of which you can transfer the data:
After logging in to your Gmail account, click on the gear icon in the top right corner of the screen. From the drop-down menu, select "Settings".
Go to the "Accounts and Import" tab and select "Import Mail and Contacts".
You will be prompted for your AOL email address in a pop-up window. To continue, enter your AOL email address and tap "Continue."
Enter your AOL email account information as prompted, and grant Gmail permission to access your AOL account.
Select the contacts, mail, and/or labels from your AOL account that you want to import, then click "Start Import".
The time it takes to import data can range from a few minutes to several hours, depending on how much data you're importing.