How to Fix "Notes Error File Cannot be Created When Attempting to Archive"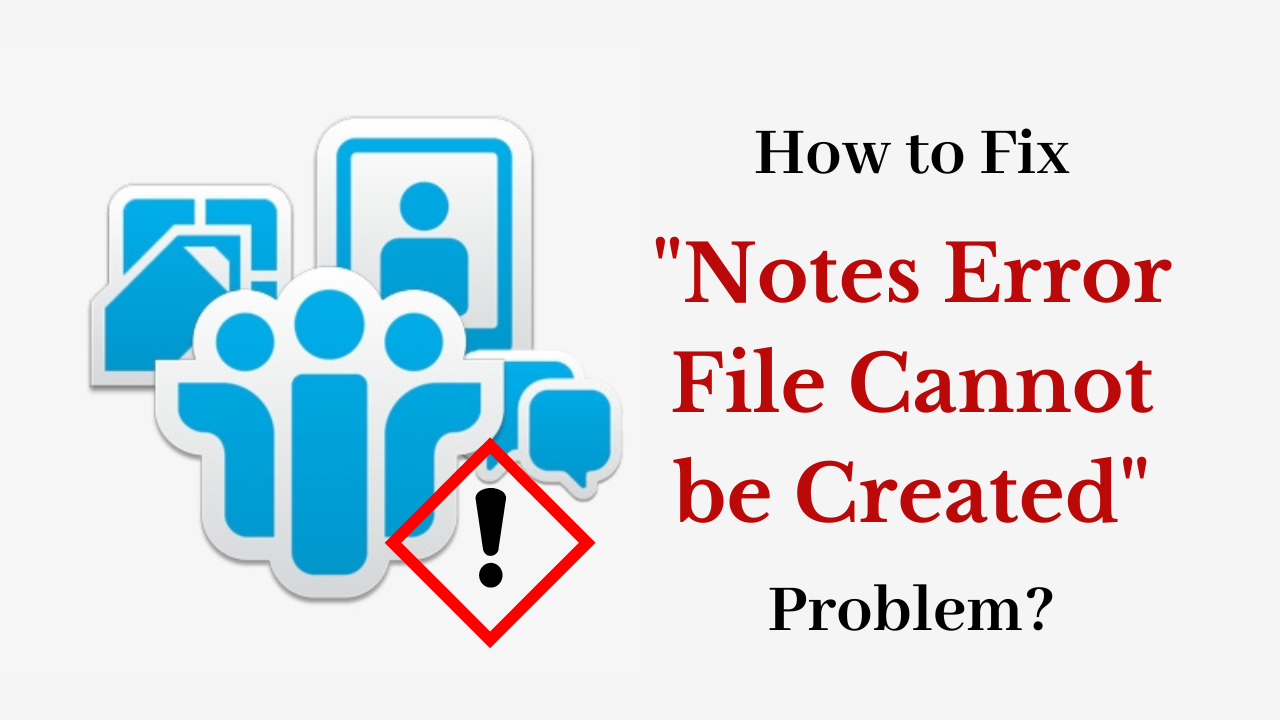 Overview: Lotus Notes offers complete security when it comes to emailing and managing communication within an organization. Lotus Notes users are overall happy with its facilities, but they can face certain error messages now and then. One such Notes error is file cannot be created when attempting to archive. As you can understand from the error name, it occurs while performing archiving-related functions. If you are wondering how to fix this Lotus Notes error, read this article. Here we will be telling you all the details of this error.
Table of Content – Easy to Find
Now, let us know the causes and user query related to the notes error file cannot be created. So, below we are going to explain all the important things related to this task.
User Query – File Cannot Be Created in Notes

File Cannot be Created When Attempting to Archive – Causes
The error message is the There are two situations when this error message occurs one is while trying to drag and drop a single email into the archive, and another is performing Actions >>Archive Now options. Sometimes, it may also appear when you create a new archive and attempt to archive documents in it. Now we come to the reason for this notes error file cannot be created. A corrupt archive profile document is responsible for this error.

Use of older operating systems
Set to "HTML" for the signature and picture file
No administrative permissions are available
Low available storage in the system
The email message contains malware.
Also Read: How to Fix Common Lotus Notes Errors?
Now, we have come to know all the important things related to this job from the above section which is very essential. But, we don't know the means yet. Let us now move to the solutions that will solve the error in Notes. So, below we have listed the manual steps. Let's use them to solve the file cannot be created when attempting to archive issues.
Software Suggestion to Convert NSF to PST
If you are facing File Cannot Be Created in Notes while Attempting to Archive problem. So we advise you to convert your Lotus Notes NSF to PST. By doing this all your Lotus Notes NSF Emails, Contacts, Attachments, Journal, etc. will be converted to Outlook PST and you will not have to face any problem. To do this follow the steps mentioned below.
Download the tool on your local system
Click on the "Add Files & Folders" button
Choose "Categories" to filter the data
Select "Location to save "PST File"
Finally hit on the "Export" button
Fix Notes Error File Cannot Be Created – Techquines

Since the damaged archive profile document is behind this problem, only deleting the existing profile document and recreating it will fix this problem. Here is how you need to process to resolve this issue.
# 1: Recreate the Damaged Archive Profile
Open the Inbox view of Lotus Notes and click on Create>> Agent. This command will launch the IBM Domino Designer client on the system.
Enter the name of the agent (Delete Archive Profile) in the New Agent box of that client.
Set Lotus Script as "Type" and enter the mailfile name besides "Application." Close the dialog box by clicking OK.
Go to the Objects tab and select Initialize option from the drop-down list.
Include the following code between Sub Initialize and Initialize by pasting as displayed. Make sure that the code formatting is done properly.             
Save the agent before closing it.
Again, go to the Inbox view of the mail file and click on Actions to select the agent.
Read More: Method to Convert Lotus Notes Mail to Thunderbird
# 2: Run Maintenance Tasks on Mailfile
Use Database Maintenance on Server
You must use the maintenance parameter on Domino Server to fix the mail file. You must first close the Notes application before correctly executing the command that is listed below.
To execute the maintenance task, enter these commands in the Domino console in a particular order.

load fixup mail\username.nsf -f -n
load compact mail\username.nsf -c -d -i
load up all mail\username.nsf -r

You must then remove the cache. Start ndk, launch the Notes client, and see if the issue has been fixed.
Execute Maintenance Locally
Run these commands from the Notes directory's command prompt. Users can follow the methods illustrated below;
Find your Notes directory and open the Windows command prompt as an administrator.
Then type the following command and press the Enter key. When the database is secured in such a case, enter the password and press the Enter key.

nfixup.exe -F -N database_name.nsf

Run the command that is mentioned below after the one that was just executed above.

ncompact.exe -c -D -i dbname.nsf

Finally, run this command to finish the maintenance procedure.

nupdall.exe -R mailfile.nsf
Note: The user must make sure to close the IBM Notes program throughout the entire procedure.
Conclusion
Here, we have discussed one simple technique to file cannot be created when attempting to archive. Any Lotus Notes user can try this as it is a completely native method. We hope that users will become benefited from this approach so Notes error file cannot be created.