How to Fix Exchange 2016 Mailbox Size Exceeds Target Quota?
Summary: The article discuss the quick solution to troubleshoot exchange 2016 mailbox size exceeds target quota. This blogs also suggested the best method to fix archive size exceeds target quota in exchange 2010, 2013 versions with help of Exchange Control Panel and Exchange Management Shell. It also explains the issues which occurs when exchange mailbox exceeds mentioned quota limit.
Quick Tricks to troubleshoot Exchange 2016 Mailbox Size Exceeds Target Quota
By default the size of Microsoft Exchange Version 2016, 2013 have storage capacity of approx 2 GB. This storage space is shared by all user configured in exchange database. It is really very hard for exchange administrators to manage space as per user requirement.
When the exchange 2016 mailbox size exceeds the predefined limit or default storage limit then a message with complete description is received the mailbox user. Thus, it causes stoppage of any communication, as it does not have enough space to store send or receives mails data.
If the mailbox is shared between multiple users then in such cases 2GB data or predefine size is not enough. Every user have their own preferences & usage. In this blog article you will get know about how to increase size of mailbox at user level as well as global database level. The complete procedure to fix exchange server 2016 mailbox exceeds size limit can be completed with help of Exchange Control panel as well Exchange Management Shell.
Solution 1# The Steps to Define Size of Mailbox via Exchange Control Panel
Here is the complete to increase exchange 2016 mailbox size exceeds at user level with help of Exchange control panel
Open Exchange 2016, 2013 Control Panel
Then in recipients, select mailbox user which you to exceeds limit size. Click on Edit button to open the properties.
Select Mailbox usage to increase exchange 2016 or 2013 mailbox size. Then click on more option to define the desired size of mailbox.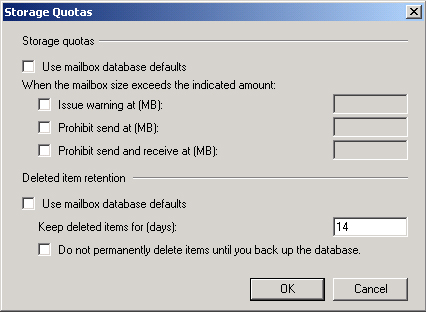 The size of mailbox of particular user is predefined from the database limit settings. Please ensure first that customize quota settings is selected and limitations are set in GB format. There is also the option to set size to unlimited for customize quota settings option. The changes which you are made here are directly highlighted in the MS Outlook or other else.
Also Read: Ways to Fix Exchange Server Error Code 8224 – Ldifde.exe Failed to Import Schema
Simple Steps to Follow to Define Exchange Mailbox Size in Database Level
If you are making any changes in the mailbox quota at database level the changes are automatically updated in all mailboxes existed on the database. Follow procedure below:
In same Exchange Server control panel, click on servers & database for which you want to upgrade quota limits. Then after click on Edit button to open properties of selected data.
In properties click on limits and set the size of selected database. The changes which you are going to made here are automatically reflected in all mailbox existing in database.
You can also verifies the status of each mailbox that connected to database. The changes are immediately. But in sometimes it takes time to reflect because of database sizes. This is the complete method user can troubleshoot exchange 2013 mailbox exceeds size
Solution2 # User Can Manage Mailbox Storage With Exchange Management Shell
The mailbox can also be defined with help of exchange management shell. For this you need to UseDatabaseQuotaDefaults parameter to $false so that default settings does not override custom settings.
The Terms being used in Exchange Server Management Console to Set Size
IssueWarningQuota:
Maximum Size after which a warning message generates
ProhibitedSendQuota:
When mailxbox excees this size limit then user do have the rights to send mails
ProhibitedSendReceiveQuota:
Mailbox owner do not have right to send or receive mails. If he tries to do so then it automatically get back into account with error messages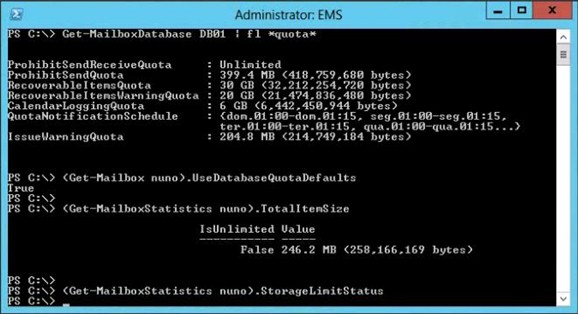 Lets us take the scenario in which user named as justin hansen have to set quota for mailbox as
The warning message delivers at 30GB and Sends message service stops at 32GB and receive quota stops at 35 GB.
"Set-Mailbox -Identity "Justin Hansen" -IssueWarningQuota 30gb -ProhibitSendQuota 32gb -ProhibitSendReceiveQuota 35gb -UseDatabaseQuotaDefaults $false"
Check Status of Customized Settings Via Exchange Managemnet Console
Use inbulit functionality available in Exchange server to check whether the changes are applied successfully or not.
"Get-Mailbox|fl IssueWarningQuota,ProhibitSendQuota,ProhibitSendReceiveQuota,UseDatabaseQuotaDefaults"
User Can Also Verify Via Exchange Admin Center
In exchange admin panel, go to recipients and then mailboxes
Choose the mailbox for which you want to verify the storage quota.
Then after, click on edit.
In mailbox properties, click on mailbox usage & then click on more options
Then verifies customize settings for selected mailbox.
Verify storage quota limits.
The Last Note
As we have discussed manual solution to troubleshoot exchange 2016 mailbox size exceeds limit. But there are certain limitations are also exists such as lengthy and time consuming process, requires constant attention. If any of the parameter are placed or executed abnormally then it leads to serious problems like corruption of mailbox, data get lost. So it feasible to retain data in other format and access it. For this you will require pro software such as Convert Exchange EDB File to PST Tool. It will help you to get your data back in quick time. You can easily download demo version of software for free.