How to Import Outlook Express to Thunderbird Successfully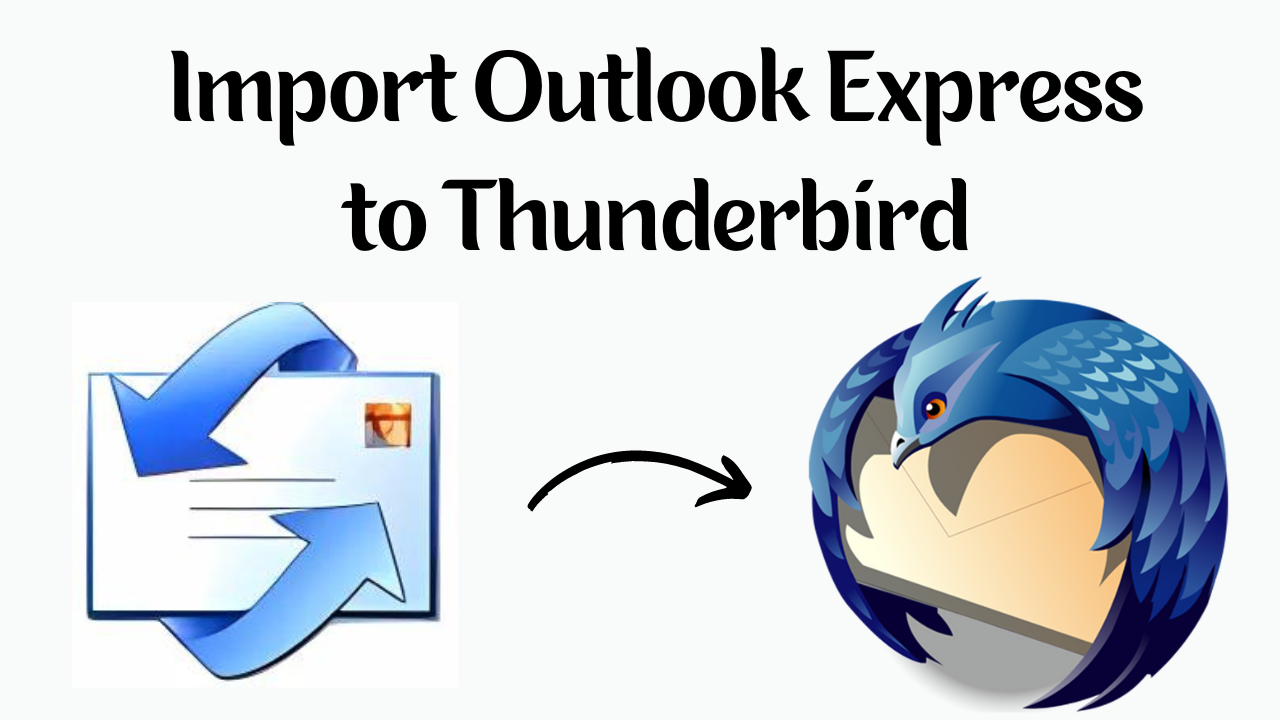 In Summary: There are several email clients out of which, Outlook Express is the most popular before the release of MS Windows 7. It provides users a facility to maintain their emails, contacts, tasks, calendar, journals, etc. in DBX format. Due to the advancement of technology, this outdated application is no longer in use. Day by day Outlook Express becomes isolated as compared to other email clients. So, many users face issues accessing Outlook Express because it has been discontinued by Microsoft. At that time, they need to import their emails into other email clients like Mozilla Thunderbird and so on. An application like Thunderbird stores its data in MBOX file format. Now, in this blog, we are going to explain all the methods to Import Outlook Express to Thunderbird. Let's start.
Table of Content
User Query: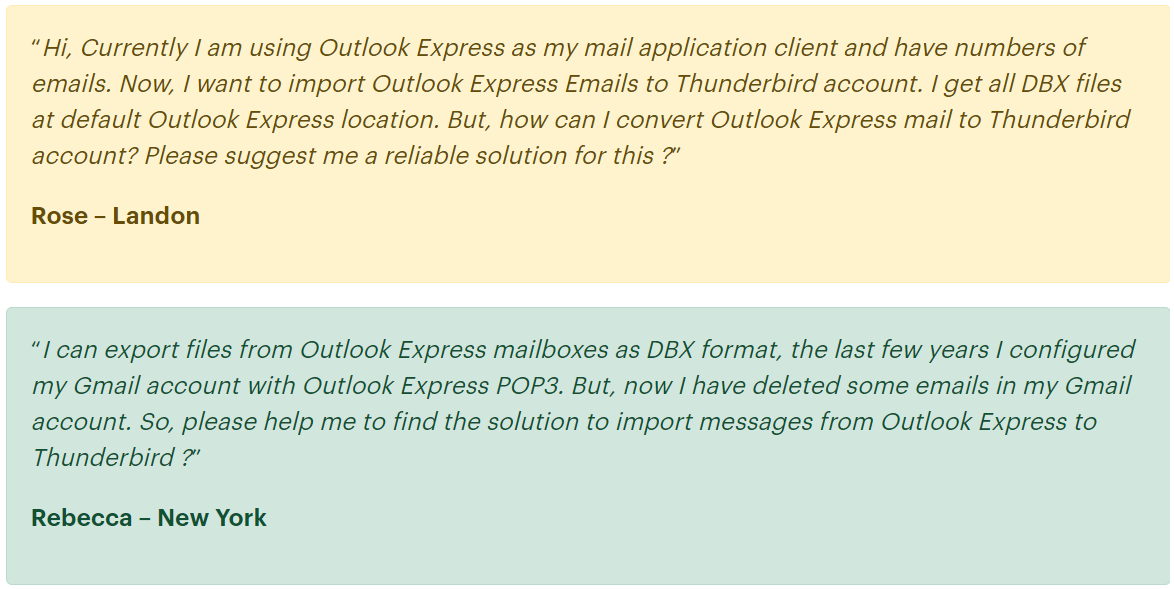 Due to the discontinuation of Outlook Express, there has been a need for users to import email from outlook express to Thunderbird due to this, we are going to discuss the proper ways to import Outlook Express to Thunderbird. Before moving towards the solution, let us know about the factors responsible for importing DBX to Thunderbird conversion.
Reasons to Export Outlook Express to Thunderbird
There are many reasons behind the Outlook Express to Thunderbird migration. Some of them are listed below:
The DBX files of Outlook Express are highly prone to corruption.
Mozilla Thunderbird provides lots of advanced features.
Thunderbird is an open-source and free email client application.
Outlook Express is an outdated email client, so it does not work properly.
The working speed of the Outlook Express email application is extremely slow.
Due to the above-discussed reasons, many users need to import Outlook Express data files into MBOX files. Furthermore, to resolve the problem of the users, we are going to discuss the best approaches in the upcoming section.
Also Read: How to Fix Outlook Express Error 0x800c0133
How to Import Outlook Express to Thunderbird
Here we do not have any direct manual method to import outlook express DBX to Thunderbird through which we can complete this task. But, you do not need to inform, there are other methods available here. So, below we will tell you three types of steps, through which you will easily be able to import DBX data into Thunderbird. To do this follow the steps mentioned below:
Remember Point: Microsoft no longer supports the older email software Outlook Express. It may not be accessible on the latest versions of Windows. If you're running the latest version of Windows, you may need to use different processes or third-party programs to access DBX files.
Method 1: Export DBX From Outlook Express Manually
Under this manual approach, we are going to discuss the process of Backup Outlook Express DBX. For this purpose, users need to install Outlook Express on their system and log in to their user accounts. Well, let's start with the steps:
Start Outlook Express on your Windows computer and select the Tools option.
Then, select Options from the list under the Tools menu.
Now, choose the Maintenance tab in the Settings window.
To change the location of your message store, click the Store folder.
A new "Store Location" pop-up window will appear.
Copy the location of the Mailbox folder.
Access the Outlook Express database files by navigating to the path in your Windows Explorer.
Now, once you locate the .dbx files you can copy that files to the desired location for backup or migration purposes. After copying the file, let's move down to converting the files into Thunderbird-supported MBOX files.
Method 2: Convert DBX to MBOX Using Professional Method
To convert all the DBX data to MBOX then, you can use this DBX Converter Tool. This utility is very reliable and valuable, which is able to convert Outlook Express DBX files to many different NELS client file formats such as PST, EML, PDF, & MSG Formats in just a few clicks, as well as this tool is Beneficial for all those nontech users who want to migrate outlook express to thunderbird without outlook express.
Also, this software has the option to automatically deduct DBX files from your system. Apart from this, it also maintains the folder structure at the time of data conversion. You can easily view emails along with attachments.
Step-by-Step Working of the Tool
Follow the below steps to import Outlook Express to Thunderbird without facing any hassle:
1. Download & run the Tool, browse, and Add the DBX Files or Folder using the software.

2. Now, the software will load and preview all the emails of the selected DBX file or folder

3. Select the MBOX radio button to export DBX emails and click on Advanced Settings

4. Once the Export Process is completed save the export report.
Now you have an MBOX file to your DBX file. Which we will import in Thunderbird. After that, you can access the data of Outlook Express in Thunderbird.
Method 3: Import MBOX File into Thunderbird
So, to import the MBOX file in Mozilla Thunderbird, before you install Thunderbird on your desktop and do the steps mentioned below:
Right-click the mailbox in Thunderbird into which you want to import the MBOX file.
After that, a menu of options will appear; Select Import Export Tool NG >> Import MBOX File to start the process.
Select Import one or more Mbox files directly in the Files MBOX Import window that pops up, then click OK.
Then, find the MBOX file from the location on the hard drive where it is kept.
To import the MBOX file into the Thunderbird application, click on the Open button.
With this, Thunderbird imports the email successfully.
All methods end here. Let's move on to the bottom and take a look at the advantages of the automated method.
Key Features of the Software
This tool provides some consistent features to resolve the problems of users. There are the following key features that help in Outlook Express to Thunderbird conversion process:
Transfer the .dbx file to .mbox, .msg, and .pst files without any data loss.
Generate a single .mbox file for individual Outlook Express folders.
Convert oversized and bulk DBX files into Thunderbird.
Provide conversion in all versions of the Outlook Express application.
Compatible with all versions of the Windows operating system (32-bit & 64-bit).
Let's Wrap Up
In this era, email clients play a crucial role in professional or normal user's life. But, people face many issues while using outdated email applications like Outlook Express. So, users want to import their .dbx file into MBOX file format. MBOX file stores the data and supports several email applications.
When users try to import Outlook Express to Thunderbird with the help of the manual way, then it creates various issues. Therefore, we have also suggested an appropriate solution to import outlook express DBX to Thunderbird.
Frequently Asked Questions
Q 1: What email file formats does Thunderbird use?
Ans: Mozilla Thunderbird uses MBOX files to store messages in a folder. The ImportExportTools extension can import and export MBOX and . eml files. Many email clients such as Netscape, Mozilla Suite, and SeaMonkey use MBOX files.
Q 2: How can I convert DBX file to PST format?
Ans: If you are missing the solution to convert DBX files to PST, then, use the automated solution which is mentioned above. This tool will convert DBX files to PST very easily