Know How to Fix Outlook Express Error 0x800c0133
Are you searching for a suitable method that will help to fix Outlook Express error code 0x800c0133? If yes, then, you are landed on a right place as we have come up with a relevant solution to resolve Outlook Express error 0x800c0133 message easily.
Outlook Express is the most popular email client provided by Microsoft Corporation. It also provides multiple emailing services. While using Outlook Express end users may encounter the error code 0x800c0133 when they tried to send or receive email. Therefore, in the upcoming section, we are going to explain different manual solutions to fix Outlook Express Error 0x800c0133 in an efficient way. Before proceeding this, first, you need to explore all possible reasons behind the occurrence of this error code.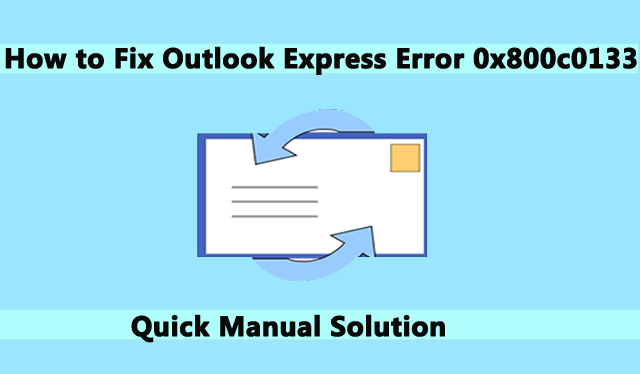 Reasons Behind Outlook Express Error 0x800c0133
Go through the following set of instructions due to which this error code 0x800c0133 occurs. Wlet us have a look:
1. Corrupted Windows registry
2. Corrupt or damaged inbox.dbx file
3. Incomplete installation of Outlook Express mail client
4. Size of inbox.dbx is larger than default file size limitation
5. Corrupted Windows system files
Manual Tricks to Fix Outlook Express Error 0x800c0133
Go through the following steps by which users can resolve Outlook Express 0x800c0133. Let us have a look:
Method 1: Fix Issues in inbox.dbx file
Open Outlook Express mail client
Then, go to local folders and select an option "New Folder"
After that, make a new folder with the help of name Temp
Now, you can move all email messages from Inbox to the TEMP folder
Next, browse the desired location of Inbox.dbx file
Follow these steps:
a) Click on Tools menu in MS Outlook Express and select Options
b) Then, navigate to maintenance tab
c) Click on the store folder and then, open the store location dialog box
Note: It contains the specific location of the folder that contains DBX file on mail client program.
          d) Now, you can Exit Outlook Express
          e) Browse a particular location and then, find the Inbox.DBX file
After this, you have to delete inbox.dbx file
Again, start Outlook Express and you can recreate the Inbox folder
In the end, you can transfer all messages from Temp to Inbox folder
Method 2: Using Repair Windows Registry
Type run in search box
Then, the Run window screen will get open
Afterward, Registry editor will appear on the screen
Open each Folder as given below:
HKEY_LOCAL_MACHINE_Software → Software → Microsoft → Windows → Current version → run
Now, choose Outlook Express error 0x800c0133 file
Finally, you can remove this error file
Restart the computer system
Look Earlier, Outlook Express has been used as an email client but now it gets replaced by Microsoft Outlook. The reason being, it is not able to meet the compatibility with latest version of Windows OS. Furthermore, many users have encountered certain issues in Outlook Express as Microsoft ended to support this anymore. As a result, everyone wants to move towards Outlook application due to its advanced features. Henceforth, users must have to take help of a reliable third party tool i.e., DBX to PST Converter. It is one of the best solutions that will help to fix outlook express error 0x800c0133 effortlessly.
Also Read: How to Fix SQL Server Error 823?
Conclusion
Many times while sending or receiving emails from Outlook Express and users will receive an error message "Outlook Express Error 0x800c0133." It may also affect the continuity of workflow. In this blog, we have discussed all possible reasons behind the occurrence of this error message. In addition, we have covered different manual tricks to fix Microsoft Outlook Express Error 0x800c0133 in an efficient manner.