Want to Configure Webmail to Outlook Account? Here's What You Need to Do!
We all are familiar about Webmail, which are web-based email accounts such as Roundcube, Horde, Squirrel, Gmail, Yahoo Mail, Outlook.com or Hotmail, AOL Mail, etc. These emails are web application that is running on a web server. When we talk about Outlook, it is one of the worldly accepted desktop-based email application, which is widely used for both small-scale and large-scale organization. Additionally, it provides a sophisticated interface to the users that enables a smooth approach while sending and receiving emails without the need of opening a web-browser or signing into some Webmail. Hence, there is a huge requirement seen among users to configure Webmail to Outlook application to ease the work.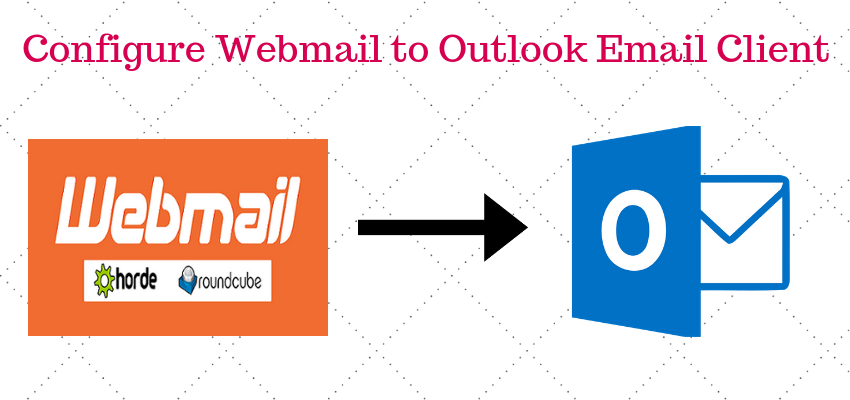 Do you want to set up Webmail to Outlook email client? Are you not aware of the process to add a Webmail account to Outlook application? Then, just relieve yourself as you are reading the perfect blog, where we will discuss the procedure in a simplified and understandable way.
"I am an Outlook user, which I frequently use for my business purpose. At the same time I also own a Gmail profile which is used both personal and business purpose. In order to ease my work, I need to add Webmail to Outlook. Is there some reliable solution to set up a Gmail account in Outlook 2016? Kindly reply back at the earliest possible."
Just like the above scenario, there are numerous users who are constantly searching for a way out to set up Gmail, Yahoo Mail, Hotmail or any Webmail account to an Outlook profile. This is because Webmail is a dependable application which always requires an internet connection to access the emails, hence users cannot work in Offline mode. So, let's know the procedure and explore this write-up to the fullest.
How Can a User Configure Webmail to Outlook Application Manually?
In order to set up any web-based email application in Outlook, follow the below listed steps sequentially and carefully,
Firstly of all, launch Outlook email application on your system
Then, go to File menu>> Add Account option>> choose the radio button corresponding to Manual setup or additional server types and click Next       
After that, select POP or IMAP option and click on the Next button
In Add Account wizard, you need to enter the name and email address under User Information section, set the account type as IMAP and incoming mail server to imap-mail.outlook.com and outgoing mail server(SMTP) to smtp-mail.outlook.com in Server Information
Then, provide the credentials of the Webmail account whether Gmail, Outlook, etc, which you are adding in Outlook under Logon Information section            
Now, click on More Settings… option on the extreme bottom-right corner of the screen to configure Webmail to Outlook
Under Internet E-mail Settings wizard, select Outgoing server tab>>tick My outgoing server (SMTP) requires authentication checkbox          
Then, switch to Advanced tab and enter the details in the Server Port Numbers section i.e., incoming and outgoing server port numbers. In which, select the encrypted type connection as SSL in incoming server(IMAP) and select TSL for Outgoing server(SMTP)
After that, click Next to complete the setup process and click Finish after the configuration process is successfully completed to set up Webmail to Outlook
Now, you can see the Webmail account will start syncing with Outlook, which will moreover help to manage the emails efficiently
Note: While configuring Gmail to Outlook, login to Gmail >> Settings >> click on Forwarding and POP/IMAP tab. Under IMAP Access section, choose Enable IMAP option and click on Save Changes. Then go to https://myaccount.google.com/lesssecureapps and enable the access for less secure apps and follow the same aforesaid steps.
Port Number & Server Address of Different Webmail Services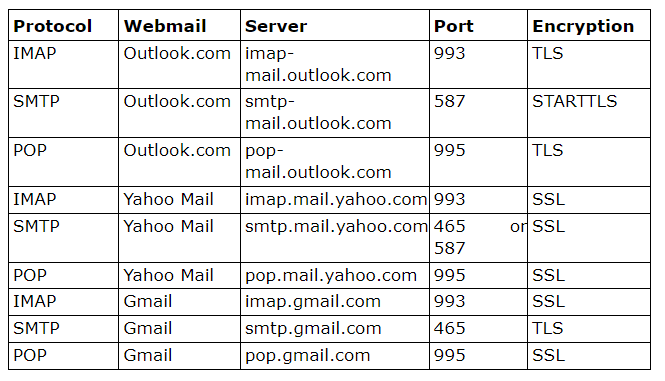 The Bottom Line
When a user wants to set up Webmail to Outlook, then he/she can easily carry out the above discussed procedure. In which, users can easily configure any of the web-based email application like Gmail, Outlook.com, etc to an Outlook profile without facing any technical errors. Moreover, we have also listed the port numbers to implement an easy and error-free configuration process.