Quick Tips to Recover Mailbox Exchange 2016 – Try It Right Now !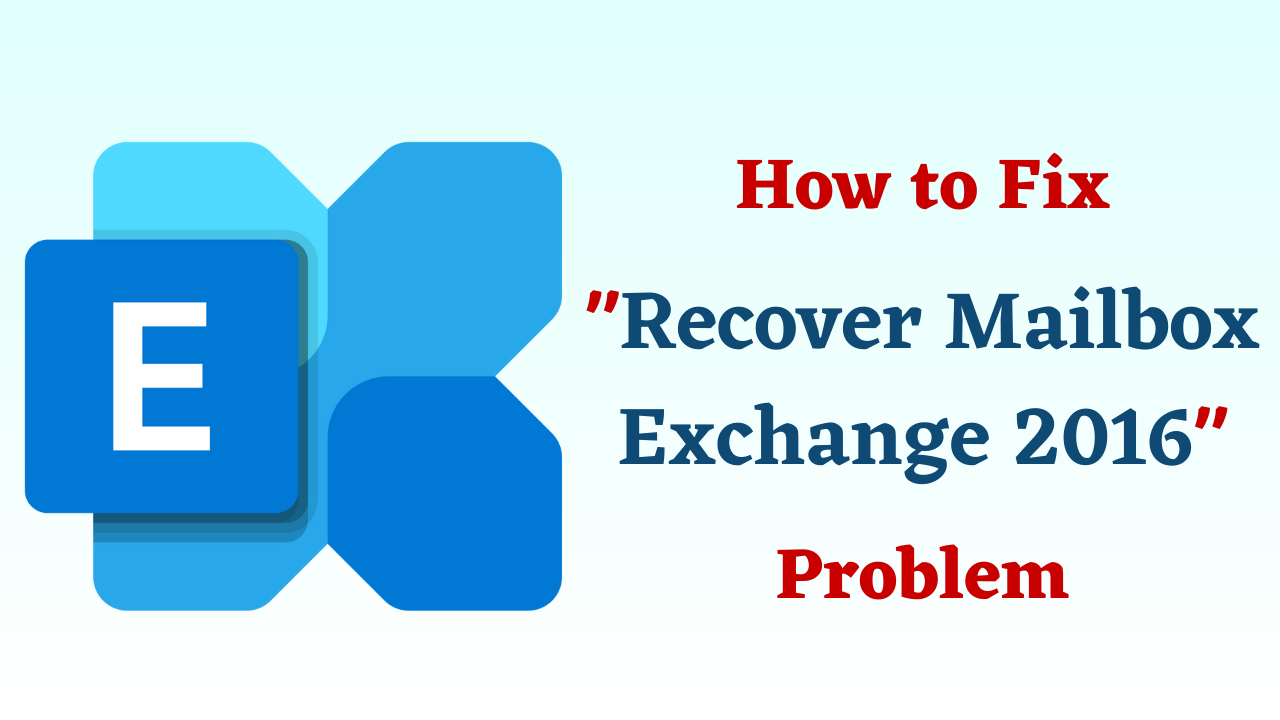 In Overview: Nowadays, data is important for everyone, no one can afford data loss. Thus, to protect data from getting lost due to catastrophic conditions, people create a backup of their data regularly. Now, the main problem arises when the user is not able to restore the backed-up data. Similarly, Exchange users also face issues while restoring mailboxes in Exchange 2016. Thus, in this blog, we are going to explain different ways to recover Mailbox Exchange 2016. So, let's start the blog to know the way to finish this task.
Table of Content – Easy to Find
So before going any further let us have a look at some of the queries that we have received from technical forums. Then after that, we will move on to the run of reasons to restore mailbox in Exchange 2016. so let's start to know.
User Query: 

Come, now let's go ahead and swear to know all the reasons.
Why Do Users Want to Recover Mailbox Exchange 2016?
There are many such reasons here why a user needs to restore a mailbox in Exchange 2016. So, below and we have told some of them:
Hardware failure, faulty motherboard, or other physical or host server component.
Software issues caused by problematic or conflicting Windows upgrades.
Important Exchange Server files may be locked by third-party programs that are not compatible with Exchange Server.
Sudden loss of power causes servers to reboot without shutting down completely. This can result in a database or log corruption.
The server infected with a virus, malware, or ransomware.
Till now we have learned about all the important things from the above section. But we still don't know the solutions that accomplish this task. So, you don't need to worry. Now, we need to organize all the solutions to solve this task without any problems. Here there are two types of methods first is manual or second is automatic. So, let's start with the first method.
Restore Mailbox in Exchange 2016 – Manual Method
In this section, different methods explained to recover Mailbox Exchange 2016. The user can select any method as per his/her choice. The user can only implement the Windows Server Backup method if he/she is having a healthy backup of a database. You can easily restore the mailbox in Exchange Server 2016 from the healthy backup by following the step-by-step process given below:
First, you have to launch "Windows Server Backup" on your system. Now, open the "Action" and then select the "Recover" option from the "Menu".
After that, the recovery wizard will be launched and Getting Started page will be opened. Here, you need to select the "Drive" where the healthy backup is stored.
Now, the wizard will show the oldest and the newest backups available along with the data and time. You have to check the status, from there you will get an idea that the backup is mountable or not. Select the backup that you want to restore. Most probably, it will be the latest backup.
Here, you have to select the recovery type. You will be able to see different options which are File and Folders, Hyper -V, Volumes, Applications, and System State. You have to select the Applications option as we are restoring specifically the Exchange database.
From the Select application to recover field, you need to select Exchange. Now, you will see a checkbox Do not perform a roll-forward recovery of the application databases at the bottom. You do not have to select this option as some email communications may have taken place after the backup was created.
If the user is restoring from this backup then it means that those emails will be missing after recovery. Moreover, Exchange uses transaction logs to do roll-forward recovery of the data wherein all the change that has occurred after the backup creation are also restored too. We have to restore all the messages so we are not going to select the checkbox.
Finally, you have to choose the location, you need to recover the database at the original location or the new location. Recovering from the original location will be a preferred option, so you have to select that option.
Next, confirm all the inputs that you have provided and click on the Recover button. The restoration process will begin, you just have to wait till the entire database is recovered. After the completion of the process, it will be automatically mounted for you.
Now, the bigger problem is when the user does not have a complete, healthy backup or the backup is available but it is corrupt or unmountable, or transaction logs are not available. In such cases, it is not possible to restore mailbox in Exchange 2016 using Windows Server Backup. But, don't you worry? In the coming next part, we are going to tell you a reliable solution with the help of which you will be able to restore your mailbox in Exchange 2016. So, let's start.
Recover Mailbox Exchange 2016 – Automated Method
In such a situation, there is only one way to restore the mailbox in Exchange 2016. The user can make use of an automated and reliable solution which is Exchange Recovery Tool. The software designed with advanced algorithms which makes it a feature-rich and efficient utility. Moreover, no data loss issues associated with the software. Download Software for free from here:
Working Steps of Software
First, Download and Install the software on your local system to start the process.
Then, hit on the "Add File" to choose a single or multiple exchange mailbox files.
Now, you can "View All the Folders and Mailbox Items".
After that, click on the "Export" button to exchange database recovery.
Best Characteristics of Utility
Restore mailbox Exchange 2016 from offline EDB file.
View the Inbox, Outbox, Contacts, Tasks, etc.
Export resorted mailbox items to live Exchange environment
Restore corrupt Exchange 2016 mailboxes along with the public and private folder
Maintains the original formatting and folder hierarchy of restored Exchange mailbox data
Permits to save the restored Exchange emails in HTML/MSG/EML/MBOX etc.
Provides the advanced setting option to restore the mailbox in Exchange in a customized way
Restores Exchange mailbox emails along with the attachments associated with it
Conclusion
Creating backup regularly is a good approach. However, it is a tedious task to restore data from the backup. For Exchange 2016 users, we have explained different methods to Recover Mailbox Exchange 2016. To carry out an instant and hassle-free restore process, it recommended to make use of the Exchange Server Recovery Tool to restore mailbox in Exchange 2016.