How to Recover Deleted Contact From Outlook in Few Clicks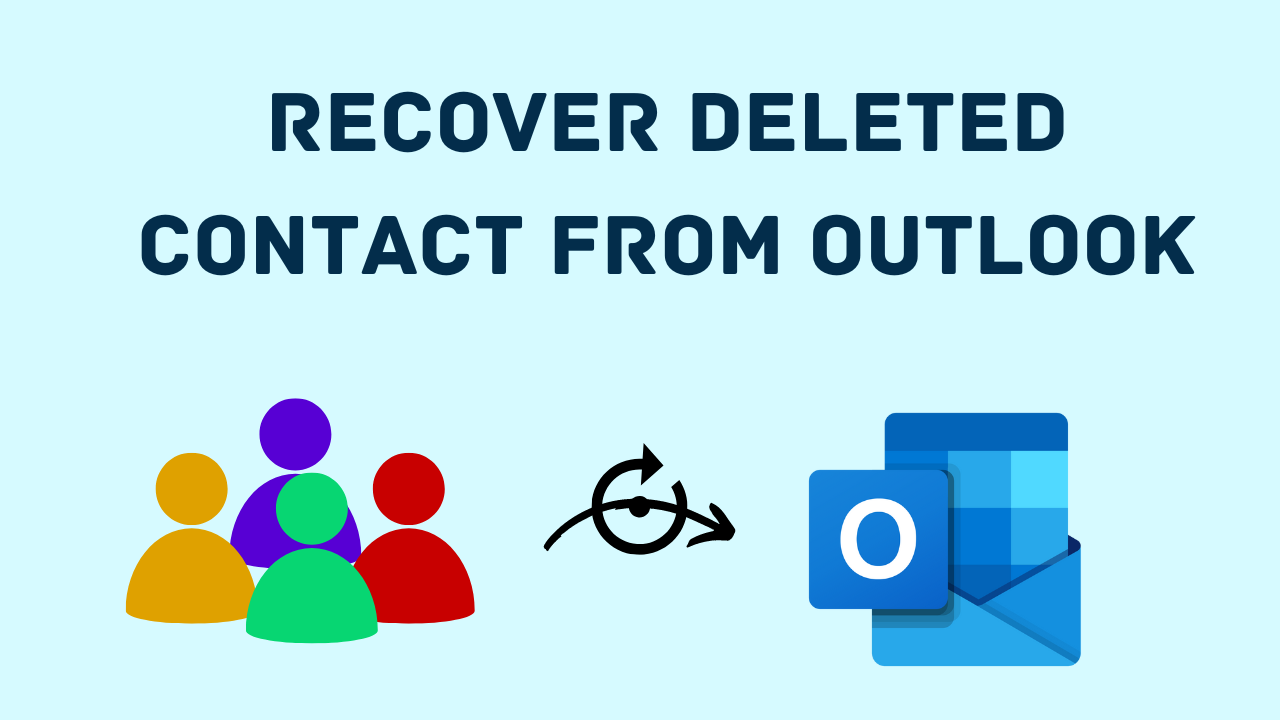 In Abstract: In this digital age, we all need an email communication application that makes it easy for us to send and receive emails from other individuals. As such, Outlook email client is the most powerful application today, which provides its users with great features, such as storing and organizing the contacts of the users. But, sometimes there comes a problem in which we need to recover deleted contact from Outlook and there can be many reasons for this deletion, so, if you are looking for a good solution then this blog is right for you. Is. What will happen? In such a situation, today we are going to tell you all those tested steps to recover deleted contact Outlook, with the help of which you will be able to recover permanently deleted contacts from Outlook. So, without wasting time let's move ahead.
Table of Content – Easy to Read
First, let us know the reason behind restoring permanently deleted contacts in Outlook. So, in the upcoming section, we are going to explain all the important reasons.
Recover Deleted Contact From Outlook – Causes
If you don't know how to solve this process. Then, you may not even know the reasons behind recovering deleted contact Outlook. That's why we have listed down all the other reasons:
Sometimes we format or restart our computer. But forget to make a backup of the Outlook task running in Pressend. That's why contacts get deleted from Outlook.
A virus attack can also become the reason for this situation. Due to this, we are unable to open the PST file of Outlook, due to which the contacts are also not visible.
If you are thinking of updating your Outlook and while updating you are facing problems like internet connection not working properly. So in this situation, Outlook shows many errors.
There can also be a reason that to delete some of your shortcuts, you have given the SHIFT + DELETE command simultaneously from the keyboard, due to which you have mistakenly deleted some of your imported contacts from the address book.
Well, there are many more reasons for this. Because of this, we have to try the recovery process. Well, now we know the lower and increasing solutions. So below and we are continuing to tell two types of solutions. In which the first is manual and the second is automated. Both of these have their specialty and disadvantages, so let's start.
Recover Deleted Contact From Outlook – Smart Solution
If you do not want to again lose your data then, you can use this Outlook Deleted Items Recovery Software. It is more powerful and very reliable software for both tech and non-tech users. With the use of this brilliant software, Outlook users can easily restore their deleted contacts from the Outlook address book. Moreover, this is capable to restore permanently deleted mailbox items such as emails, calendars, tasks, notes, etc from Outlook.
How to Use the Software?
Run this utility on your Windows OS to start the Outlook contacts restore process.
Then, to add Outlook PST, OST, and BAK files, click the "Add Files" button.
After that, the tool provides you a preview of deleted contacts and all deleted items will be shown in "Red Color".
Then, choose "PST" to save the recovered data and then, click on the "Advanced Settings" button.
Finally, find the "Location" to save the file and press the "Export" button to end the process.
At last, we know the right and reliable way to restore permanently deleted Outlook contacts from Address Book. Well, if you want to solve this task with a manual method. Then, you can follow the method given below.
Recover Deleted Contact From Outlook – Manual Method
Many Outlook users out there are looking for a manual solution to recover Outlook contacts. So, for those users, we have told two more types of steps below to recover deleted contact Outlook. But once you always have to keep in mind that this manual way is not reliable. That is because the users must have technical knowledge to follow them, it is a very long process due to which the data can be harmed even more. Well, let's start.
# 1: Retrieve Deleted Contacts From the Trash or Deleted Items Folder
Outlook contacts that are frequently deleted end up in the Deleted Items folder. The techniques we've listed below will work for you even if you were never able to recover contacts from the Deleted Items folder:
Open Outlook, then go to Email Folders. Find the Deleted Items folder.
After launching Deleted Items folder you can search for the contact you want to recover. You can do this by pressing CTRL+E or simply by starting typing "Search deleted items" in the search window.
When you locate the contact you want to recover, choose Move > Other Folder from the context menu.
Select Contact from the list that opens, and then click OK to recover deleted Outlook contact.
Note: Sometimes the Deleted Items folder for some Outlook email accounts is shown with the name Trash. If you can't see your contacts in the Deleted Items folder then you should immediately check your Trash folder.
Limitations of this Method
This method will not work at all if you have deleted your contacts using Shift + Delete command.
Now if you have emptied your Deleted Items folder in Outlook then you cannot get your contacts back.
Outlook's Deleted Items folder contains a lot of items, so it's not easy to get them back if you don't remember your contact's name.
While attempting the above-mentioned steps you are not able to restore your contacts then you can follow the below method.
# 2: Retrieve Deleted Address Book From Recoverable Items Folder
If you have already checked that there are no contacts in the Items/Trash folder, you can now check the Recoverable Items folder in Outlook. From there you will be able to make contacts. So, to do this follow the steps mentioned below:
Check that the Home tab option is selected at the top of the Deleted Items folder. Select "Recover deleted items from server" from there, and make sure to do so.
The contact you want to get back can then be searched.
Locate the contacts you want to restore, click on them, and then select "Restore selected items" at the bottom. Then press the OK button.
Note: It is important to note that contacts often remain in the Recoverable Items folder for approximately 28 days before they are permanently deleted from the computer.
Drawbacks of this Method
All your deleted contacts will be removed from the Recoverable Items folder after 28 days.
Also, this folder is found hidden many times
An Internet connection is required to recover contacts by following these steps.
Conclusion
Throughout this blog, we have mentioned both automatic and manual methods to recover deleted contact from Outlook. Also, we have described all the possible reasons behind how to restore permanently deleted contacts from Outlook. Now, it is your choice which solution you choose to recover deleted Outlook contact.