How to Recover Deleted Calendar Outlook – Solutions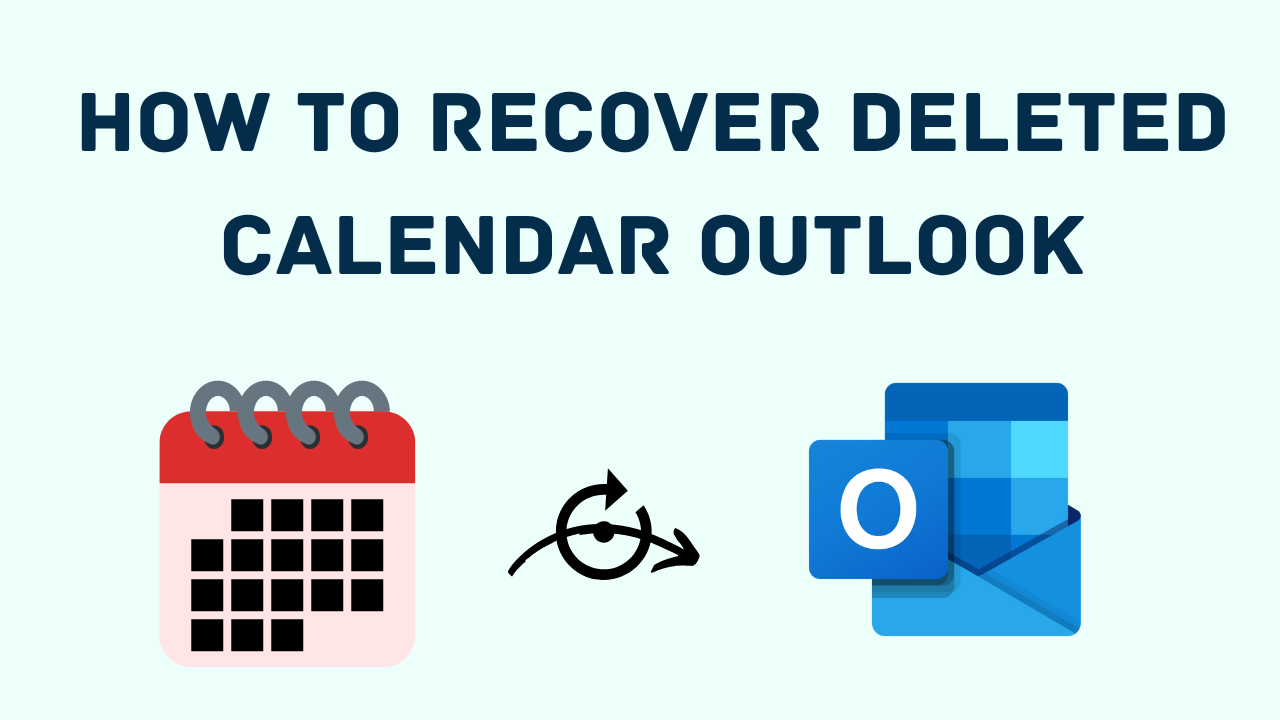 In Synopsis: We've all been there where an important event or meeting has been deleted from our Outlook calendar by mistake. The panic sets in when you wonder if that important appointment or deadline is lost forever. Fear not! In this comprehensive guide, we'll walk you through the steps to retrieve deleted calendar events Outlook and ensure you never lose important events again. And let's move on to more steps of our wasted time blog and recover permanently deleted calendars from Outlook instantly.
Table of Content – Easy to Read
If you are looking for a reliable solution, then, it is a matter of course that you neither know the reason behind this problem. So, that's why we have first told you the other reasons below. So, it becomes clear to you how it is possible to delete such calendars suddenly. Let's start.
Recover Deleted Calendar Outlook – Possible Reasons
There are many reasons behind retrieving deleted calendar events Outlook. So, below and we have told some motives:
One reason behind the sudden deletion of the calendar from Outlook is that you have deleted the calendars using your own SHIFT + DELETE command.
The second reason we can also take is that Outlook's data file PST is corrupt or damaged due to any reason that your calendars were there and are not showing now.
There is also a reason that the computer on which your Outlook is configured has suddenly got an unwanted malware or virus attack, due to which you are not able to see your imported calendars due to many issues.
There are many more such reasons here why users want to retrieve deleted calendar events Outlook. Well, now let us know about the below and increasing solutions. So there have been two types of solutions from the beginning, the first is automated and the second is manual. Which has its own merits and demerits. So let's know the first method and solve the problem.
Recover Deleted Calendar Outlook – Automated Solution
To restore deleted calendar Outlook, you can go with this Best Outlook Deleted Items Recovery Tool. This simple program recovers items from permanently deleted Outlook files. To truly recover deleted data items from Outlook files, the software runs a RAW scan (bit by bit). Moreover, recover deleted data from corrupted Outlook PST, OST, and BAK files with the help of this software. Also recover permanently deleted emails, contacts, calendars, tasks, journals, and notes in Microsoft Outlook.
A Step-by-Step Guide to Using the Tool
First, Launch and Run this brilliant software to start the process of recovering deleted calendars from MS Outlook.
Now, add Outlook PST/OST/BAK file, scan and load the data file by clicking the "Add File" button.
Then, to preview the data click on the "Preview" button and you will see the data in "Red" color.
After that, select "PST" to save the recovered data and click on "Advanced Setting".
Finally, select the location to save the file, and then, hit the "Export" button to restore deleted calendar Outlook.
Here, all smart moves end. Well, you are looking for a manual solution. Then, the following parts are perfect for your need.
Software to Repair PST Files – If your Outlook PST file is highly damaged and corrupted. Then, you can use this Outlook Recovery Tool from Revove. This tool is the best utility to recover corruption issues in Outlook data files.
Recover Deleted Calendar Outlook – Manual Method
If you want to recover deleted calendars from Outlook, then all the methods mentioned in this part will prove beneficial for you. Here we have divided the manual solution into two parts, let's use them.
# 1: Recover Deleted Calendars From Trash Folder
Follow all the steps mentioned below carefully to restore all your permanently deleted calendars from the Trash folder:
Activate Outlook and go to Folders.
To view the contents, click Deleted Items or Trash.
Find the item you want to repair.
Move the item to a different folder using the right-click menu.
# 2: Recover Deleted Calendar Items from Server
If the previous methods didn't work for you, you can try to get the calendar items from the server once again. Be aware that you may not have access to this function as it is only available for specific account types.
Open Outlook, select the Home tab from the top of the Window, and then, click Recover Deleted Items from the Server.
Items that have been deleted will now be listed on your screen. Pick up the ones you dropped.
Select the missing calendar item, tick the box for Restore selected items, and then, click OK.
Now returning to your calendar, you will find that the missing entries have been added.
Disadvantages of Technique
If you try the manual method mentioned above then it has many limitations which you will face while following the steps. So below we have told some flaws,
This process is long, so if a single step is missed, the data can be harmed even more.
To try this, users must know technical things.
Before trying the process make sure that you have a good internet connection and Outlook is configured on the computer.
Time to Close It
In this complete guide, the answer to "How to Recover Deleted Calendar Outlook" is explained in the best possible way. Along with this, all the reasons behind doing recover deleted calendars from Outlook have also been told. So, to recover permanently deleted calendars from Outlook, you can try both methods mentioned in the blog. But if you choose manual, then you will have to face many problems, so, you should choose an automated tool to restore deleted calendar Outlook.