How to Recover Damaged Zip File – The Ultimate Guide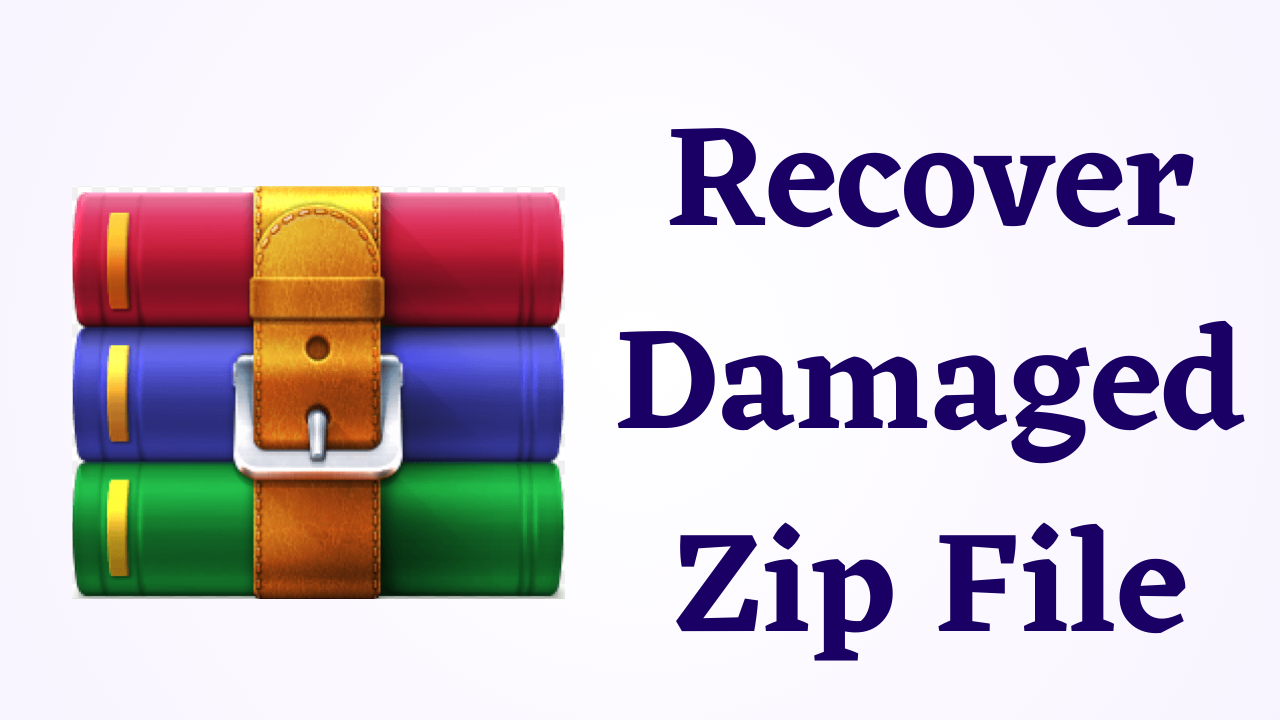 In Overview: Zip files are a popular method around the world that is used for compressing and packaging multiple files and folders. Also widely used for efficient storage, file sharing, and backup purposes. However, sometimes these files get corrupted or damaged by doing many things. Such as transmission errors, storage problems, or software malfunctions. This can be very annoying because some of our important files have been converted into zip files. So today in this blog post, how to recover damaged Zip file. Will discuss its solutions and many important points, so let's start moving towards the blog.
Table of Contents: Easy to Jump In
Let's first look at the query asked by a user and also know the reasons for how the zip file can get corrupted and damaged,
User Query: Hi everyone, I've been trying to repair data from a large zip file for the past two days. For this I have used many unzip tools, but to no avail. Looks like the file is corrupt and I can't download it. Or maybe the tool used is not a reliable way to recover a damaged zip file. Is there a better way? I can't get it successfully. Please help!"
Now, Let's discover the main reasons.
Recover Damaged Zip File – Main Reasons
Zip files can get corrupted and damaged due to many reasons. That's why we have given you some reasons below so that you can understand the process easily:
Hardware Failure: The first reason is that if the zip files are in the Hard Drive or SSD of the computer and it is damaged, then it will affect the zip files saved in it and they will not open.
Virus or Malware Attacks: Sometimes the reason for files getting corrupted and damaged is also due to malware or virus attacks on the computer.
Incomplete Download: There is also a possibility of file corruption if there is a problem with your network connection while downloading the zips file, then the file also gets corrupted.
Software or Operating System Problems: If there is a problem with the program or system that is used to create, compress, or extract zip files, it may result in loss or corruption of the zip file.
Power Outage: If there is a power outage or any other electrical disturbance while the zip file is being compressed or extracted, the zip file will get corrupted.
File System Faults: Zip files can become corrupted as a result of bad sectors, disk faults, or other file system errors.
Human Error: Zip files can become corrupted or damaged if they are accidentally deleted or modified.
Above we mentioned some real-life scenarios that came from forum pages. Here, users have corrupted zip files after downloading them due to various reasons. To solve such problems, we are going to mention two methods, manual and automatic solutions, which can be used to Zip file files without any problem.
Manually Recover Damaged Zip File with Command Prompt
In this part, we have mentioned step by step free solution for you to fix damaged zip files. Whoever wants to remove all the errors of the Zip file even for free, then he should follow the steps mentioned below.
Note: Before starting this process, one thing must be kept in mind the WinZip Command Line application should be already installed on your computer system (where the zip file is) only then you can start this process.
Go to Start and Run a Command prompt as an Administrator.
Change directories to the folder where the damaged Zip file is located. Type: "C:\Program Files\WinZip\wzzip" -yf zipfile.zip.
Files\WinZip: Location where you installed the WinZip application
zipfile.zip: The file name displays an invalid ZIP error
Press Enter to continue.
Now if you are unable to recover a corrupt zip file with this free solution and are more worried about your data, then you do not have to worry anymore. Below we have listed some of the best and most reliable third-party solutions for you. So let's use that to complete this task.
A One-Stop Solution to Recover Damaged Zip File
Zip Repair Tool is a top-notch and best zip repair tool to fix corrupt and inaccessible zip files created with WinRAR, WinZip, or any other tool. The program helps you to fight all these potential errors without losing data. The program scans and repairs Winzip files of all types in an archived file.
The interface of the tool is easy to use and compatible with all Windows operating systems like 10, 8.1, 8, 7, etc. The program is available in a free trial, which allows you to analyze the effectiveness of the program before purchasing it to repair the damaged one. compressed files.
Tools Complete Working Process
Download and Launch the Software on a PC.
Hit on the Load Option to browse the Zip file.
Preview item with attributes in a Zip file.
Now, Click on Extract Option to extract data from the corrupted zip file.
Select the destination folder path where you want to place the database of the repaired ZIP file. Click OK.
Attractive Features of the Software
Repair Broken or Damaged ZIP File – The Utility can recover highly corrupted or damaged compressed files without losing a single piece of information from them.
Restore Inaccessible Files – The Tool not only performs repair operations but also recovers data from files. You can extract all data types such as images, documents, text files, etc.
Display Files With Attributes -Users can see all recovered files along with attributes such as file name, file size, and file type in the preview area of the software.
Extract as compressed File – Software provides an open function to save the retrieved data in compressed format. This means that you can create a successful ZIP file.
Recover Password Protected ZIP Data Files– It supports password-protected zip files to recover files and folders from corrupted files. This means that security is introduced within the tool.
No Size Limit- There is no size limit to repair or extract a zip data file. It is also an excellent feature of the software for a hassle-free unlocking process.
Easy-to-Use Interface – The software is designed in such a way that all users can easily recover corrupt, damaged, and invalid zip file data in one go without any technical knowledge.
Finishing Lines
In the above blog, we have already mentioned steps to recover damaged Zip file. Many users face problems in this process due to a lack of knowledge. By following the above-mentioned procedure, the user can solve this problem easily. The above program is a good option for the user to perform the task perfectly. Also, you will always maintain data integrity. We have already mentioned the best professional techniques to solve this scenario. As a manual method, it will take a lot of time and does not guarantee 100% success. Therefore, the use of automated solutions is best for both domestic and professional users.
Frequently Asked Questions – FAQs
Q1: How to unzip files on Mac?
Ans: On Mac, files are unzipped quickly. You need to find the file you want to unzip. Control-click the file, then from the menu, choose Compress Options.
Q2: How to open and repair damaged Zip files?
Ans: You need to find the File Explorer folder to repair and open corrupted zip files. Right-click on the folder and select Repair and Open option.
Q3: What is a Zip file restoration?
Ans: Follow the below-mentioned steps:
To restore a zip file from the Internet, delete the old file that was unrecoverable.
In your browser, open the website from which you want to download the file.
Find the zip file, download it once more, and save it in a separate, secure location.