How To Repair Zip File – Complete Solution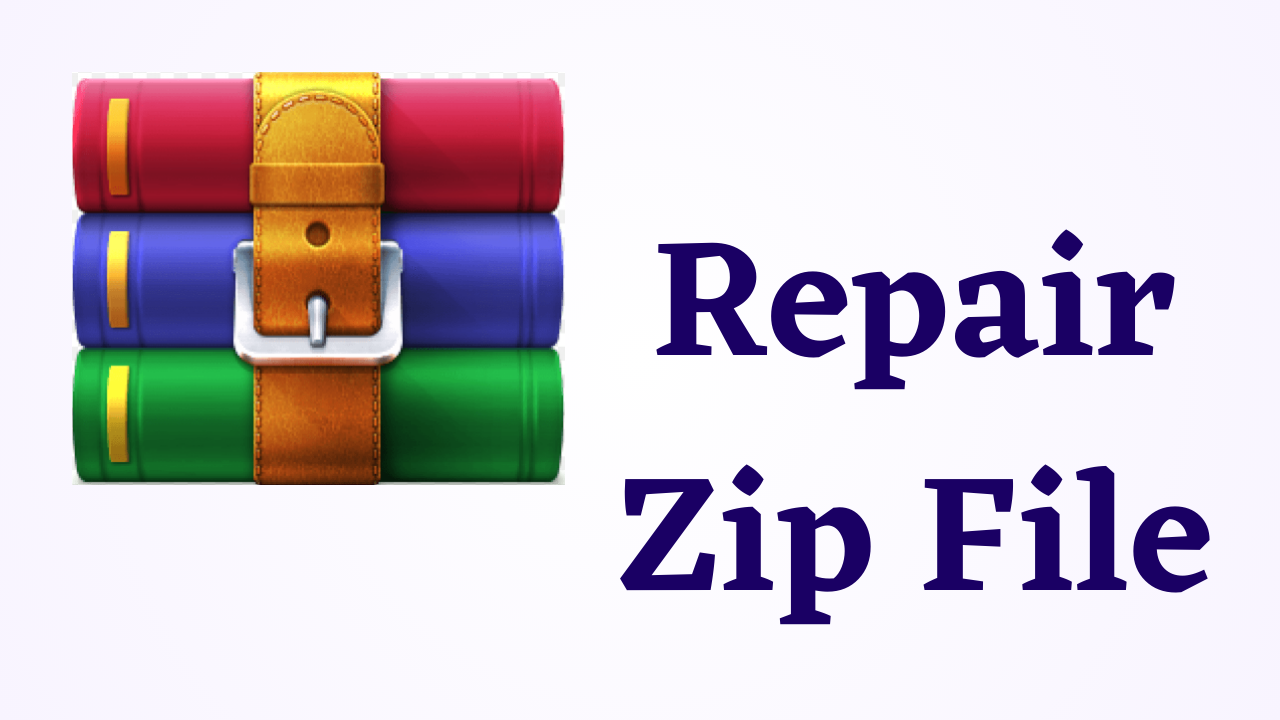 In Summary: Is your important data in a Zip file and got corrupted or damaged due to some reason and do you want to repair Zip file? but fails to do so. So now you don't have to worry. Here we have come up with some solutions for you through this blog post. The zip will help you repair the file. So let's take more steps in the blog to solve this problem.
Navigating the Contents: A Guide
Let us first get some information about Zip File. Also, learn about the reasons for repairing the file.
Zip File & Folder – Short Explanation
Zip files are compressed archives that contain one or more files and folders. A common file format, they make it easy to save, distribute, and exchange multiple files by bundling them into a single, condensed package. The term "Zip" refers to the compression technology used to reduce the file size of archived content.
User Query: "Hi guys, I've been trying to repair a zip file for the last few days. I tried many ways for this. But I couldn't do it. Is there a better way?" Please help!".
After looking at user queries, let us move on to the reasons. So, in the below section, we are going to know about the main motive.
Possible Reasons Behind Repair Zip File
There are a number of reasons that can corrupt .zip files and render them inaccessible. Some of them are given below:
When you share .zip files on a network, CRC errors can occur which can alter the raw data of the compressed file, causing corruption in the zip files.
An incomplete download of a compressed file may cause data corruption.
Malicious programs such as viruses, Trojans, etc. can also damage zip files stored on the machine
A sudden power outage when compressing or compressing data files or folders.
If the necessary disk space is not available when the zip file is compressed, the files may be damaged.
Now in the above part, we have told you that the Zip file is filled and the reasons for it to be corrupt and corrupt, also we have introduced you to a user query, now it is time to finish this process. Get to know the solutions. So there are two types of solutions available here, one is manual and the other is automated. Let us start with the first method to know the process. 
Repair Zip File – Manual Method
As there are many users here who want to use a free solution to fix corrupted Zip files. Then for them, we have described some manual steps in this part. Which is divided into two parts. Now, follow the steps mentioned below carefully to complete the process.
Methods 1: Fix Error of ZIP File – With WinRAR
Launch the WinRAR Application, go to the File menu, and Select Open.
Choose the corrupted ZIP file in the Find Archive window.
Then select Open and then press Alt + R at the same time to start the repair process.
Next, a message display 'Repairing file_name.zip'.
Once the repair process is done, click Browse & save the repaired files
Method 2: Zip File Repair Using Command Line
Firstly, Start Panel and Type Run to open the Run Prompt.
Press CTRL + R on your keyboard.
Enter the command on Run Window: regsvr32 %windir%\system32\zipfldr.dll
The above command helps users to recover Zip files and reboot the system.
Now after knowing all the freeways, if you are not able to complete this task, then you should use the third-party solution mentioned in the below section.
Expert Solution To Repair Corrupt ZIP File
You can use the Zip Repair Tool to repair zip file. This tool helps you to repair and recover corrupted, damaged, or misplaced Zip file data. Also, this equipment is tested by export. This equipment is more reliable and profitable. This program helps you to overcome all possible problems without data loss. It analyzes and fixes any type of Winzip file that is contained in an archived file.
A Step-by-Step Guide to Using the Tool
First download and run the tool on your system.
Now load the zip file from your system to the tool panel.
You can view the loaded file by clicking on the preview option.
Now you can use the Extract and Extract All tabs on the navigation pane of the window to extract the file/file(s).
After that sucking up the destination path. Click on the OK button.
Why You Should Use a Tool
Through this, repair and recover data from corrupt, damaged, and misplaced Zip files.

It enables the loading and previewing of files contained in a zipped folder.

Plus, no file size restrictions: option to extract and save recovered data in compressed format when repairing files over 500MB

It supports password-protected zip file recovery

Moreover, it is compatible with all versions of WinZip 18.0 and earlier.
Conclusion
All possible methods to repair ZIP file are mentioned above. In case of errors, you can opt for specialist software instead of manual measures. A third-party tool (which is explained above) is an all-in-one application that provides the complete package of tasks required to deal with broken zip files. You don't have to worry about data loss factors because the software guarantees – with much greater certainty – that it will extract data in the same format as the original.