Convert MBOX File to PDF – A Complete Guide
There might be a situation when users need to convert MBOX to PDF with attachments due to more security and ease of keeping the data and sharing across the platforms. So, you don't need to worry! You are on the right platform where you get all the possible solutions that help you to export mailbox MBOX files into Adobe PDF format without facing any trouble.
Before moving towards the solutions, let us take a little intro to MBOX file and PDF format.
MBOX is a popular file format that is supported by many email clients like Thunderbird, Postbox, Mac Mail, etc. It stores data in plain text format and encrypts every message in the 7-bit ASCII code. A Mailbox file, which stores data items such as contacts, calendars, tasks, emails, etc of an email application.
PDF (Portable Document File) is a document file format that is developed by Adobe Acrobat. This is a secure file format and offers password protection provisions to its users. As there are few chances of data loss in this file format. It is a multiplatform-supported data file and maintains integrity. Users can save documents, fonts, and image data in PDF file format.
As we understand both the above file formats. Now, we are going to know about the two methods for this conversion process. The below section will guide you about the same!
Also Read: Import MBOX to Outlook 2019
Amazing Methods to Export MBOX to PDF Format
Here, we have two methods that can help you to make your conversion easier. Both the described solutions with screenshots are mentioned below for your better understanding. You can choose any of them according to your requirements.
Use Manual Method ( Free Online Solution )
Use Best Professional Software
The above two approaches are the best way for MBOX to PDF conversion with no data loss. Let's address these techniques one at a time.
How to Convert MBOX File to PDF Format Manually?
In this section, you will manually convert MBOX to PDF with attachments which is not possible. But, you can follow the given instruction carefully since it is a lengthy procedure which requires some technical knowledge.
Stage 1: Add-Ons are needed to install
In this order users need to transfer MBOX file data into a portable format, which you need to install additional tools. Following instructions guide you for the same:
Open Thunderbird on your system.
Go to the "Gear" menu and select the gear button >> Add-Ons
In Add-Ons Manager look for "ImportExportTools"
Find ImportExport NG and hit on the Add to Thunderbird
Install this add-on and restart Thunderbird.
Stage 2: Save MBOX emails to PDF
After successfully adding the plugin, now restart your email client. Through which you can transfer your mailbox data into PDF format. So, firstly you need to import MBOX to Thunderbird after that you can perform the given steps below:
Import the email files by right-click on Local Folder.
Select ImportExportTool NG click on Import MBOX File
Now, select the Email file to convert into PDF
Right Click on the folder which you needs to convert and choose to save selected message and hit on PDF format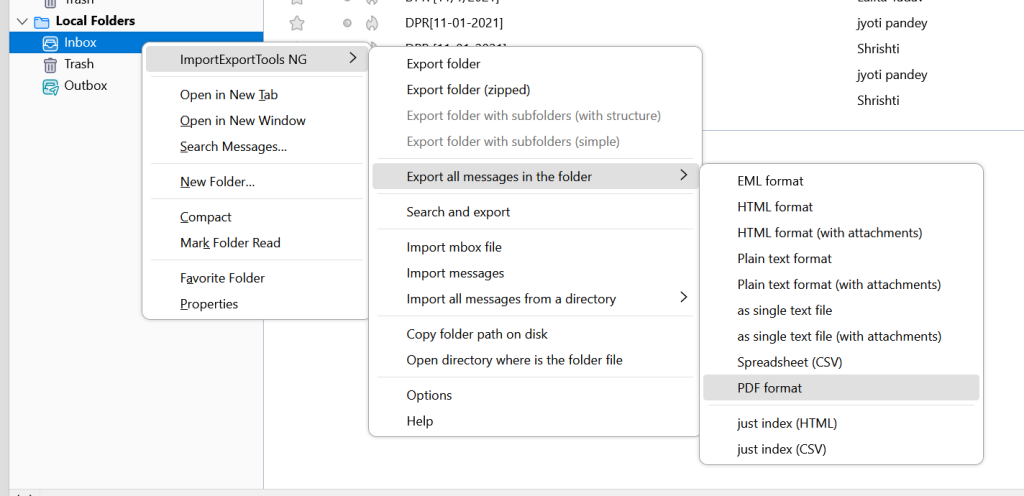 Select a destination location where you want to save the converted email file.
If you are one of them who try to convert email data files using a manual method, then you face some challenges such as:
It cannot export Attachments. 

After being exported in a .pdf file, the image can break.
Data loss from converted files.
The manual method consumes user time & losing data.
Moreover, data alteration results change in email integrity.
As the question still arises, how to convert MBOX to PDF with attachments? Then, the section below will describe all the solutions to do this conversion process in a very simple manner. Let's begin for the same!
Batch Export MBOX Emails to PDF Format Professionally
Grabbing the tested MBOX Converter Software solutions which can easily convert multiple Profiles / Identities at Once ( Yahoo, Gmail, etc). This software is also designed for non-technical use and this utility doesn't require any technical skills to use this automated software. Users can easily convert MBOX to PDF with attachments without losing any data. Know more benefits to download the below tool which has no restrictions.
Read Also: You can get multiple benefits to use this Export Thunderbird to Outlook 2019.
Observational Verdict
Hope the above blog provides you with amazing solutions to convert MBOX to PDF with attachments in an hassle-free manner. In this write-up, you have two methods which are manual methods which have some of their own limitations to perform the task. Another, is our expert recommended automated tool which provides a resultant result for your issues. And, it also provides 100% guarantee for data security. Read the above post, for better knowing about both the methods and choose the better one.