How to Import PST Contacts to Yahoo Mail ?
Summary: If you want to learn how to Import PST Contacts to Yahoo mail and move the contacts from PST to Yahoo, then you must continue with this article as we discuss this procedure in detail.
PST file is an Outlook data file that is capable of storing all data items. In this article, we shall focus on importing PST contacts to Yahoo Mail. It is a necessity to have email services that can manage your data well. Therefore, it is common to see users moving from one platform to another.
Table of Content
While moving PST Contacts to Yahoo, users must know that Yahoo does not support a PST file. The PST file type is proprietary to Microsoft and is also called the Outlook data file. Yahoo, on the other hand, supports a CSV file for saving the contacts. Yahoo Mail is a free service provider that many people prefer using. So, we shall discuss the solution to the problem that can help you convert the files.
How to Import PST Contacts to Yahoo?
Garb this vCard Export Tool to directly solve this query. It offers the option to produce a Yahoo CSV file that has all of the fields mapped automatically. When you add the source Outlook contacts in it, you just have to choose Yahoo CSV as your export option and this tool will produce a file that will be compatible with Yahoo Mail.
Steps for Import PST Contacts to Yahoo Mail
1. Launch The software to Export Outlook Contacts to vCard format
2. Add Outlook PST File into Software Panel
3. Preview all contacts into software UI
4. Select options and convert Outlook contacts to vCard
Noteworthy Features of the Software:
Convert multiple PST contacts to Yahoo mail.
Preserves all fields, attributes, and data integrity.
Compatible with Outlook 2019, 2016, 2013, 2010, etc.
Automatically matches the fields of the contacts
Easy to use interface and supports many platforms
Does not require MS Outlook installation
Supports corrupt and orphaned PST contacts
Manually Import PST Contacts to Yahoo
The manual method is simple but has certain limitations. Outlook also produces a CSV file that contains contacts that you can use to add to Yahoo. But, if you have a PST file, you cannot apply this method. Also, you will be required to manually map the contact fields which is a lengthy process. 
However, if you have the required conditions fulfilled, you can perform the following steps:
1. Launch Outlook & go to the File menu.
2. Here, tap on the Import and Export Wizard.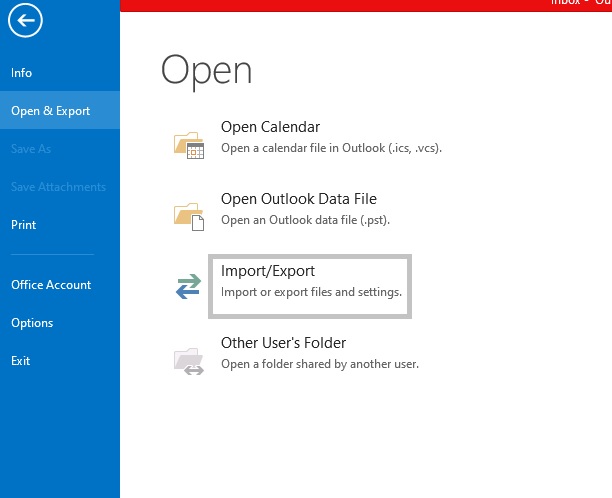 3. Select "Export to a File Option", then choose Next.
4. Then, choose "Comma Separated Values" & hit Next.
5. Give a folder to temporarily save the resultant files.
6. Click on Finish to continue.
7. Launch Yahoo mail with credentials & navigate to the contacts option.
8. Tap on the "Import" option and then click on "OK".
Related: Backup Outlook Contacts on iPhone
In a Nutshell
In this article, we have discussed how you can import PST contacts to Yahoo Mail. Users can choose to go with any of the methods mentioned above. However, since the manual method has many limitations linked to it, professionals often prefer going with the automated utility as they guarantee the safety of your data as well as accurate results.
Frequently Asked Questions
How to Export Outlook Contacts into vCard?
Follow the steps to export the Outlook Contacts to vCard:
Launch and run the vCard Export Tool.
Now, Add PST Contact File & preview contacts
Select the desired export option, such as vCard
After that, choose the desired location
Start Outlook contacts to vCard conversion process.
Is it possible to Export contacts from Outlook 2010 into vCard?
Yes, this tool helps you to export contacts from Outlook 2010, 2013, 2016, 2019, 2021, and all the below versions.
Can I import all Outlook Contacts into vCard files?
Yes, using this tool, you can easily copy all the PST Contacts into a single vCard file.