How to Import DBX to Windows Live Mail? – Perfect Solution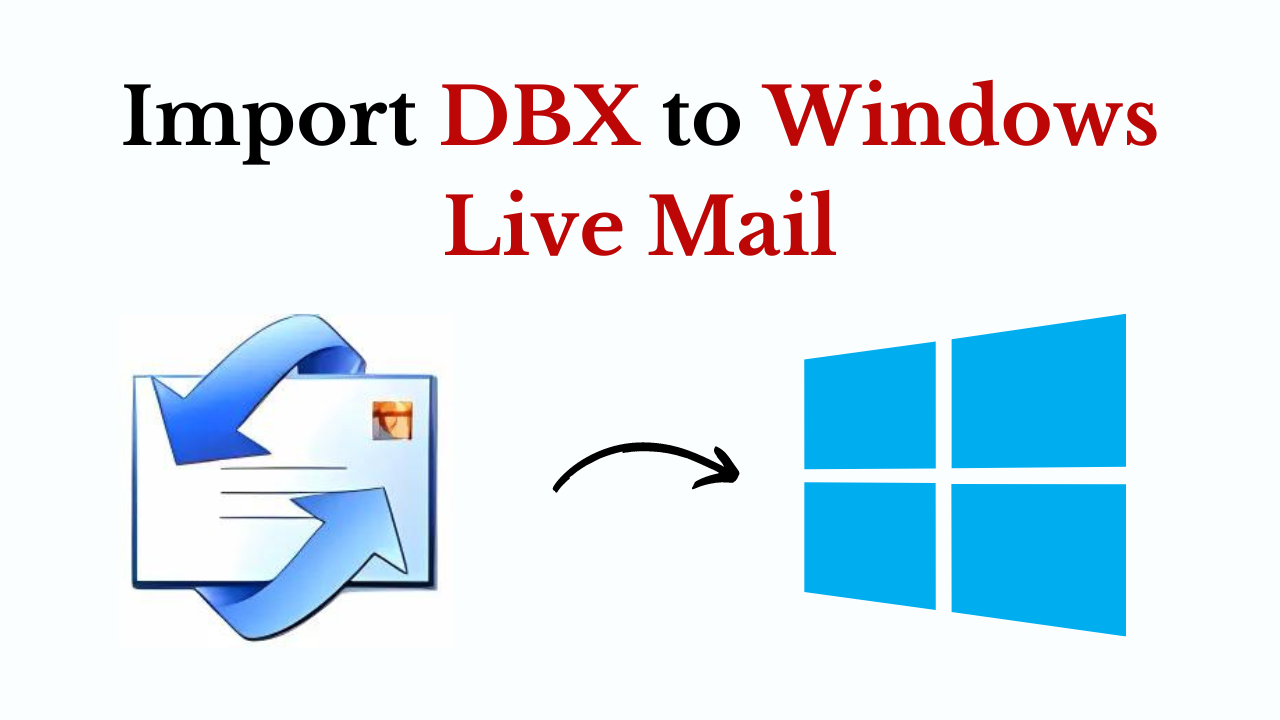 In Summary: There was a time when Outlook Express was one of the most popular email-providing services. But with the advent of new technologies, it is no longer in use. Nowadays, different types of email clients provide unique types of amazing features. One of the email clients is Windows Live Mail. It is widely used because of the unique services it provides to the users. So, read on to know the quick and simple process to import DBX to Windows Live Mail. Let us start with the technical and informative blog.
Blog Content – Easy to Explore
Let's move on to the user query first. So, below we have mentioned a user query through the image.
User Query:

So, after seeing the user query. Let's move on to the bottom line. So, in the below section, we are going to explain some important points about Outlook Express and Windows Live Mail.
Outlook Express and WLM – Short Explanation
DBX (Outlook Express) – DBX stands for "Database Exchange". It is a file type used by Microsoft's Outlook Express email client. Email, folders, and other information related to Outlook Express, such as contacts and calendar events, are stored in DBX files. In Outlook Express, each folder is represented by a unique DBX file.
Windows Live Mail (WLM) – It is a replacement for Outlook Express and is an email client created by Microsoft. It is a desktop program that provides users with other services such as calendars and contacts as well as the ability to manage their email accounts, send and receive email, and organize messages into folders. Multiple email protocols are supported with Windows Live Mail, including POP3, IMAP, and Microsoft's proprietary Exchange ActiveSync. It also enables data import.
After knowing about Outlook Express and WLM. Now, it's time to know about the solution. So, below, we are going to explain step-by-step solutions to import Outlook Express DBX to Windows Live Mail.
Import DBX to Windows Live Mail – Necessary Points
Make sure you have the necessary equipment and a backup of your data before you start importing DBX files into Windows Live Mail. What you should do is as follows:
Make sure that you have Outlook Express and Windows Live Mail installed on the computer running the Windows operating system.
To avoid any data loss during the conversion process, make a backup of your Outlook Express DBX files.
Make sure Windows Live Mail is properly installed and configured on your PC.
So, after knowing important things. Let us start the solution. Moreover, there are two types of approaches (manual and automated) available for this task. So, start with the first approach.
Import Outlook Express DBX to Windows Live Mail – Manually
In this part, we are going to describe all human approaches to transferring DBX files to WLM. So, if you are looking for a free solution. Then, this part is very useful for you. But, this solution has many limitations, data is lost, takes a very long time, requires technical knowledge, etc. Well, follow the steps given below.
Launch the Windows Live Mail program.
Then, in Windows XP, click the Start button.
Now, go to Control Panel.
Select the option for Appearance and Personalization.
Access the folder options by clicking on this tab.
After, Selecting Folder Options, then selecting the View tab
Select the option 'Show files, folders or drives' under Hidden files and folders.
Start looking for DBX files for Outlook Express. The default location for Outlook Express is 'C:\Documents and Settings\Your User Name\Local Settings\Application Data\ID\Your Windows User Identification Number\. "Outlook Express from Microsoft"
Finally, move Outlook Express DBX files to locations where Windows OS (Vista) has been updated recently.
Note: Please note one thing while importing data in Live Mail do not open the Outlook Express folder. This increases the chances of data loss.
If you don't want to lose your important data. Then, you can follow the below mention solution. This approach is very reliable and beneficial. So, let us start.
Import DBX to Windows Live Mail – Automated Solution
You can use this DBX File Converter tool to import Outlook Express DBX to Windows Live Mail without losing a single bit of information. This tool is quite reliable and fast. Apart from this, this tool is tested by great IT administrators, which is beneficial for both tech and non-tech users. In addition, its user interface is very simple and it provides strong security to keep the data safe.
Moreover, multiple DBX files can be converted at once by the software. Furthermore, DBX files can be added one at a time, or all of them can be stored in one folder and added as a whole for conversion. Additionally, using this tool, multiple DBX files can be converted to various formats including MBOX, EML, PDF, MSG, and PST. For the default folder of each DBX file, the software creates a separate PST file.
How to Use this Tool – Guide
First, Download and Run this utility on your local system to start the import process.
Then, click on the "Browse" button to add the DBX file to the software.
After that, choose "Export Type" and "Browse" the destination location.
Finally, press the "Export" button to start the process.
That's it, here are all the solution ends.
Time to End it
By following the step-by-step instructions outlined in this guide, you can easily import DBX to Windows Live Mail. Ensuring a smooth transition, this import Outlook Express DBX to Windows Live Mail process enables you to access your emails and other data seamlessly in the newer email client. Enjoy the features and benefits of Windows Live Mail while keeping your precious emails and information intact.