How to Recover Files from Pen Drive Deleted by Antivirus Program – Explore Here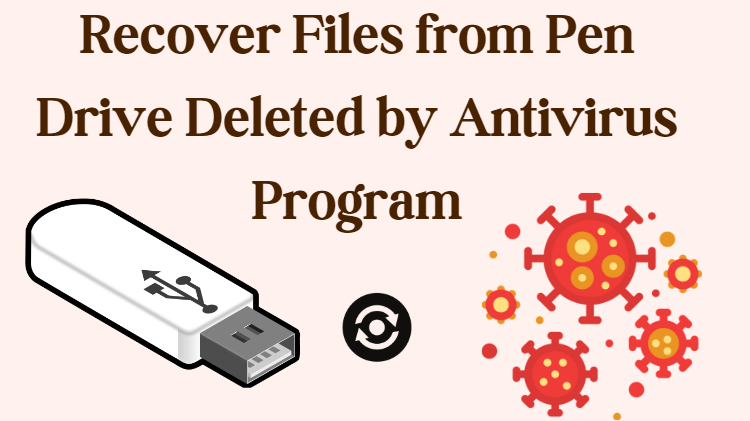 Summary: There come times when the antivirus programs installed on a computer delete the crucial files stored within the connected pen drive, for security reasons. Or, sometimes when users attempt to delete viruses from the pen drive using antivirus. They encounter they have lost their important files like Presentations, Videos, Audio, Spreadsheets, and other multimedia. In such situations, they start searching the solutions for various queries like How can I Recover Files from Pen Drive Deleted by Antivirus? In this technical guide, we are going to demonstrate to users two eminent approaches to getting back files deleted by the virus from a pen drive in an efficient manner. So, let's begin now!
Table of Content – Easy to Read
User's Scenario

Query 1: "I scanned my Sandisk pen drive through an antivirus program. After which, I noticed that my few files are deleted from the pen drive. I am very irritated that my files are deleted. Please help me and suggest to me how can I recover files from the pen drive deleted by the antivirus. All files are very important for me please suggest me the solution ASAP".

Query 2: "All important files are deleted from the pen drive by the virus. I tried to recover my files from the pen drive by using CMD but I am not able to recover my data. Now I don't understand what I do to recover files from Pen Drive deleted by antivirus. Please help me. Thanks in advance."
Manually Recover Deleted Files By Antivirus Using CMD
If any file/ folder gets deleted from your computer by an antivirus program (like Quick Heal, Avast, AVG, Dr.Web CureIt, etc.). Then, Command Prompt is the best way to recover deleted files by an antivirus from the pen drive.
Press Windows + R keys simultaneously and type CMD 
Now, type chkdsk H: /f and press the Enter key. Here, replace H with your pen drive letter from which you have lost files
Type: Y and hit the Enter button.
Type H: once again and press Enter. Here, replace H with your pen drive letter
Next, execute attrib -h -r -s /s /d *.* command and press Enter
After this, all your deleted files and folders will be recovered in a healthy state and you can access them without any difficulty. But if you have done any mistake then your data will be deleted permanently. You can never recover deleted data by antivirus using CMD.
Also Read: Recover Data From Formatted Pen Drive
Recover Files from Pen Drive Deleted by Antivirus – Smartly
If you are not so technical savvy or the CMD does not work for you to recover deleted data then, use the Pen Drive Deleted Files Recovery Software. This is one of the simplest techniques to recover lost data files from a corrupted, formatted, or healthy pen drive. The software allows users to recover permanently deleted data from FAT, exFAT, and NTFS formatted pen drives. Moreover, this tool gives the freedom to recover deleted pictures from Pen Drive in just a few clicks without losing a single bit of information.
The most popular storage devices for exchanging or transferring data are pen drives. Pen drives sometimes become faulty or display error messages when connected to different computers due to virus attacks, Trojan infections, or improper ejecting of the pen drive. Now you can easily recover data from a corrupted pen drive with the help of this tool.
How to Use this Utility- Steps
First, launch and run this tool on your system to start the recovery process.
Then, choose the "Pen Drive" from the list and hit either "Scan" or "Formatted Scan".
The software will now display a list of all recovered folders in its left panel and highlight any that contain data.
After that, pick any option "Save All Data or Save Deleted Data" and browse "Location" to store the resultant file.
Finally, "Create New Folder" and then hit on the "OK" button.
Summing It Up
Losing crucial data from a pen drive due to any antivirus program is a common scenario that is faced by several computer users. In this article, we have discussed one manual solution for how to recover files from Pen Drive deleted by antivirus. In case, if the manual method does become failed. Then, it is recommended to go for the third-party utility suggested above. As it is a complete pen drive data recovery solution.