Tricks to Recover Deleted Files From External Hard Drive – A DIY Guide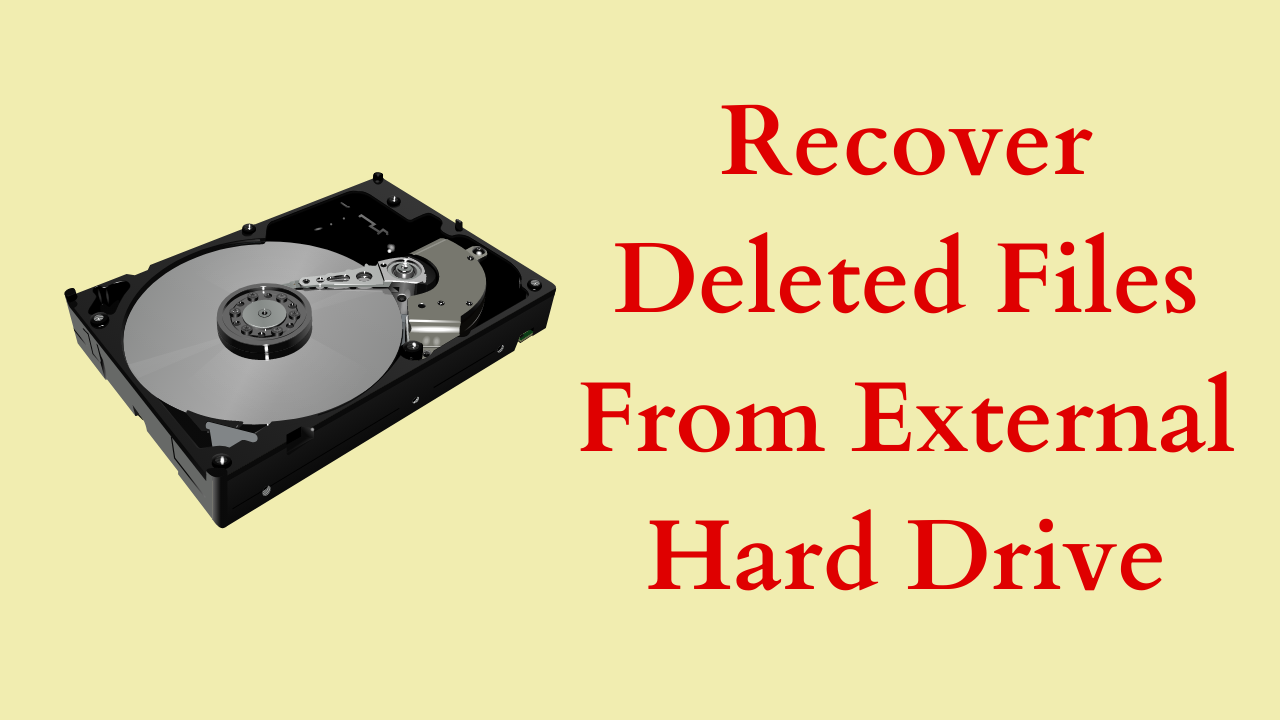 Summary:  The use of external hard disks is increasing day by day. A large number of people use it to store important data such as images, videos, and documents instead of storing them on the system. However, it has been seen that the majority of the time when a user tries to connect an HDD or SDD to the system. The data either become unavailable or the operating system fails to recognize the connected device. Most of the time users are searching for the solution of "how to recover deleted files from external hard drive without software", without knowing the real reason for this error. Hence, in this post, we will discuss several available techniques to recover files from external hard drive that becomes unrecoverable.
Table Of Content
User Query: "I am a software developer by profession & currently working on the government project assigned to my company. We have to deliver the project before the deadline. So, I have to work on weekends too. But a disaster happened when I was transferring files from the external hard disk to my laptop. Then a notification pop-up having the message that Windows is unable to recognize the device connected. when I connected the same to another system, the same message arrives. Now, I am in big trouble and continuously finding solutions to recover deleted files from external storage devices using command prompt without any software."
Now, Let us know about the main reason.
Motive Behind Recover Deleted Files From External Hard Drive
Data loss from external hard dicks can happen due to many reasons. To wisely retain the essential files kept in it, you need to be aware of some common data loss or deletion scenarios:
Inadvertent deletion of files from external hard drives.
Lost data as a result of formatting an external hard disk.
Missing data from damaged or inaccessible external hard disk.
Transferring from an external hard drive, files get lost or erased.
Interruptions, such as system shutdown or power surge problems, when using an external hard disk.
Data loss may occur if an external hard disk or USB flash drive is accidentally removed.
Well, we have learned about all the important points that have been thought of in the above section. Now, we are going to learn how to solve it easily. So here from the beginning, there have been different types of solutions, first manual and second automated. So let's go to the bottom part and see the solutions.
Techniques to Recover Deleted External Storage Devices Files
There are two different methods available to retrieve deleted files from external storage devices.
Recover External Hard Drive Files – Manual Method
Restore Permanently Delete Hard Drive Data – Smart Solution
So let's start with the first technical solutions:
Method 1: Manually Recover Deleted Files From Hard Drive 
There are several manual techniques available that can be used to successfully recover deleted external hard drive data.  Now, read and follow the step-by-step given below:
Step A: Restore the File from the Backup File
Keeping a daily backup of your data is a very good habit, through this, you can recover your data if it gets deleted anytime. follow these steps to recover:
Open the "Control Panel" of your device. Select "System and Security" from the menu. Select "Backup and Restore" under System and Security.
After entering the "Backup and Restore" box, select the "Restore my files" option.
Your backups are now visible. You can manually select the folder or file you want to restore or select a specific backup.
Note: This method is beneficial for recovering your data only when you have made a backup of your files. If you have not made any backup then you cannot restore data through it.
Method 2: Alternative Solution to Recover Deleted Files From External Hard Drive
In the above section, we have discussed the manual solution to retrieve the deleted data which is not technically healthy. Hence, a professional solution is required to restore erased data from external hard drive. One such tool is the Revove Hard Drive Recovery Tool which is the complete solution itself to recover data from any type of external device. It supports formatted and corrupted file type recoveries such as FAT, exFAT, and NTFS. It facilitates raw data recovery from the external drive also.
Guide to Using Solution to Retrieve Removd Data From External Drive
First, Download & Install & Run the Software on your OS system to start the data recovery process.
Then, select the "Scan" option to restore permanently hard drive data.
Now, let the utility start the "Scanning" process and wait for it to complete 100%. 
View the recovered data in the software panel. Deleted data is marked with red color for easy identification. 
Now choose the "Destination Location" and select the data which you want to recover and then click on the "Save" button to save it locally.
Amazing Benefits of Tool
From any Windows system hard drive, you can recover your important images, movies, music files, documents, data files, and other multimedia types of files while preserving the original formatting and features.
Additionally, it supports the recovery of raw data files from formatted drives including ZIP, JPEG, GIF, PDF, MPEG LAYER – III, PNG, DOCX, PPTX, XLSX, WAV, AVI, FH9, FH11, BMP, and more.
It enables the recovery of data from Mac OS (HFS+) and Windows OS (NTFS, FAT32, FAT16, and Extended FAT file systems).
Items can be recovered from formatted or reformatted hard disk drives (c: / d: / e: / f: / k: etc.) of any size with this hard drive data restoration program.
The Last Recommendation
Most individuals exhibit this highly careless behavior by trying to recover the erased data on their own. As a result, the data are overwritten. No software or application can recover deleted files from external hard disk once the data is overwritten. So it is advised to hold off until you find a solution or hire a data recovery specialist. If you don't want to contact a professional recovery company, you can use Revove hard drive recovery software to accurately recover deleted files from external hard drive.
Answers to Common Questions about Hard Drive
Q 1: How long does file recovery from an external hard drive take?
Ans: The results show that while more severe or unusual failures can take 3-10 days, most data recoveries can be completed in 1-2 days. Data recovery from a 1TB hard drive usually takes no more than 5 hours, although this may change depending on the specific circumstances.
Q 2: Can I repair an external hard drive without losing data?
Ans: Can I recover data from a corrupted hard drive without erasing it? Yes! Use trusted data recovery software like Data Recovery Professional for Windows (which we mentioned above). A do-it-yourself program successfully recovers data from corrupt, formatted, and raw hard drives.