Lotus Notes Error Unable to initialize VSE Engine – Quick Troubleshooting Guide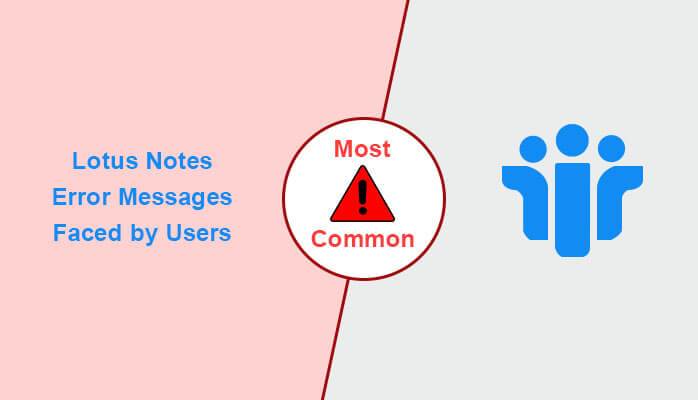 Lotus Notes is one of the highly secure email client applications widely used by large enterprises. Lotus Notes earned this popularity for its efficiency and high usability. As technologies are more prone to error. IBM notes also get infected with such issues, resulting in depletion of productivity. The main reasons for the Lotus Notes error are either corruption in the database file or the internal configuration of Lotus Notes. There is no doubt that manual solutions are available to fix patches. But sometimes the error is too rigid to fix it. Keep reading this article to know to fix Lotus Notes Error Unable to initialize VSE Engine.
Lotus Notes Error Unable to Initialize VSE Engine – Error & Causes
The user encountered this error when trying to open the Lotus Notes email client. Undoubtedly, it will frustrate you. If the root cause of this error is not fixed then it is for sure, you cannot access your data. This will create severe problems too, you feel helpless and won't be able to view important emails. So, you need to fix it as soon as possible. Before proceeding to fix it, you have to know about the root cause of "Unable to initialize VSE Engine"
The Incompatibility between Notes Scanner & Lotus Notes
Presence of Crash File in the Lotus Notes Database. This file automatically creates duplicate Notes.ini to pop this error.
If the "Unable to initialize VSE Engine" is due to the incompatibility with Notes scanner, then upgrading to the latest version will fix this problem. But if this error is due to the presence of Lotus Notes files then we will discuss the manual solution in the next section to fix it up.
Note: Please create the backup of this file before proceeding with the manual solution.
Manual Methods to Resolve Unable to Initialize VSE Engine
The manual solution includes fixing issues with the Notes.ini file.
Find or locate Notes.ini on your system. For this go to the computer's C drive and search for the same.
There is a probability that you may find multiple files with the same name. But a file with a bigger size is the file which is we looking for.
Open the searched file with a text editor such as Notepad or Notepad++
Delete the two functionalities NCMenu and NCExtmgr from your system

  AddInsMenus=NCMenu    EXTMGR_ADDINS=NCExtMgr

Now save the file and restart your system.
Also Read: Fix Common Lotus Notes Errors
Limitations of Manual Method
The manual method is working efficiently but it is also associated with some shortcomings
After practicing this method, the error is still not resolved.
Difficult for naive users
Possibility of human error
Any unwanted changes in the Notes.ini will lead to a crash of the Lotus Notes installation
Alternative Suggestion to Resolve Unable to Initialize VSE Engine
As there is no other solution to overcome the limitation of the manual solution. So, it is better to switch from Lotus to other prestigious email client servers such as Exchange Server, and Office 365 in conjunction with Outlook. If you are working at the enterprise level then it is recommended to opt for Exchange Server. For the same, you can deploy Revove Lotus Notes Migrator. It is one of the best software available to fulfill all the needs of migration. It will help you to move safely from Lotus Notes to the email client you want to switch.
Read More: How to Troubleshoot File Does Not Exist Error in Lotus Notes?
The Last Few Words
As far we have discussed the solution to fix Unable to initialize VSE Engine via manual solution. But there are certain limitations also associated with the manual solution. If any operation is performed abnormally then it will surely lead to the loss of Lotus application-related file.