Fix Exchange Server Dirty ShutDown Error – A Step-by-Step Guide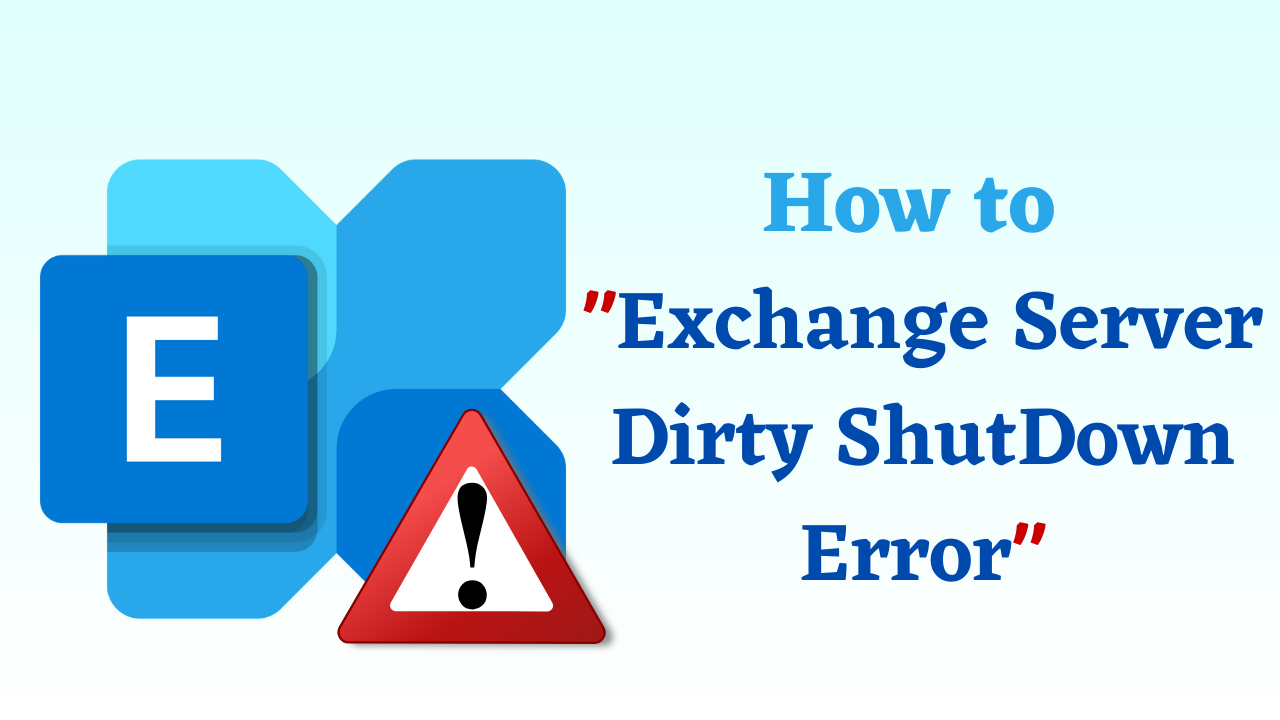 In Summary: Exchange Server is an email communication platform widely used for businesses. It is known for its sturdiness and reliability. However, like any complex software, Exchange Server can encounter problems that require troubleshooting and resolution. One such problem is the "Dirty Shutdown Error", which occurs when a server is not shut down gracefully, leading to potential data corruption and subsequent operational difficulties. In this blog post, we will provide you with a step-by-step guide to help you fix Exchange Server Dirty ShutDown error and restore your server functionality.
Table of Content – Easy to Find
Dirty Shutdown Error: An Overview
A dirty shutdown error occurs when Exchange Server shuts down suddenly without completing the necessary steps to guarantee database consistency. Unexpected power outages, device malfunctions, or software crashes could be the cause. Users are unable to access their mailboxes, which disrupts business operations when the server is restarted as it detects database anomalies and refuses to mount the affected databases.
Also Read: Fix Exchange Error -1022 JET_errDiskIO
Exchange Server writes complete data in a transaction log file before committing it to the Exchange Database file(*.edb). There are two locations where the exchange saves its data i.e. in the transaction log file and the exchange database file. When an operation is loaded into the cache memory and not committed to the information service a result of which information store aborts unexpectedly causes for the exchange server to dirty shutdown error of the database. It indicates the error in the exchange database files i.e. *edb,*.stm. When you check the status of your database using the command line utility.
Commands to Check the Status of the Database File

For Public Folder:- c:\program files\exchsrvr\bin>eseutil/mh "drive:\programfiles\exchsrvr\mdbdata\pub1.edb"

For Private Folder:- c:\program files\exchsrvr\bin>eseutil/mh "drive:\programfiles\exchsrvr\mdbdata\priv1.edb
Exchange Server Dirty ShutDown Error – Causes
You will get the following error on the screen in case of an exchange dirty shutdown error
Error: Database was not shut down cleanly(dirty shutdown).
Operation terminated with error -550 (JET_errDatabaseDirtyShutdown, Database was not shut down cleanly.
Recovery must first be run to properly complete the database
Read More: Best Way to Fix Exchange Jet Error 1018
What are the Implications of a Dirty Shutdown Error?
Dirty shutdown issues of the Exchange Server can affect the availability and normal performance of the Exchange environment in a number of ways. An example of the effects of a Dirty Shutdown error is:
Database Inaccessibility: Dirty shutdown issues on Exchange servers can make affected databases unavailable. A compromised database could prevent users from accessing their email, calendar, contacts, and other mailbox contents.
Data Loss or Corruption: The Exchange Server database may experience data loss or corruption as a result of a dirty shutdown issue. If the server shuts down unexpectedly during a transaction or while updating the database. Some data may not be written properly, resulting in data loss or inconsistencies.
Service Interruption: An Exchange server that is in a Dirty Shutdown state may not restart or start properly. The server may have trouble installing the affected database, causing prolonged service interruptions. For users, this may have implications for email communications and other Exchange-related services.
Data Integrity Risk: Dirty shutdown error means that either the transaction was not ended, or the database was not closed properly. This puts the data integrity of the database at risk, due to possible inconsistencies or incomplete transactions. To reduce the chance of additional data integrity problems, it is essential to fix the Dirty Shutdown error as soon as possible.
Now with the help of the above section, we have come to know all the actual reasons regarding this task. But haven't found the solutions yet. So, to know the solutions to solve the EDB Dirty ShutDown error, let us go further down, where you will find two types of solutions, which have their own advantages and disadvantages. so, let's use them.
Note:- Take the complete backup of the Exchange database in another drive before proceeding further. Be ensure that Exchange Server is in offline mode & enough free space is available for fixing the error.
Fix Exchange Dirty Shutdown State – Simple Ways
There are multiple ways to fix Exchange Server Dirty Shutdown Error.
# 1. Transaction Log Files are Available (Soft Repair)
In this case, the transaction log file is replayed using the Exchange Server Storage Utility
Command for Soft Repair:- eseutil /r "c:\program files\exchsrvr\mdbdata\priv1.edb"
# 2. Transaction Log File is Missing (Hard Repair)
In the case of a transaction log file missing Hard Recovery of the Exchange database is performed using the online backup, if the recent database and valid database backup are available then it automatically restores files (*edb, *.stm). After the completion of this process, restore.env is automatically created in the temp folder
The command for Hard database recovery: – eseutil /cc "c:\Temp\First Storage group"
Note: – It is important to take a backup of the transaction log file & restore.env because, during the hard database recovery, some data might get lost.
# 3. There is No Valid Backup Available
If the backup of the recent database is not available then, in this case, Run the following command using Eseutil to fix Exchange Server dirty ShutDown error
Command: – eseutil /p "c:\program files\exchsrvr\mdbdata\priv1.edb
Try this Best and Most Trustable Solution
If your EDB file has become corrupt or damaged from Exchange Server and now you want to recover it, then you should not worry, you should install Exchange Recovery Tool. This tool is very beneficial in the case when you are unable to fix corruption issues using the above-mentioned methods then, you can use this tool to completely repair & recover your valuable data. Moreover, this recovery software is simple to use a person with a non-technical background can easily use it ease.
How to Use the Software – Guidelines
First, download and run the on your system to start the process.
Then, hit on the "Add File" button to add a corrupted EDB file.
Now, you can preview your all EDB data in the software UI.
After that, choose "PST" as an expert Type.
Finally, "Browse" the location and click on the "Export" button.
Conclusion
Fixing the Exchange Server Dirty Shutdown Error is crucial to restore normal operations and prevent potential data loss. By following the step-by-step guide provided in this blog post, you can repair the Dirty Shutdown Error, defragment the database (if needed), and mount the database successfully. Remember to create a backup before attempting any repairs and regularly monitor the health of your Exchange Server to prevent such errors in the future.