Export Thunderbird Address Book to Outlook – Tested Solution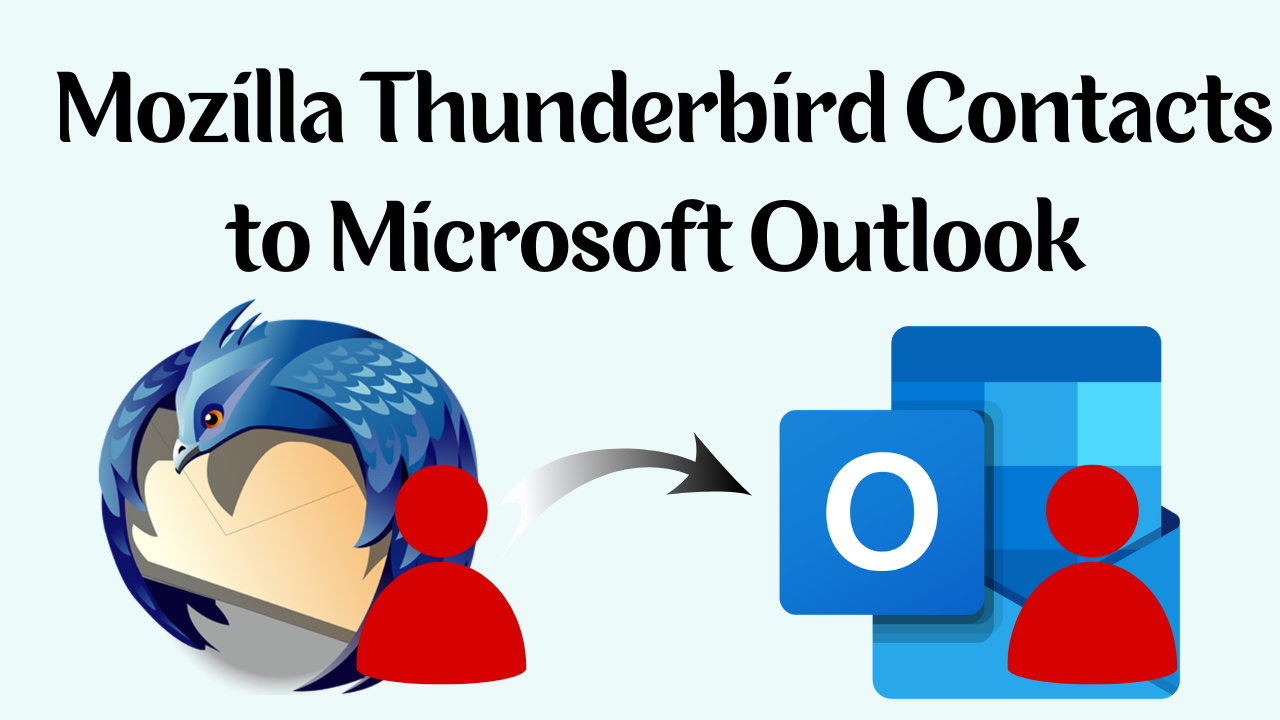 Summary: Mozilla Thunderbird is a widely used desktop email program that is generally preferred by professionals for email and newsgroup purposes. With these two features, Thunderbird also allows you to store personal and business contacts in your address book. But, at the point when someone needs to use Thunderbird contacts in MS Outlook, they think of Export Thunderbird Address Book to Outlook. So, today in this technical blog, we are going to explain you to how you can export Thunderbird to Outlook. Let us start. 
User Query: "Hello! I previously worked on Thunderbird. But then I wanted all my email data to be stored on the server instead of my local computer. So I switched to Outlook. The problem now is that I don't know how to export Mozilla Thunderbird contacts to Outlook. Can anyone help me with this?"
After knowing about the user's query let us move towards the common reasons asked by users to export Thunderbird Address Book to Outlook PST format. How? Let us take a look below!
Reasons to Transfer Thunderbird Address Book to Outlook
As we all know that both Thunderbird and Outlook are different email clients. Which are used a lot by users in their daily life. But there can be many reasons behind importing contacts from Thunderbird to Outlook. So below and we have described some of the causes:
Migration of Thunderbird emails to Outlook can offer a single platform for email, calendar, tasks, and more if you use Outlook for other duties and want to manage all your emails in one location.
Microsoft Outlook is frequently used as the primary email client in offices. You can easily integrate with the email system at your place of business by exporting your Thunderbird emails to Outlook.
Outlook includes advanced features like increased search functionality, better integration with Microsoft Office products, and improved email organization capabilities, which may be preferred by some users.
With Outlook's Exchange-specific features and functionalities, email communication in an organization that utilizes Microsoft Exchange Server can run more smoothly.
Microsoft provides Outlook with frequent updates and security fixes, potentially making it more secure than certain alternative email programs. Outlook may be a wise choice if you value continuing support and security upgrades.
After knowing all the important reasons, let us move to the below section to know about the solutions. Where we will find all tested solutions to accomplish this import contacts from Thunderbird to Outlook task. so let's start.
How to Export Thunderbird Address Book to Outlook?
It is not possible to transfer the address book directly from Outlook to the Thunderbird account. Because there is no such direct method available on it. But not to worry, to complete this task, first of all, you need to convert the Mozilla Thunderbird address book into CSV format and then import them into an Outlook account. So to do this follow all the steps mentioned below.
Method 1: Convert MAB Contacts to CSV Format
Start the Thunderbird program on your local computer
Now go to the menu in Thunderbird and choose the "Address Book" option in the top left corner.

Hit on "Tools" and then select "Export" from the drop-down menu.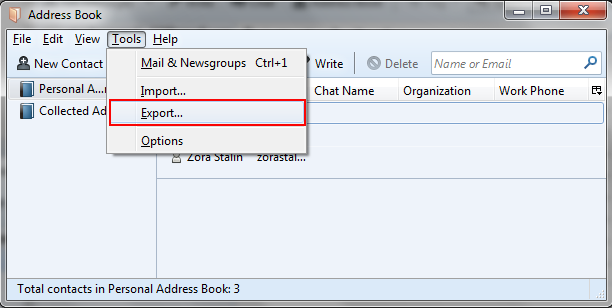 Next, enter the file name to save the address book
Click the "Comma Separated Value"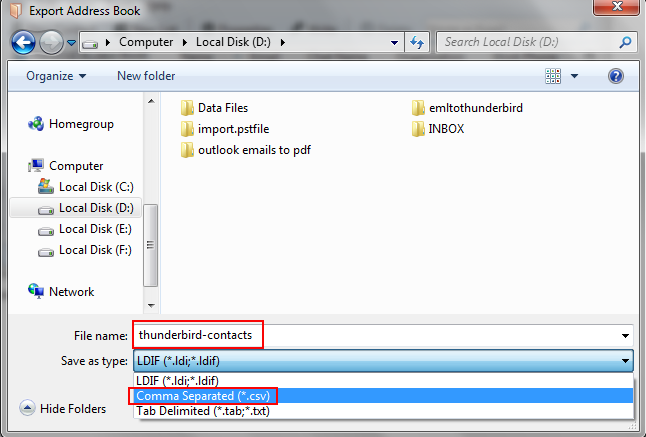 Method 2: Import Resultant CSV File To Outlook Account
Launch the MS Microsoft Outlook application into your system.
Then, you need to go to the "File" option
Click Open and Export Option and click on Import/Export Option
Choose Import from another program or file option and then choose Outlook Data File (.pst). Click on the Next tab.
Browse or search for previously migrated CSV data files.
Choose Comma-separated Values and then click Next".
Click the radio button that states "Do Not Import Duplicate Items"
Choose the location where you want to save your contacts, click on "contact" then select Next.
Once it is completed correctly, click the "Finish" tab to start the process.
Disadvantages of Manual Approach
Since this is a free application, there are some limitations to transferring Thunderbird to Outlook.
Incomplete conversion can occur without any specific reason.
Manual technology does not allow conversion to PST file format.
This process is free, so there is no guarantee of safe conversion.
Thunderbird and Outlook installation are required.
Now, if you don't want to lose your data and looking for a better and more reliable solution to complete this process. then, you can follow below mention third-party tool and its steps. 
Alternative Solution Exporting Thunderbird Address Book to Outlook
To overcome these limitations, we recommend that you use a more efficient method to export Thunderbird Address Book to Outlook. Revove MAB Converter Tool is an expert solution for you to choose the best way. Thunderbird Address Book Converter is an ideal tool for users who want to convert Thunderbird address books to Outlook without facing any hassle. Download the below tool after fully satisfied.
Easy Steps of Mozilla Thunderbird Emails to Outlook
Download & Install Thunderbird Address Book Converter Software.
Browse MAB File: File & Folder Mode.
Preview MAB File Contacts.
Now, choose "PST" as an export option and then, browse the location.
Finally, click on the "Export" button to end this process. 
Brilliant Features of this Utility
In addition to the obvious way of having a fully automated and secure method for exporting.
This software allows you to export the entire MBOX File to PDF format at once.
The software is equipped with a highly interactive graphical user interface.
With the help of this program, Thunderbird MAB can be migrated to various file formats like PDF, PST, CSV, VCF, and vCard.
This utility is capable of importing MBOX to Outlook 2019, 2016, 2013, 2010, 2007, and 2003 without losing a bit of data.
Observational Verdict
The manual method described here is quite extensive and requires the use of Thunderbird and Outlook clients for implementation. Trying a reliable tool to import Thunderbird contacts to Outlook. Also, eliminate the need to rely on email clients for data conversion or transfer. Using the Converter is probably the most recommended way to export Thunderbird Address Book to Outlook.
Frequently Asked Questions
Q 1: How Do I Transfer My Thunderbird Email to Outlook 365?
Ans: By first exporting your Thunderbird email to a web-based email account (such as Gmail), you can move your email from Thunderbird to Outlook 365. Then, you can import your Thunderbird emails to Outlook 365. The "Import and Export" functions in Outlook 365 can be used for this. From the File menu in Outlook 365, choose "Open & Export" and then "Import/Export". Choose CSV as the file type and "Import from another program or file".
Q 2: Is Thunderbird Able to Export Email?
Ans: The "Export" feature in Thunderbird allows you to export emails, so yes, you can do that. In Thunderbird, go to the File menu, select "Export," and then select "Mail." After that, you can choose the email account and destination from where you want to export emails.