How to Export Emails from Thunderbird and Save Into Multiple File Formats
Mozilla Thunderbird is a free email client. that provides the facility to manage multiple accounts a single place. Thus, one can work with email accounts of Google, Yahoo, Outlook.com all at the same time. It is clear that you can access emails in Thunderbird, but the question is: How to Export Emails from Thunderbird?
The answer is yes, it can. While it does not come with advanced export functionality by default, it still lets you save email messages on your computer. There is also an add-on that increases this capability by providing multiple file formats to export Thunderbird data. Before viewing the several formats and the functionality of add-on, we will take a look at the export process without the add-on.
 let us explore some genuine USER QUERIES from Spiceworks to understand user needs.
Query 1: How to Migrate Thunderbird emails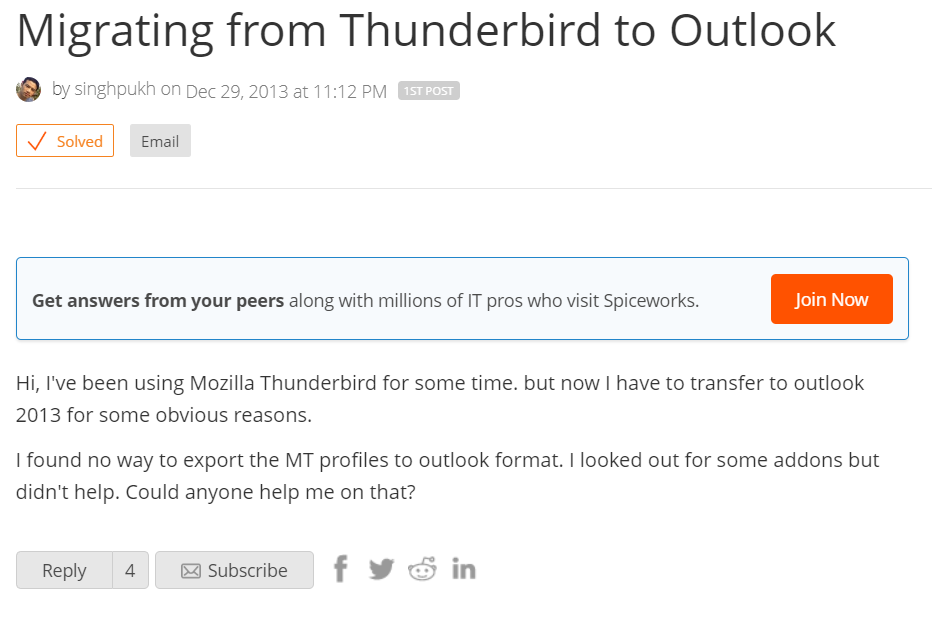 Query 2:  How to Export Emails from Thunderbird Account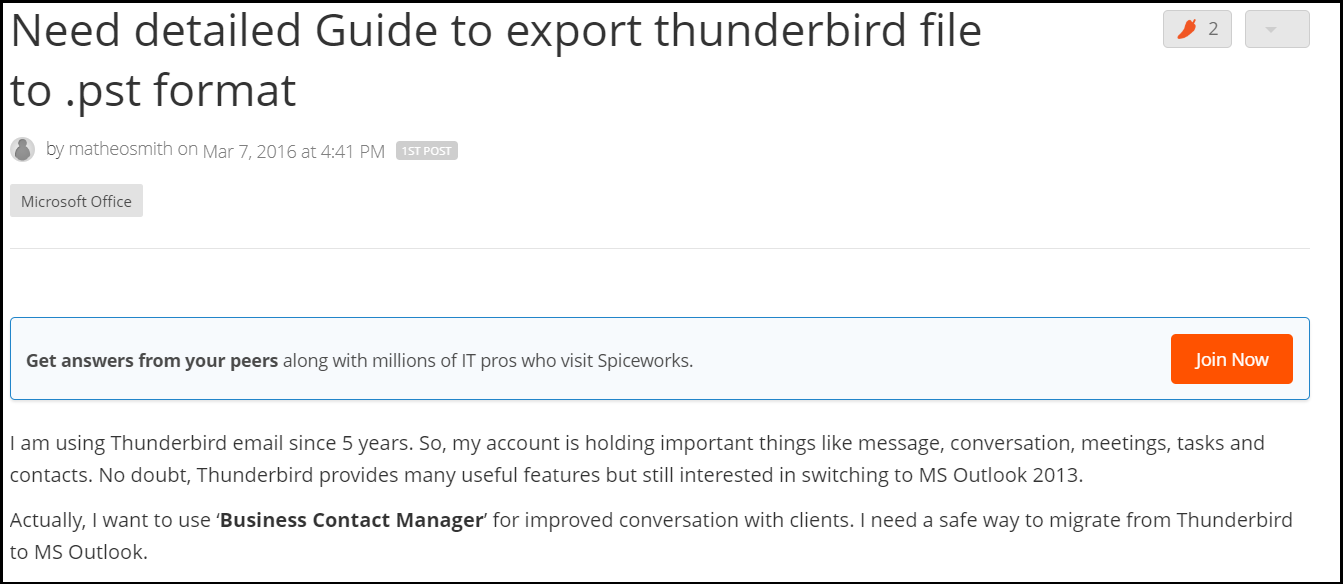 Query 3: Export Thunderbird Emails to PDF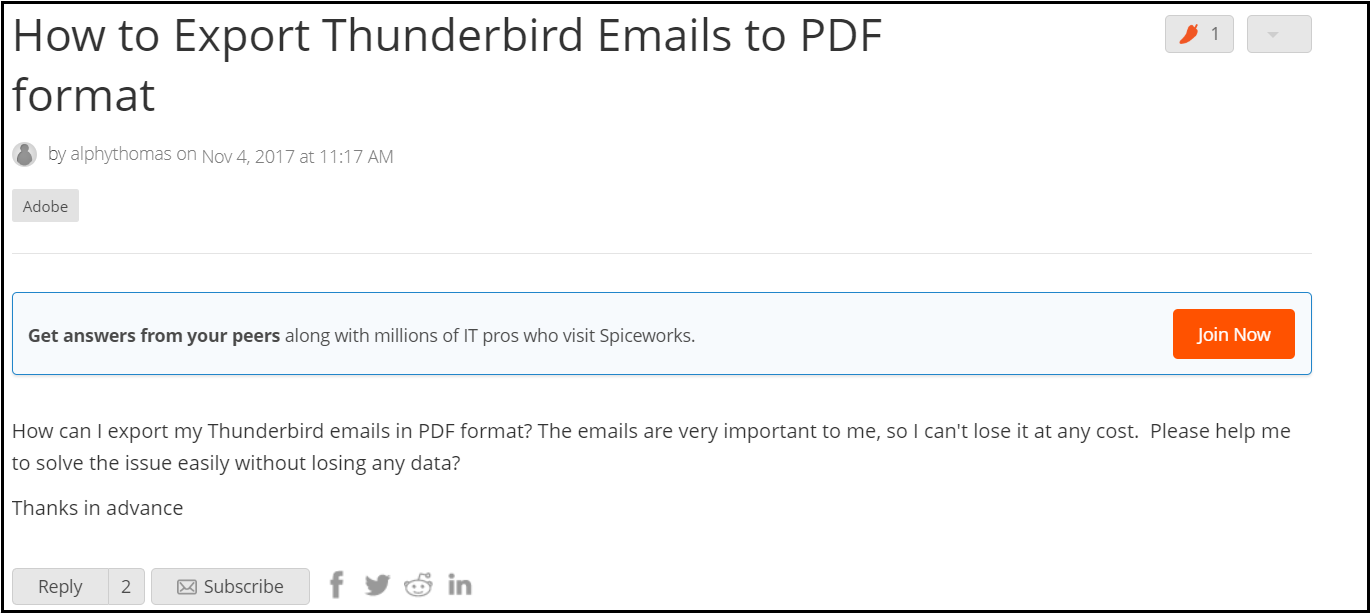 It is clear from the queries that users are often looking for ways to convert Thunderbird exported emails as per requirement. They may look for different file formats but in the end, a question rises – Is there a way to do so?
We will explore some indiginious methods to export emails from Thunderbird and in a variety of formats as well. Just keep reading and find the method that fits your circumstances.
Mozilla Thunderbird: Exporting Emails to File
Start Thunderbird.
Click on the mailbox folder whose emails you want to export.
Select the email messages.
Use Ctrl+A for selecting all the emails present in the mailbox folder.
Right-click on a selected message and select "Save As".
Choose the folder to store the exported files and click "Select Folder".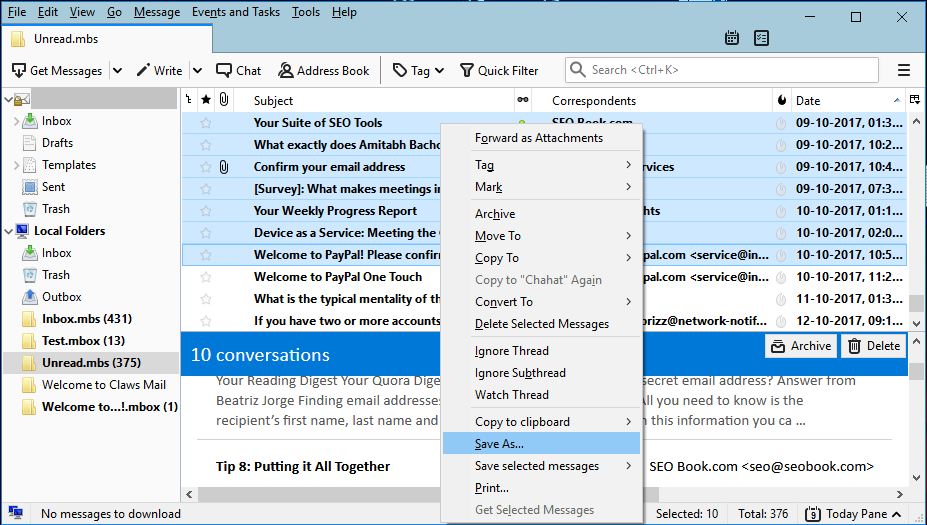 Note: This method is applicable to most versions of Thunderbird. Also, using this method, one can save Thunderbird emails as EML files. An EML file is generated for each email message having same name as the subject of the email.
How to Export Emails from Thunderbird  Using Free Add-On
The free Thunderbird add-on is more convenient to use as it provides more options both in terms of selecting the emails as well as saving them. The first step is to download the "ImportExportTools" add-on. It can be done by going to Tools > Add-ons and searching for "importexportTools NG" in the search bar. Now that two separate editions will be available to install here. Download the one that's compatible with your Thunderbird version.
The process to export emails from Thunderbird is:
Select the mailbox folder such as Inbox.
Right-click on it and select ImportExportToolsNG > Export folder.
Choose the folder to save the exported file and click Select Folder.
All the email messages in the folder are saved in a single MBOX file.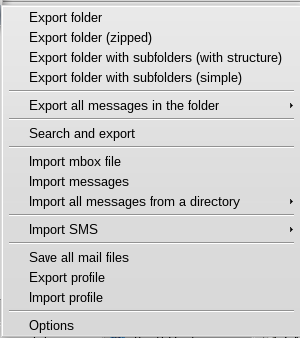 Note: This method is also applicable to multiple mailbox folders. You need to select multiple folders at once and right-click to proceed with the process.
The Thunderbird add-on also allows to export data in the following file formats:
EML
HTML
PlainText (TXT)
Spreadsheet (CSV)
MBOX file
PDF
For export emails from Thunderbird in multiple file formats, follow these steps:
Select the email messages either manually or with the Ctrl+A key.
Right-click on one of the selected message.
Choose Save selected messages option and choose the desired format.
Browse the location to save file and click Select Folder.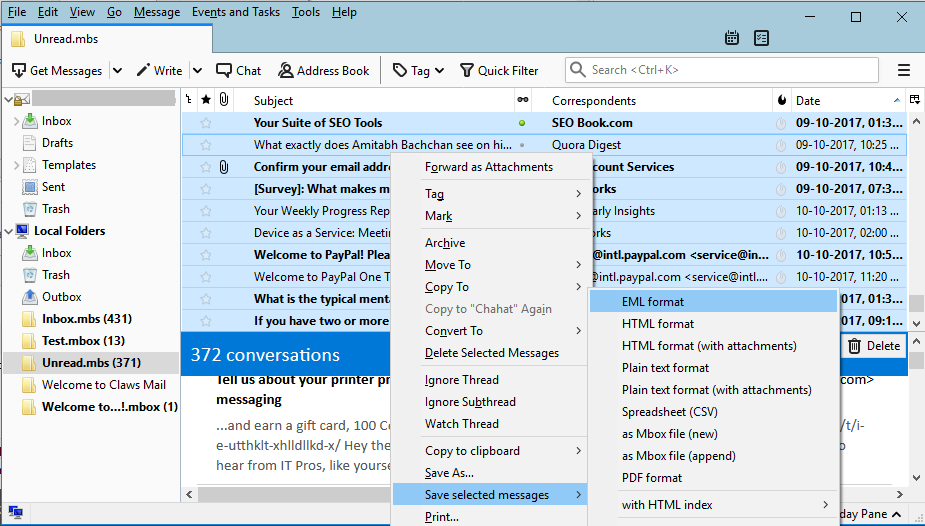 What About Exporting to Other File Formats?
In many situations, users export emails from Thunderbird emails so as to access them in other email platforms such as Outlook, Lotus Notes, Opera Mail, etc. While the add-on provides common file formats, it misses out on PST, MSG, and NSF. Also, during extraction to PDF, the tool does not embed attachments in the file. In such a situation, the user can take the help of Revove MBOX file converter. It provides multiple file formats to export Thunderbird emails. The tool also maintains the folder hierarchy and data integrity. It supports the following export formats:

Steps for Export Emails from Thunderbird:
Run MBOX Converter and click "Add File".
Select "Thunderbird" and click "Default Profile Configured".
Preview Thunderbird emails in interface.
Select file format and click "Export" button.
Successful export process.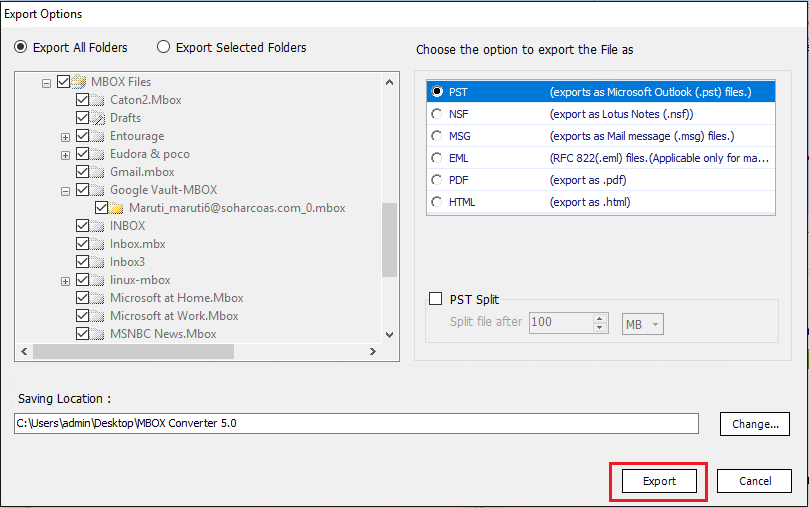 Conclusion
The post aims at providing users with methods to export emails from Thunderbird in a seamless manner. There are three ways to do so:
Use the default Save as feature
Use the Free Thunderbird Add-on
And, use the Automated Tool.
We have explained all three ways in an understandable manner for users. Refer to the comparison table for a brief overview of all three methods.
| Features | Save As | Add-On | Software |
| --- | --- | --- | --- |
| File Formats | EML | EML, MBOX, PDF, TXT, CSV, HTML | EML, PST, MSG, NSF, PDF, HTML |
| Export Complete Folder(s) | No | Yes | Yes |
| Save Selected messages | Yes | Yes | Yes |
| Folder hierarchy while exporting folders | No | Yes | Yes |
| Naming convention | No | No | Yes |
| Free | Yes | Yes | Free demo version |
| Conclusion | Good for saving a few emails messages in Thunderbird | Good for extracting emails and folders in common file format | Good for exporting Thunderbird emails and folders in common as well as commercial file formats |