How to Convert OLM Files to vCard Format? Learn Best Way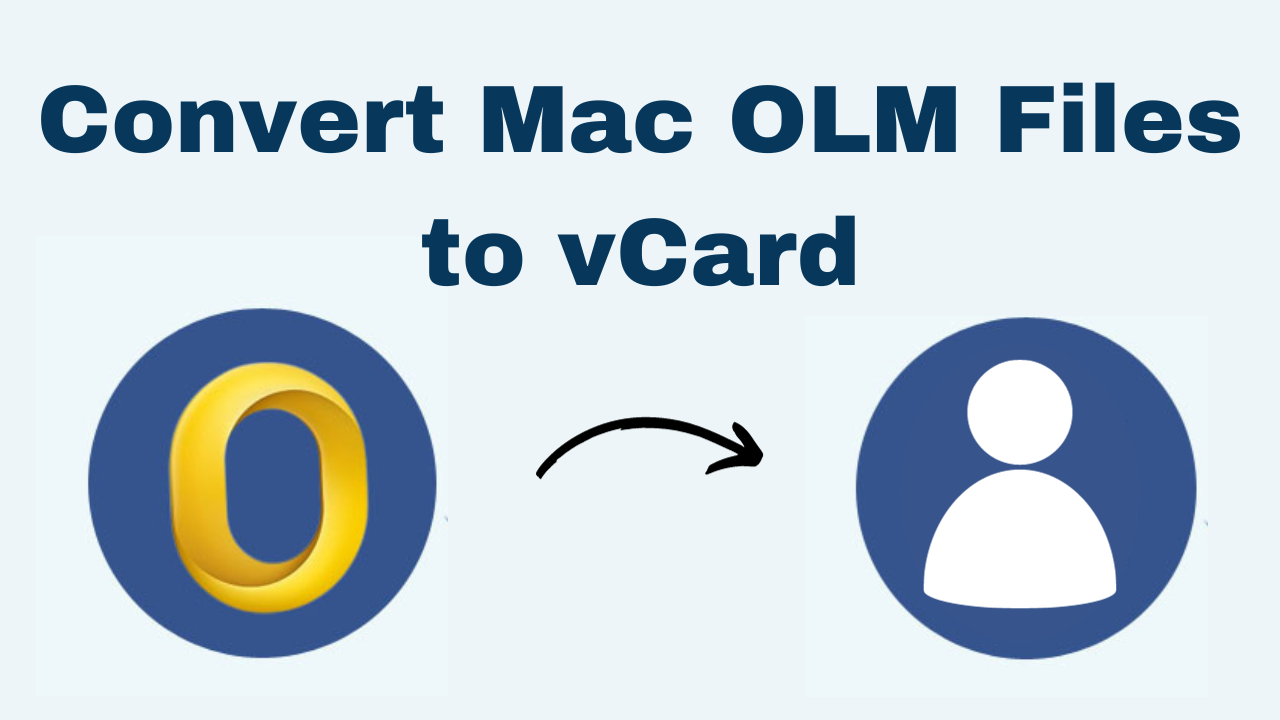 In Summary: Data portability and compatibility are important features of handling business information today. Now if you use Mac Outlook then you will also be familiar with its data file OLM. Which is commonly used to store email messages, contacts, calendars, and other data. vCard (or VCF) files, on the other hand, are a universal format for storing contact information. In this blog post, we will look at how to convert OLM files to vCard format, which will allow you to access your contacts across multiple platforms and programs.
Table of Contents – Easy to Find
Let us first Know about Some User Queries!
User Queries!

Query 1: "Hi, I use Mac Outlook for my office work but, now I need to share the list of contacts present on my computer. Since most of my colleagues work with Windows, I have planned to convert those files into vCard format. Is there any trustworthy method to do convert OLM Files to vCard job?"

Query 2: "Hi, I am working as a manager in an MNC and I need some contacts from the OLM files that I can get from my owner. But, the issue is I can't get any contact information from this file. So, please someone suggest to me any easy way that helps me to convert OLM to vCard from a Mac Outlook email file?"
Now, let us move on to the below part to learn about the reasons.
Why Convert OLM to VCF?
There are various benefits of converting OLM to vCard format:
Cross-Platform Support: vCard files are supported by a variety of email applications, including Outlook, Apple Contacts, Google Contacts, and many others. This ensures that you get seamless access to your contact information across multiple devices and platforms.
Data Sharing is Simplified: vCard files are small and easy to transfer. A vCard can be sent as an email attachment or imported into your favorite contact management application.
Backup and Data Protection: Converting your contacts to vCard format is an excellent way to create a backup and preserve data. If you ever change email clients or experience data loss, your contact information will be securely preserved in a universally compatible format.
A lot of important information has been found out from this part so far. But, even if we don't know the solution yet, you won't have to wait much longer. Now we are going to move directly towards solutions.
Also Read: Export Outlook Mac to PST
Since the beginning, there have been two types of solutions, manual and automated, which have their own merits and demerits. So, let's start with the first method
Convert OLM Files to vCard – Manual Method
Now if you want to convert a Mac OLM file to VCF with the help of a free solution. Then, this part is very useful for your needs. In this section, we are going to explain all the free steps. So, let us start.
But before following the steps, keep one thing in mind if you have an OLM file then you will have to first import it into Mac Outlook. If you have data in Mac Outlook only then follow the steps given below.
Method 1: Drag and Drop Contacts
First of all, open "Outlook" on the Mac system.
After that click on the "People" option.
Now select the "Contact" you want to include in VCF.
Now select it, "Drag" it, and "Drop" it wherever you want to save it to convert OLM Files to vCard.
Limitation of The Method
For this method, your data must be in Mac Outlook.
Mac Outlook must be configured on the system
Through this, only one contact can be dragged at a time.
For this, knowledge of some technical things is very important.
Method 2: Import OLM File in Mac Outlook
If you want to know how to import OLM files in Mac Outlook, then follow the steps given below.
First of all, launch "MS Outlook" to start the process
Then, click on "Tools" and then click on the "Import" button.
"What do you want to import?" Select the "Outlook for Mac Archive File (.olm)" option in Windows to convert OLM Files to vCard.
Finally, after clicking on the Continue button, click on the "Browse to the OLM File" and "Import" options.
This is where all manual methods come to an end. Now, if you do not want to face any problems and want to convert OLM contacts in bulk. Then, you can follow the professional way given below.
Convert OLM Files to vCard – Automated Method
You can grab this Mac OLM Converter to convert OLM to VCF without losing data and facing issues. This brilliant tool converts all the Mac Outlook data like Email, Calendars, Contacts, Tasks, Notes, and attachments into multiple other file formats such as PST, EMLX, MSG, MBOX, ICS, VCF, HTML, CSV, EML, & PDF.
Steps to Convert OLM File to vCard
Download and install the tool to start the conversion process.
Click on "Add File" to load the files in the software
After that, Now, if you choose the "Export All Folders" option then all folders will be converted directly
Then, select those contacts that you want to convert and choose the vCard option.
Finally, browse a location to save the converted OLM to the vCard resultant file and click on the "Export" button to convert OLM Files to vCard.
Features of the Software
Converts multiple OLM files to vCard in a single attempt.
Exports all fields & attributes of the OLM contact files.
Provides the option to apply multiple naming conventions.
Can export selected contacts from OLM to vCard file.
Date filter option for selective conversion options.
Preserves the folder hierarchy & the metadata.
No file size limitations when converting the contact file.
Frequently Asked Questions
Q 1: Can I convert the data from a particular month?
Ans: Yes, this tool allows you to convert Mac OLM files to vCard selectively. You can also apply the date filter to specify the date range.
Q 2: Can I migrate the contact photo using this software?
Ans: Yes, all contact details (including photos) of the OLM files can be converted into vCard using this tool.
Q 3: Can I merge the individual OLM contacts into one vCard file?
Ans: Of course yes, you can merge them all into one single vCard file easily.
Let's Conclude
After going through this article, it is very clear how to convert OLM files to vCard. This blog completely guides easy & simple methods to convert an OLM file into vCard format without losing any data files. It is an effective solution with multiple advanced features. You just have to download this software within a few clicks. For more details read the above post!