How to Convert MSG File into EML – Best Solution is Here!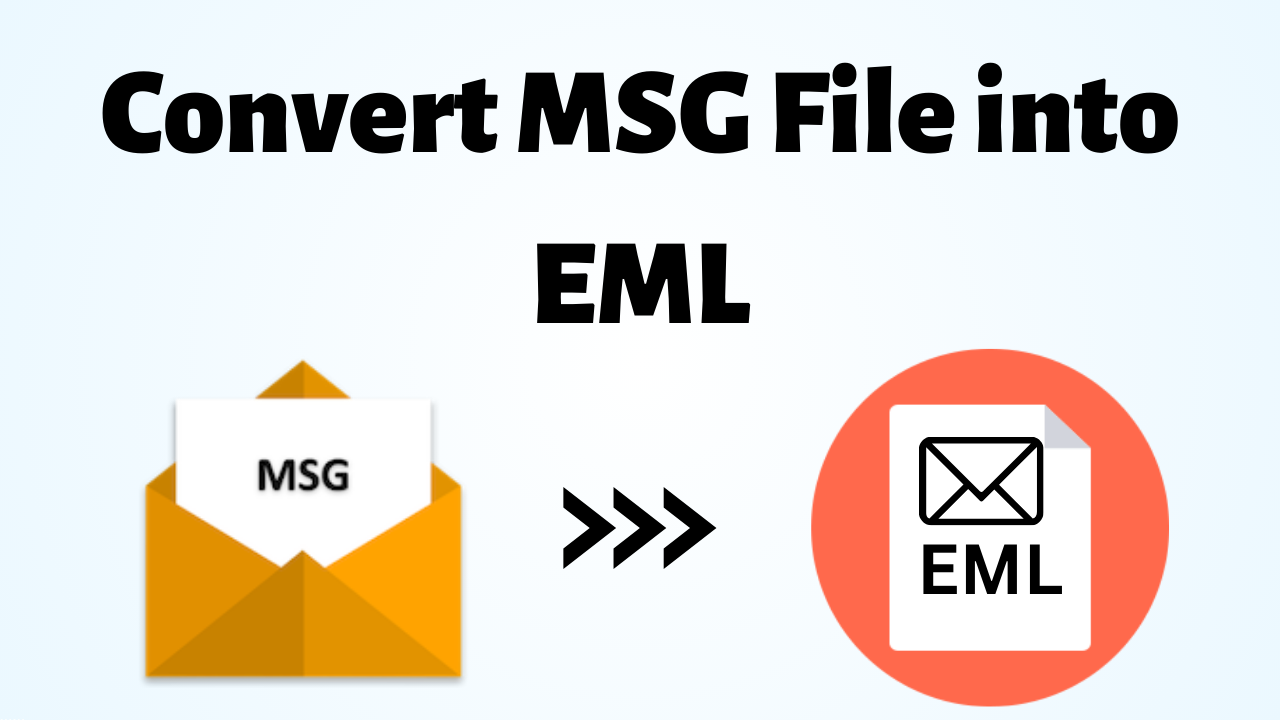 In summary: In today's time there are many users who use an email client MS Outlook to send and receive their emails, so today in this article we will explain how to convert MSG files with all related attachments. So, if you want to convert MSG File into EML. So this article will help you a lot with this. Continue reading this blog and learn how to convert MSG files to EML file format.
Table of Content – Guide
MSG File and EML File – Briefly Explained 
Microsoft Outlook stores individual email messages in MSG files, a file type. It includes many email-specific elements, such as sender, recipient, subject, message text, attachments, and additional metadata. MSG files, normally exclusive to Outlook, can be opened and viewed there or in other email programs that are compatible.
On the other hand, email messages can be stored in a common file format called an EML file. It follows the MIME (Multipurpose Internet Mail Extensions) standard and is compatible with a wide variety of email clients. EML files store email content including headers, body text, attachments, and other relevant data. They are more conducive to sharing and platform compatibility as they can be opened and viewed in a wide variety of email programs.
Now let us move the below section. In this section, we will guide you through the step-by-step process to convert MSG File into EML. There are two types of techniques for this task. So, let us start the task with the first approach.
Manual Method to Export MSG to EML Format
There are many users here who want to finish this process by using the free solution to convert MSG file of Outlook to EML. So we have told the unpaid solution in this part for those users. Follow the steps given below carefully.
Open Microsoft Outlook and locate the MSG file you want to convert.
Double-click on the MSG file to open it.
Click on "File" in the top left corner of the screen.
Click on "Save As" in the dropdown menu.
In the "Save As" dialog box, choose the location where you want to save the file.
Select "EML" from the "Save as type" dropdown menu.
Name the file and click "Save."
We have come to know about the free solution, but till now we have not known what are the limitations of this solution. So, moving towards the lower part, let us know about the shortcomings of this solution.
Disadvantages of Free Strategy
The first drawback of this solution is that it will consume the maximum time of the users.
Also, the chances of losing imported files and folders will increase.
You do not need to have knowledge of technical things for this
Furthermore, you can convert only one Outlook MSG file to EML format at a time. it doesn't allow you to bulk.
Also Read: Convert Outlook MSG to PDF
But you don't need to worry. The solution that overcomes all these shortcomings. We have told you in the lower part. So let's use it fearlessly.
Convert MSG File into EML– An Outstanding Solution
The Best MSG to EML Converter Software is specially developed to make the conversion of MSG to EML effortless and smooth. The converter application provides many advanced functions. This tool provides a batch conversion function. Using this characteristic, users can easily convert multiple Outlook messages to EML format at once without losing any bit of the information. Before converting Outlook MSG files to EML format, the tool provides a complete preview of them.
MSG File into EML File – Guidance
Download and run the tool on your Windows OS machine to start the process.
Go to the location where you saved the MSG file. Click and select.
Now, preview the added .msg file.
Click the "Export" or "Export Selected" option to convert only the selected MSG file.
Select EML as the export option.
After this step, click on Adv. Settings button to configure various options and apply necessary filters to convert MSG emails to EML file format.
Enter the destination path to save the resultant data. Press the browse button to select the desired destination.
Finally, click the Export button to convert MSG File into EML. The conversion progress will be displayed on the dashboard. 
Press the OK button to save the file and view it in the desired destination location.
Why You Should Use a Tool
The tool can be used to convert the files along with the attachments.
It provides a complete preview of the added MSG files in the software panel.
The tool provides multiple file naming convention options to convert Outlook MSG files to HTML format.
Using this function, users can easily name files according to their needs.
During and after the conversion, the tool maintains the format and integrity of the data structure.
It also maintains all the attributes of metadata, such as To, Cc, bcc, sent, received, date and time, etc.
The Last Word
Download Outlook MSG email to EML file converter and save .msg data in .eml format. It is a tiresome task for the users to convert MSG to EML file format manually. However, this tool can help users to convert MSG File into EML files in a hassle-free manner. You can use this utility to successfully run the conversion task.