Convert Outlook MSG to PDF Online Solution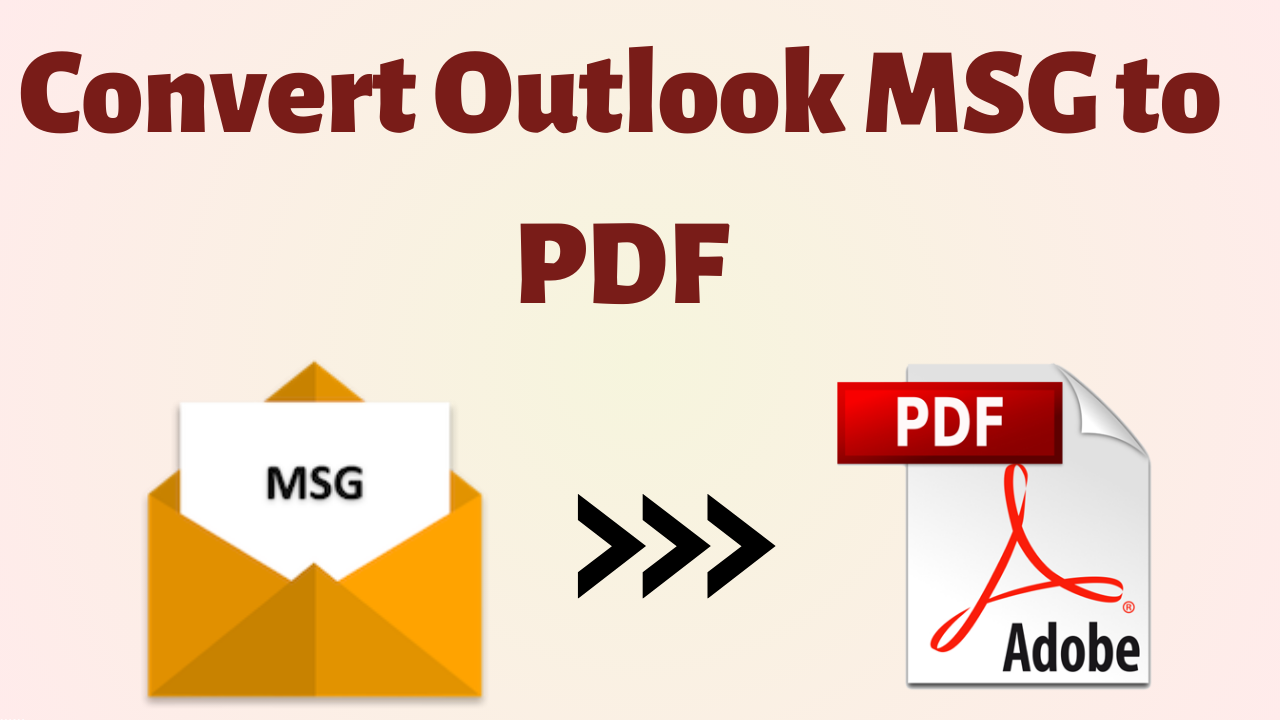 In today's time, we communicate through email every day, and Outlook is one of the most popular email service providers. Emails sent and received through Outlook need to be converted to PDF file format for various reasons. There are many ways to convert Outlook MSG to PDF. No worries, keep reading this article till the end to know about all the methods offered to convert MSG to PDF with Attachments.
Navigating the Contents: A Guide
But before knowing the process. We also need to know what are the benefits of PDFs after all. So let's look at the lower part and see all the benefits of PDF. 
Positive Outcomes to Convert Outlook MSG to PDF 
Converting an MSG (Microsoft Outlook Mail Message) file to PDF (Portable Document Format) offers several benefits. So we have told you some of them in this: 
The first advantage is that PDF file is a widely supported file format. Which we can open on any operating system and various devices. If you convert an Outlook Messenger file to PDF format, you ensure that the file is accessible to anyone, regardless of the software they use.
The layout, formatting, and typeface of the original document are preserved in all PDF files. This ensures consistency and accuracy of representation as the PDF will retain its intended format independent of the hardware or program used to open the document.
Various security features are supported by PDF including password protection, encryption, and digital signature. With the help of these capabilities, you can control who has access to a document, prevent unauthorized changes from happening, and verify its validity. For sensitive papers or confidential information, PDF is often used.
Most PDF files can be reduced to provide a smaller file size without sacrificing quality. Compared to alternative document formats that can contain embedded media or high-resolution photos, this makes them easier to save, transmit, and share.
After knowing all the best benefits of PDFs. Now it's time to know what is the process to export msg to pdf. So, in the below section, we are going to know about all those techniques which help you to solve this question.
Convert MSG to PDF with Attachments – Manual Approach 
Users may simply convert their Outlook email messages into PDF files by using the native features supplied by MS Outlook. However, these options vary on the editions. This section will go through all of the techniques for converting Outlook Messages to PDF. Before you apply these approaches, make sure to verify the requirements of the technique.
Note: If you are using Windows 10 and Outlook 2016 or later, you must follow the steps provided below to convert MSG file to PDF with attachments.
Open the MS Outlook message that has to be converted to PDF.
Select the File tab then choose Print from the available options.
Select MS Print to PDF from the Printer's drop-down menu.
Click the Print tab at the top to open a dialogue box.
In the box, navigate to the location where you want the resulting PDF file to be saved.
Change the file name if necessary, then click Save.
This is how the emails will be stored as PDF files in the specified folder.
Read More: Convert MSG File to EML
So here the manual method ends, but this solution has many drawbacks. Like maximum time consumption. More chances of losing data and files, technical knowledge, and much more. So to overcome all these flaws. We have told you a very effective and profitable solution below. let's use it
Convert Outlook MSG to PDF – Automated Solution
We have covered the free manual technique to save MSG as PDF. However, if you have a significant quantity of emails for conversion, then the above-mentioned approach will take time. In such cases, applications such as MSG to PDF Converter were found to be helpful. This application is capable of converting thousands of emails from any version of Microsoft Outlook without a single hiccup. The utility also comes up with a demo version that offers to freely convert Outlook MSG to HTML format for certain emails with attachments.
Tips and Tricks for Using the Tool
These are the steps you need to execute to convert Outlook email messages to PDF format.
Install and Run the converter on a Windows computer to start the process of exporting msg to pdf
Browse the Outlook Message file from your system.
When the MSG files load on the panel,  Click on the email for a detailed preview. 
Click on the Export button and choose the Export format.
Then, select PDF file format to convert Outlook messages to PDF.
You can also go for Advanced Settings to precise the resultant PDF files.
Once you are satisfied with the settings and selection of Outlook messages, click on the Export button to convert Outlook MSG to PDF.
How a Tool Can Improve Your Workflow
Thousands or more MSG files can be exported by the software in the specified file format. Users can try mass MSG file to HTML conversion by collecting all the MSG files in one folder and directly selecting that folder from the software panel.
A user can transfer specific MSG files from one folder to another using this software. By entering dates in the From and To fields, a user has to set a date range.
MSG emails with attachments are supported and converted by the software as well. Users do not need to worry about whether this program will export attachments or not. On both Windows and Mac OS, all messages and their attachments will be seamlessly converted to their original formats.
This tool works flawlessly on both Windows and Mac OS. Windows 10, 8.1, 8, 7, and versions of Windows Server 2008, 2012 R2, and 2016 are all supported. However, Mac OS versions 10.8, 10.9, 10.10, 10.11, 10.12, 10.13, 10.14, 10.15, 11.0, and 12.0 are all compatible.
Final Words
The incompatibility of file formats frequently causes problems, and the only way out left is to convert the file format. Data file conversion is an excellent technology that has made our lives easier by reducing all the difficulties associated with file access. Users can convert Outlook MSG to PDF format to see them outside of the Outlook platform. We have listed all the dependable techniques in this blog. Users can now select any of the techniques at their discretion.