How to Convert MBOX File to PDF – A Complete Guide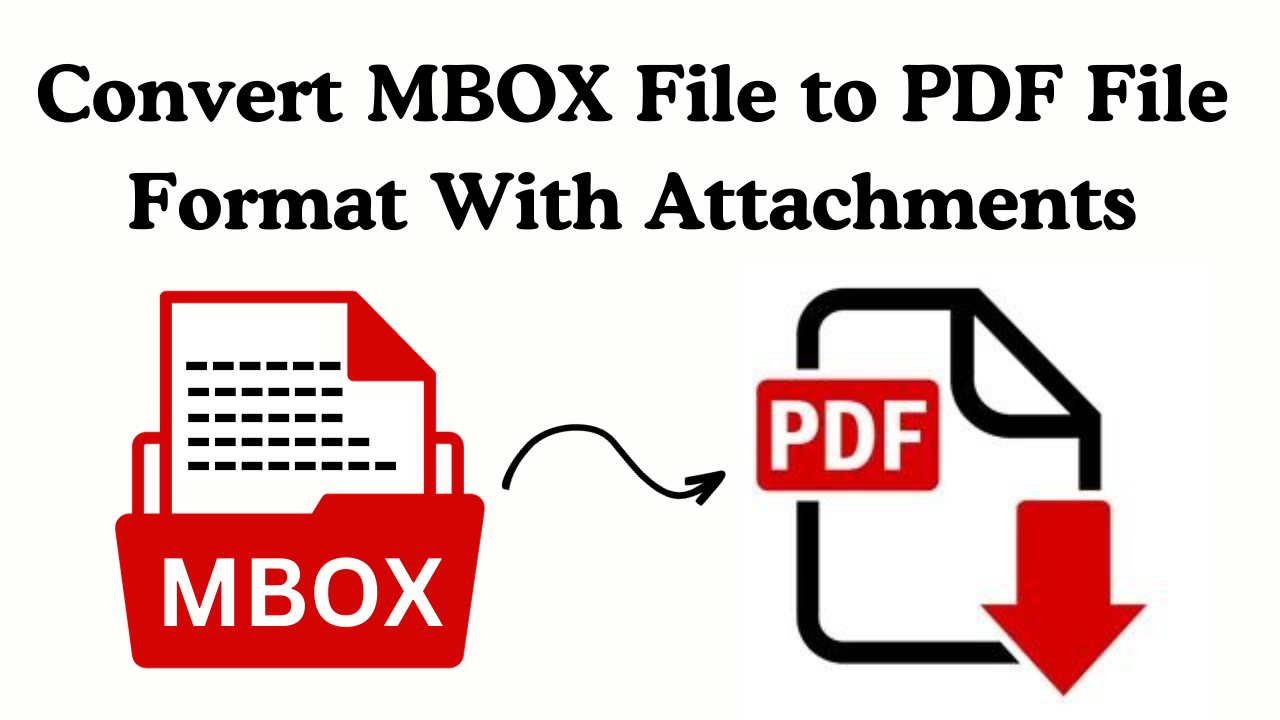 In Synopsis: There might be a situation when users need to convert MBOX file to PDF with attachments due to more security and ease of keeping the data and sharing across the platforms. So, you don't need to worry! You are on the right platform where you get all the possible solutions that help you export MBOX to PDF format without facing any trouble. So, let us start the blog with the solution to convert MBOX files to PDF online without testing our important time.
Table of Contents – Easy to Find
Before moving towards the solutions, let us take a little intro to MBOX file and PDF format. So, in the below part, we are going to explain all the important things related to converting MBOX to PDF with attachments.
MBOX and PDF – Introduction
If we look at this growing digital age, file formats play an important role in how we store, share, and interact with information. In such a situation, two types of formats are widely used: MBOX and PDF. So, let us know more about these two below.
MBOX is a popular file format that is supported by many email clients like Thunderbird, Postbox, Mac Mail, etc. It stores data in plain text format and encrypts every message in the 7-bit ASCII code. A Mailbox file, which stores data items such as contacts, calendars, tasks, emails, etc. of an email application.
On the other hand, PDF (Portable Document File) is a document file format that is developed by Adobe Acrobat. This is a secure file format and offers password protection provisions to its users. As there are few chances of data loss in this file format. It is a multiplatform-supported data file and maintains integrity. Users can save documents, fonts, and image data in PDF file format.
As we understand both the above file formats. Now, we are going to know about the reasons behind exporting MBOX to PDF. Then, we will talk about the two methods for this conversion process. The below section will guide you about the causes.
Also Read: Batch Print MBOX Files
Convert MBOX File to PDF – Reasons
There are many reasons behind converting a Box Mailbox file to PDF. But we have told you some important motives below which are as follows.
Universal Compatibility: A PDF file is a universally recognized file format. Through this users can view the data stored anywhere and anytime on any device and operating system.
Email Archiving: PDF is a great way to archive your emails for long-term storage. This enables preserving the original layout and content of your emails.
Easy Sharing: PDF files can be shared on any other application. Also, it maintains the formatting of emails.
After knowing all the things related to Convert MBOX to PDF With Attachments. Now, let us move on to the below section to learn about the solutions.
Read More: Import MBOX File into Outlook
Amazing Methods to Export MBOX to PDF Format
Here, we have two methods that can help you to make your conversion easier. Both the described solutions with screenshots are mentioned below for your better understanding. You can choose any of them according to your requirements.
Use Manual Method ( Free Online Solution )
Use the Best Professional Software
The above two approaches are the best way for MBOX to PDF conversion with no data loss. Let's address these techniques one at a time.
Convert MBOX File to PDF Format – Manually
In this section, you will manually convert MBOX to PDF with attachments which is not possible. But, you can follow the given instructions carefully since it is a lengthy procedure that requires some technical knowledge.
Method 1: Add-ons are needed to install
In this order, users need to transfer MBOX file data into a portable format, which you need to install additional tools. The following instructions guide you for the same:
Open Thunderbird on your system.
Go to the "Gear" menu and select the gear button >> Add-Ons
In Add-Ons Manager look for "ImportExportTools"
Find ImportExport NG and hit on the Add to Thunderbird
Install this add-on and restart Thunderbird.
Method 2: Save MBOX emails to PDF
After successfully adding the plugin, restart your email client. Through which you can transfer your mailbox data into PDF format. So, firstly you need to import MBOX to Thunderbird After that you can perform the given steps below to Convert MBOX File to PDF:
Import the email files by right-clicking on Local Folder.
Select ImportExportTool NG and click on Import MBOX File
Now, select the Email file to convert into PDF
Right Click on the folder which you need to convert and choose to save the selected message and hit on PDF format
Select a destination location where you want to save the converted email file.
If you are one of those who try to convert email data files using a manual method, then you face some challenges such as:
Limitations of Method
It cannot export Attachments. 

After being exported in a .pdf file, the image can break.
Data loss from converted files.
The manual method consumes user time & loses data.
Moreover, data alteration results change in email integrity.
As the question still arises, how to convert MBOX to PDF with attachments? Then, the section below will describe all the solutions to do this conversion process in a very simple manner. Let's begin with the same!
Batch Convert MBOX File to PDF Professionally
Grabbing the tested Best MBOX to PDF Converter solutions which can easily convert multiple Profiles / Identities at Once ( Yahoo, Gmail, etc.). This software is also designed for non-technical use and this utility doesn't require any technical skills to use this automated software. Users can easily convert MBOX to PDF with attachments without losing any data.
Step-by-Step Guide to Export MBOX to PDF
First, download and run this tool on your system to start the process.
Then, select the "Add Files" button to add multiple and single MBOX files to the software.
Now, "Preview MBOX Emails with Attachments" and apply the desired filters.
After that, pick the "PDF" and hit the "Advanced Settings" button to Convert MBOX File to PDF.
Finally, "Browse" the location and press on the "Export" option.
Why You Should Use a Tool?
Change multiple profiles/identities (Yahoo, Gmail, etc.) at once
Smartly browse and export MBOX/MBX/MBS files
Maintain folder hierarchy when backing up and displaying MBOX files
Change email client subdirectories (SBD): Thunderbird, Apple Mail, etc.
Using folder mode, you can browse multiple Mac/Windows MBOX files.
MBOX to PDF with margins, orientation, page size, and email header
Moreover, you can easily split MBOX file into smaller files by using this tool.
Observational Verdict
Hope the above blog provides you with amazing solutions to convert MBOX to PDF with attachments in a hassle-free manner. In this write-up, you have two methods which are manual methods that have some limitations in performing the convert MBOX File to PDF. Another is our expert-recommended automated tool which provides a resultant result for your issues. And, it also provides a 100% guarantee for data security. Read the above post to export MBOX to PDF format, for better knowing about both the methods and choose the better one to export MBOX to PDF.
Frequently Asked Questions
Q 1: Will the original email formatting be preserved in the converted PDF?
Ans: Yes, when you use specialized conversion software to convert MBOX files to PDF, the generated PDF often retains the original email formatting, including fonts, graphics, and layout.
Q 2: Can I convert multiple MBOX files to PDF at the same time?
Ans: Yes, using the third-party conversion tools mentioned above allows you to convert multiple MBOX files to PDF in a single batch, saving you time and effort.
Q 3: Is there any free way to convert MBOX to PDF?
Ans: While free solutions exist, such as manually converting one email at a time, third-party software is often more efficient and convenient. Some tools offer free trials for a limited time so you can test their capabilities before purchasing.
Q 4: Is there anything to worry about regarding privacy or security when using online conversion services?
Ans: Consider the privacy and security of your email data when using online conversion services. Make sure the service you choose has a strict privacy policy and uses encryption to keep your data safe during transmission and conversion.
Q 5: On Mac, can I convert MBOX files to PDF?
Ans: Yes, there are convert MBOX File to PDF solutions available for macOS. You can also use the manual method described earlier with macOS's built-in PDF printing functionality.