How to Backup Office 365 Shared Mailbox on Desktop Perfectly
Nowadays, Office 365 is prominently using by most of the enterprises for maintaining a non-stop workflow. Besides the amazing applications, Office 365 also offers the functionality of a shared mailbox. This type of mailbox can only create by an administrator for particular departments. O365 shared mailbox also comprises similar importance like Exchange Online primary mailbox. Hence, it is necessary to backup Office 365 shared mailbox to on-premise location. So the data can be protected from any catastrophic data loss situation.
For accessing the shared mailbox, the admin needs to grant appropriate permission to the users who belong to the particular department. So that only they can view the data and reply to the messages on behalf of the shared mailbox address. A shared mailbox can use by multiple users at a time. So there is a high chance of data loss by accidental or purposeful deletion of data. Even though the deleted data can access from the trash it will not stay there for long.  Once it removed from the trash it will not be accessible forever. So backup Office 365 shared mailbox is important to keep your data securely.
Unfortunately, Office 365 makes it difficult for users by not providing any backup technique for the same.
But, No Need to Worry!
A fairly easy-to-use method known as Office 365 Email Backup Tool is available. It protects the shared mailbox data by saving them on a safe location. So, in case of any cloud attack where company lost the mail, it can be restored easily.
Go through this article and know how in backup Office 365  shared mailbox without any mail loss.
Complete Guide to Backup Office 365 Shared Mailbox on PC/Laptop
Office 365 Email Backup Tool lets you to backup the data of O365 shared mailbox, primary mailbox or admin mailbox to the system. With software, you are capable to Restore Emails record that saved in PST on your Office 365 account. The tool offers two popular file type i.e., Outlook PST and single EML format. So users can backup Office 365 mailbox to PST or EML file formats locally. Apart from this, granular backup and restore functionality is also available.
The following instructions will back up the crucial emails of the shared mailbox that you care about most.
The free version of the software can be downloaded from here:

Stage 1: Open the Softwares
Download either Demo or Full version of Office 365 shared mailbox backup software on Windows machine. In case, if you install the free version, then only first 100 emails can be backed up. However, the free version is beneficial to verify the entire functionality of the tool before purchasing it. Now, once you have successfully installed the tool, click on Login to initiate the backup process.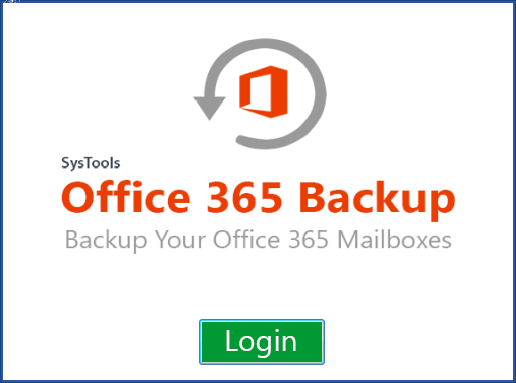 Stage 2: Validate Office 365 Account
For backup Office 365 shared mailbox, enter the credential of Office 365 administrator. Adding to it, select the box corresponding to Application Impersonation and click on Sign in. Apart from this, the single user can also copy their mailbox emails on the designated location.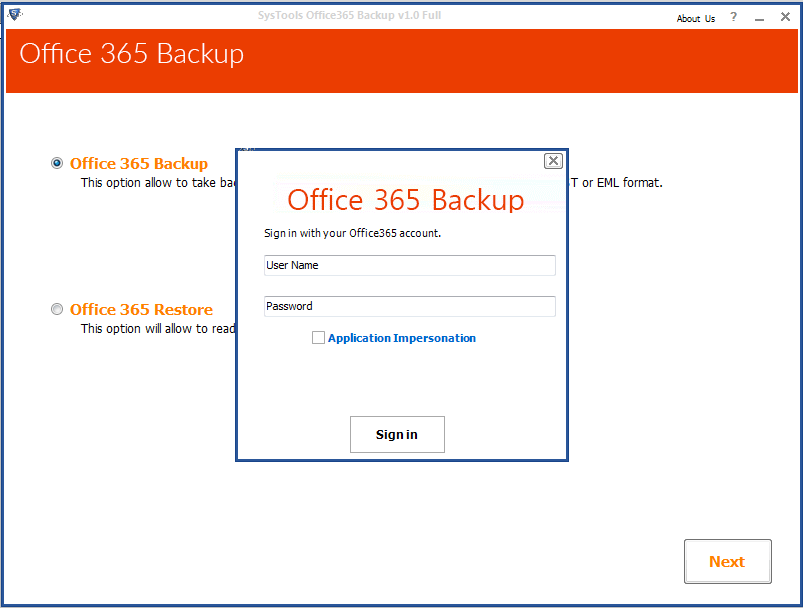 After that, select the radio button labeled as Office 365 Backup and hit Next to proceed further.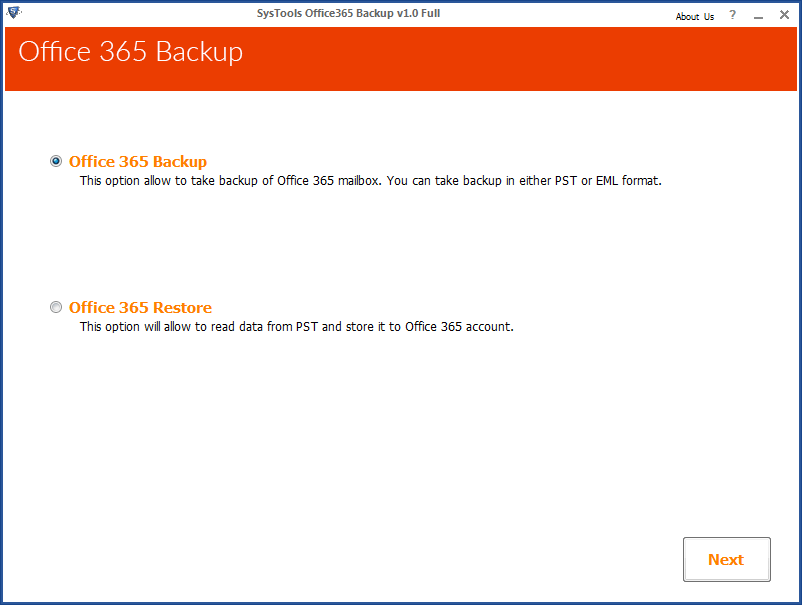 Stage 3: Create CSV File & Upload It
Now, you need to make a file in which the email address of shared mailbox is written as shown in the screenshot. And, save this file in CSV format.
After that, click on the Browse button and upload the CSV file. By doing this, the office 365 shared mailbox account will show on the software detailed panel. In case when your mind gets changed and wants only data of some shared mailbox from the loaded list. Then, just select the box as shown in the picture and move further.
Stage 4: Select the location for Backup File
It is the time to choose a location to save the backup Office 365 shared mailbox file. Click on Browse for your Office 365 shared mailbox backup file. Here, you are free to select an already existing folder or make a new one from the software panel. To create a folder directly, click on Make New Folder option.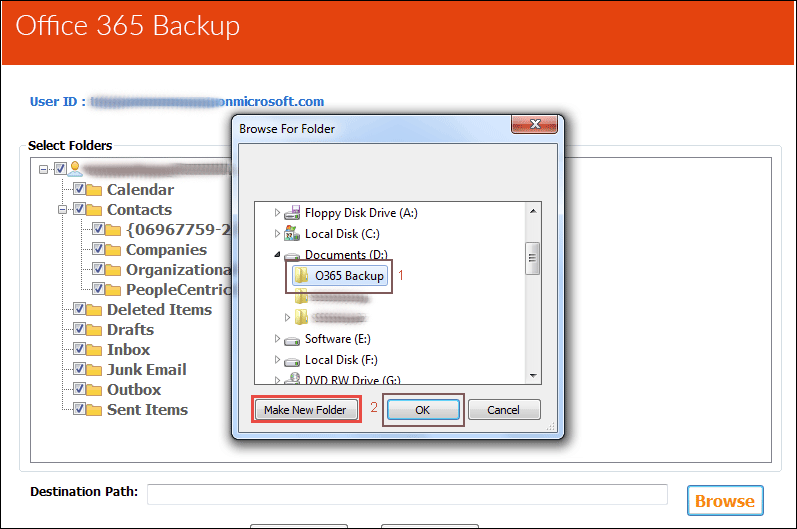 Stage 5: Select Format For Backup File
Click on Export to open its wizard. Here, you can select either PST or EML the file type for O365 shared mailbox. You can also tweak other settings like Item selection, naming convention, date filter for selective email backup. Then hit Start to begin the process.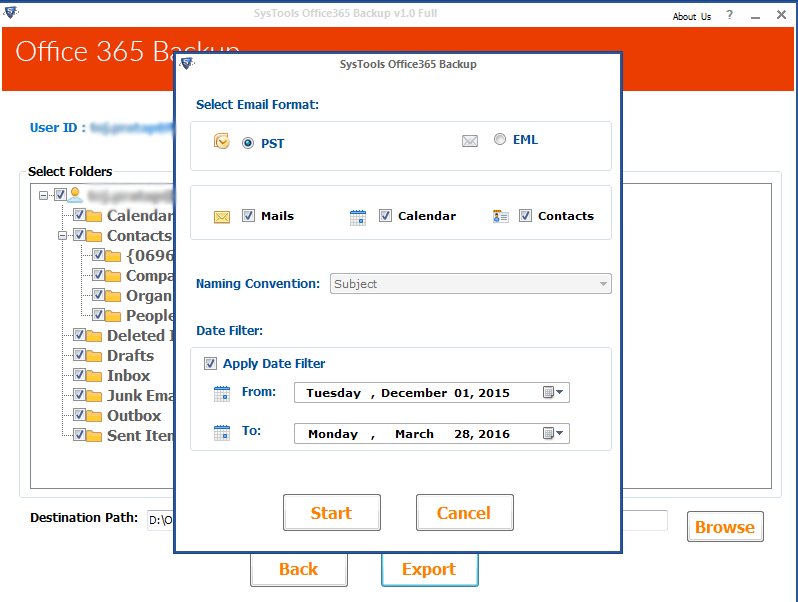 Stage 6: Examine Export Task With Real-Time Status
The software provides complete live progress of backup Office 365 shared mailbox process. Here, you can see the details of each user ID on the basis of emails, calendars, and contacts. A green tick will show under the progress column after compted the backup process.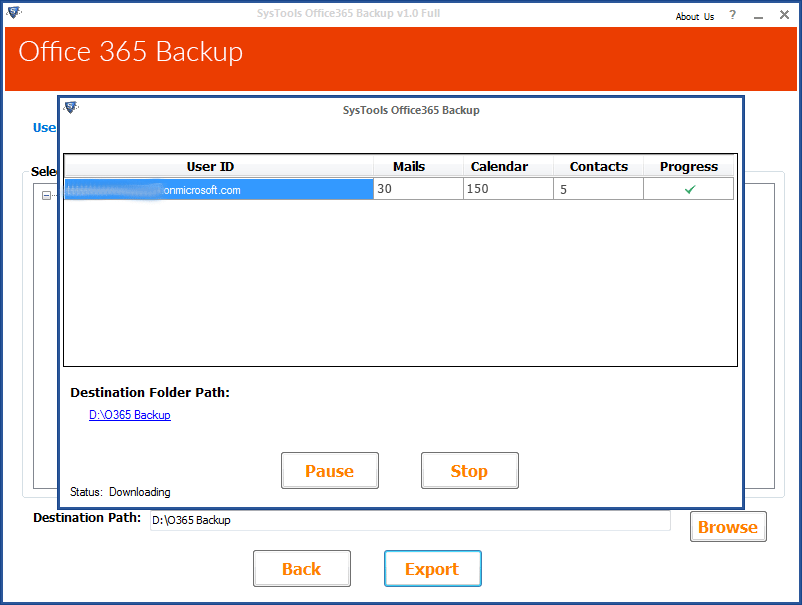 As we know, a backup is only beneficial when you have the power to restore them. With the same utility, you can restore the Office 365 shared mailbox backup messages into any O365 account in bulk.
Final Words
In terms of performance and significance, the O365 shared mailbox plays a pivotal role. Therefore, in this article, we have described an ultimate solution to backup Office 365 shared mailbox. It provides a very easy interface that archive the data with an infinite retention period within a few clicks. Also, it offers the facility to restore shared mailbox data at any time.