Top Free Methods to Add Bates Numbering To Legal Documents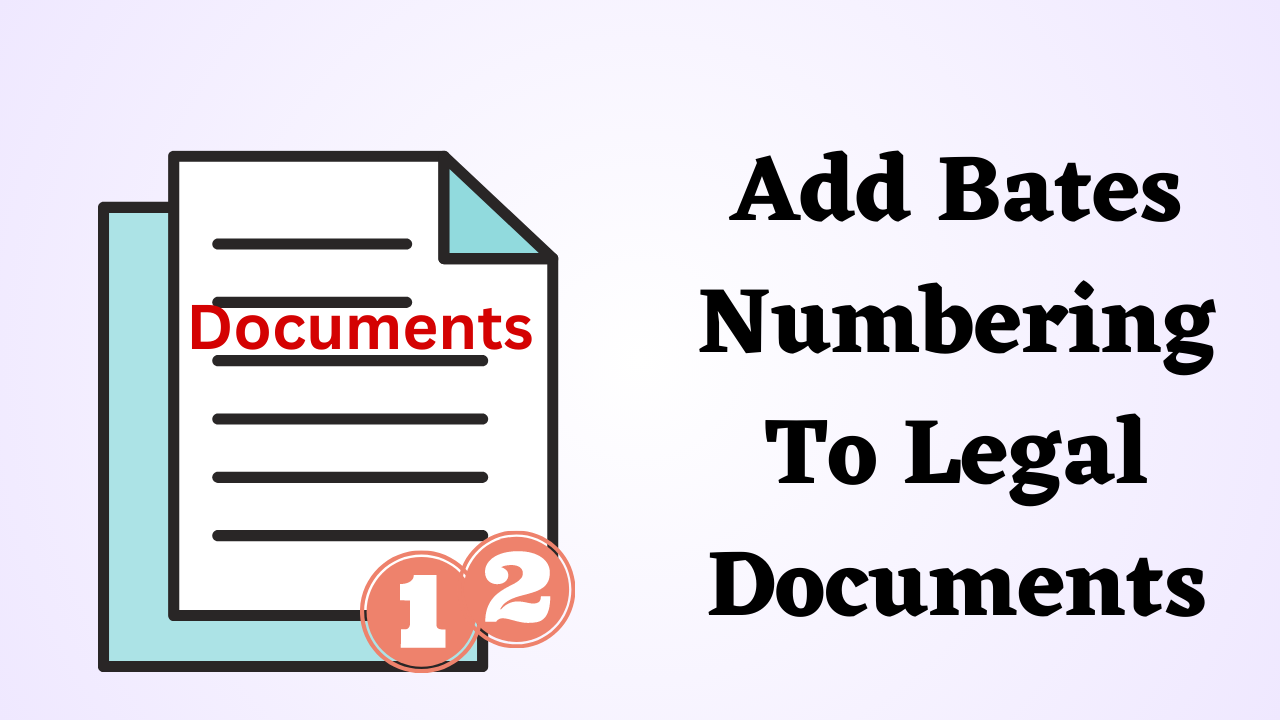 In Synopsis: In this article, we will discuss the top methods to add Bates numbers to any PDF document. What are the reasons, that it is used by lawyers, attorneys, etc? What are the features which make it suitable for the documentation of information in large law firms? So keep reading this post to know the secrets to add Bates numbering to legal documents.
Table of Content – Easy to Explore
Bates Numbering Technicalities – Overview
Bates numbering is the procedure or method majorly used for indexing legal documents and assigning a series of self-incrementing numbers. It can also appear as the footer or the header on specific pages. The Bates numbering also includes the addition of prefixes or suffixes. The main motive behind the Bates numbering is the easy identification or retrieval of selective information from the large husk of information. The Bates numbering is similar to the indexing or page numbering of books or novels.
Add Bates Numbering To Legal Documents – Reasons
In today's time. The security of PDF documents has been enhanced by the addition of digital signatures. It allows professionals to edit, share and collaborate with real people without any network changes. So we have now told you some more reasons below which understand that the buts number should be added to the documents.:
 Portable Document Format: The PDF file is the universally accepted file format. It can be easily accessed on any device such as Mac, Windows, or Linux with any formatting or data mismatch alteration.
Enhance Security: It is one of the most suitable document types and is preferred by legal professionals. This is because only such documents are admissible in a court of law which cannot be easily altered or if altered forcefully then there must be some legal footprints to verify the same.
Compressibility: whenever the professionals needed to present the case file in the court of law then use PDF format for same. As it provides compressibility without compromising the digital quality of the documents.
Password Protection: Most legal firms deal with the sensitive and confidential documents of individual or government organizations. This type of document required a high level of security. The password protection feature of PDF documents makes it the perfect choice.
After knowing all the important things related to Bates Number. Now, it's time to know all the reliable solutions to attach Bates Stamp legal documents. There are two types of solutions available to accomplish this task. So, let us know about the first approach in the below section.
Add Bates Numbering to Legal Documents With Adobe Acrobat
The first approach is the manual method. With the free version of Adobe Acrobat Reader, you are only allowed to read PDF files. All other feature remains absent. You need to subscribe or upgrade to the Pro version of adobe acrobat. With the Pro version of adobe acrobat, you will get certain other advanced features as well. Let's see how to add Bates numbering legal documents with Adobe acrobat pro. Follow the below-mentioned steps:
Open Adobe Acrobat Reader Pro
Click on Tools > Edit PDF >> Secondary Toolbar
Then in the secondary toolbar >> More >> Bates numbering and then click on Add.
Add PDF files via add files or add a folder or add open files options. Browse the PDF file from local system storage.
Note: In case of adding any password-protected PDF file, you have to manually enter the password for each PDF.
You can also arrange the listing of files in any order. Once you have done with the arrangement of the files, then click on Add header and footer dialog box and then click on OK.
Click on Insert Bates number and enter the following i.e. Specify the number of digits to be added. By default, it is set to 6 digits number i.e. 000001, and so on. (1-15)
Type prefix or suffix to add before or after the Bates number.
Note: For legal documentation, it is recommended to select a higher digit number to add Bates, such as 15.
So as we told you that to add manually the Bates number in any legal document, you have to upgrade to the Pro version of adobe acrobat. Also, you will have to face its high cost and other problems. Therefore, to avoid all these things, if you want any other solution. Then try the solution mentioned below and solve the problem.
Attach Bates Stamp Legal Documents – Automated Method
You can use this PDF Bates Numberer Tool to attach Bates numbering to legal documents. It is the cheapest alternative to Adobe Acrobat Pro. It offers more additional features in the lowest price range. Also, it is tested by great scientists. And it is beneficial for all those users who are technical and non-technical. Also, its user interface is more simple.
Click Here to Install this Utility:
On Windows and Mac operating systems, users can quickly add page numbers to PDF files by selecting any font style, font color, and location. The Bates numbering process allows multiple PDF files to be joined together. Along with page numbers, you can also include prefixes and suffixes.
Now, let's move to the below part to know the tool steps to include batch numbers in PDF document files.
Add Bates Numbering To Legal Documents – Stepwise
Download & Install the Software on your system to start the process.
Then, click on Add file or add folder option to include the PDF files.
Next, fill in the Bates Number Format details as per your requirement.
Now, change the setting for Bets numbers.
Click on the preview button to see the changes made before adding them.
At last, if you are satisfied with all the things then click on the Generate button.
Why User Use Tool – Best Features 
Using this, you can create or add page numbers to multiple pages of a PDF file at once.
Additionally, add page numbers based on the composition of the pages in the PDF file.
It formats PDF files in various ways including Bates numbers.
Apply any font family of your accord, any font size, and any font color you choose.
You can apply page settings and add confidential text.
The same allows printing after adding the Bates stamp to the PDF file
Remove 256-bit encryption from custom restricted PDF files.
The Last Few Words to Conclude
Adobe PDF is the universal and most suitable file format for legal documentation. As it left behind footprints if an altercation is done with the documents. Undoubtedly, there are thousands of pages in a single case file. Retrieving information from such large files is never an easy process. So the concept of adding bates is developed which facilitates the easy identification and access of information. In this post, we have discussed the different methods or you can say the solutions to add Bates numbering to legal documents.
People Also Ask!
Q 1: How Do I Add Bates Numbers to a PDF?
Ans: Steps for Bates Numbering Legal Documents
Download and Run, PDF Bates Numbering Tool.
Click on Bates and then choose to Add Bates Number option.
Click on Add Files to insert PDF documents for Bates numbering.
Enter Bates Number details to add to the PDF documents.
Position the bates on PDF and review the summary.
Click on the Generate button for Bates numbering legal documents.
Q 2: Did Bates Number Step can be Applied in Multiple PDF Files at Once?
Ans: Yes, you can use the above-mentioned software to add Bates stamps to PDF files in one go. The software for numbering PDF files allows you to add a single PDF file, a group of PDF files, or an entire folder of PDF files.